Farming was once (and still is in some corners of the United States) a small family business. But during the Nixon administration and after the appointment of Earl Butz as Secretary of Agriculture, the ethos of farming in America underwent dramatic changes that shaped how we farm and consume food today. Butz infamously directed farmers to plant commodity crops "from fencerow to fencerow" and his mantra to farmers became "get big or get out."
In the 1950s, the average farm produced five crops per year, in rotation. Today, farms average 1.2 crops per year, a figure within rounding distance of representing absolute monocropping. Over half our farmland is used to grow commodity crops like corn and soy. It's a system that commodity farmers can function within if they operate at massive economies of scale, owning millions in land and equipment to keep up with input costs that have increased 300 percent over the past 20 years (see chart below; data from USDA Economic Research Service (ERS)). You get big, or you get out of farming.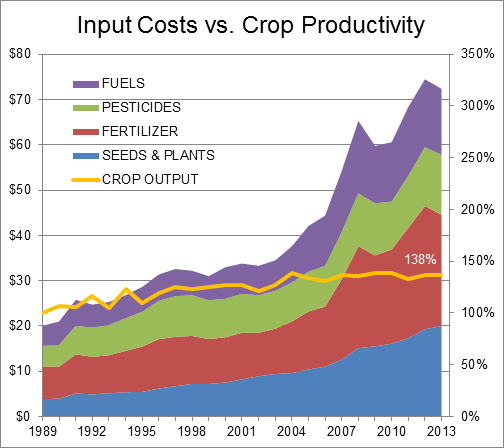 Craig Wichner was uniquely positioned to see where current farming models were failing—both as sustainable patches of land to grow food and as business propositions with massive input costs. Wichner was a businessman doing private equity on large-scale cash-flowing assets, including real estate, before the market crashed. He spent ten of his formative childhood summers working on a ranch. He "harvested" cows and knew beef didn't come straight from the farm packaged in a Styrofoam tray.
After the credit crash, it became clear that the assets Wichner had been working with were overvalued, their price based on debt. He had also recently become a father and started seriously considering what sort of world he would be leaving for his daughter.
A road trip to Oregon farmland in 2009 with soon-to-be business partner Jason Bradford, a PhD and ecology and sustainability expert, crystalized something for both men. "It was very clear farmland was a great asset and that it was basically being underutilized," says Wichner, "that growing monocrops was operationally efficient, but it was the worst way to get returns from farmland itself." Bradford observed that, with investment and the use of sustainable agriculture templates, they could develop a system of livestock, vegetable and grain rotations that could both reclaim land for organic farming and turn a profit.
"We also saw that us doing it at the scale we were talking about wasn't going to work," says Wichner. "We needed at least $10 million in farmland if we were going to be farmers, and we needed at least $50 million in farmland if we were going to use this model to get up to a scale where the costs would be acceptable to institutional investors."
And so Farmland LP was born as a B Corporation with a Real Estate Investment Trust (REIT) structure. The business buys large tracts of previously monocropped farmland and then invests the resources and time to get the land certified organic by turning it into pasture for three to seven years. The process helps soil reach peak fertility and restores the land. Once certified organic, 10 to 20 percent of that land is leased to an organic vegetable farmer for two to three years. After that period, the vegetable farmer rotates onto another piece of recent pasture and an organic grain farmer takes over the vegetable farmer's tract. After a year or two of grain production, the land cycles back to pasture.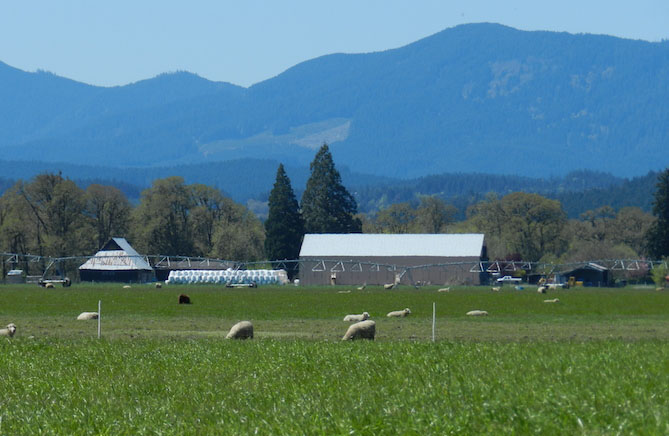 [Above: Sheep graze at Vitality Farms in Oregon.]
Using this process of converting commodity crop fields into rich organic soil, Farmland LP has increased revenue per acre for farmers and income for investors four-fold over the past four years.
It's an attractive business proposition for organic farmers. Leasing with Farmland LP allows farmers flexibility that they wouldn't be allotted if they took on debt to buy farmland to convert themselves. Typically, if an organic farmer wanted to double her production, she would have to buy more land and spend three years investing in converting that plot into land that could be certified organic. Instead, with Farmland LP, farmers can lease organically certified land and scale up (or down) year by year to meet their production needs—without making upfront and expensive land investments themselves.
"[Organic farmers] are great at growing these high quality products," says Wichner. "They just don't have enough land to fully meet those market demands. What we're doing is helping bridge that gap."
The reality of the organic market, Farmland LP argues, is that the mark-up consumers see at the grocery store is a result of demand—there are simply not enough organic products in the marketplace. Only one percent of U.S. farmland is certified organic, which is far outstripped by the 4.4 percent of U.S. total spending on organic food.

[Above: A field of fava beans being grown for organic cover crop seed]
The best way to draw maximum economic benefit from the land—and maintain the land sustainably—is to farm as farmers had been doing for thousands of years: doing large-scale rotations of crops and livestock. Livestock waste becomes fertilizer for land that eventually grows crops, then later again becomes pasture. In Farmland LP's system, a vegetable farmer, for example, can stay on the land and rotate around on one large farm.
Thanks to a structure that allows for accredited investment, Farmland LP now spans over 7,000 acres. That's $65 million in farmland, working with 21 farmer partners and tenants, including Bill Niman, formerly of the renowned Niman Ranch.
According to Wichner, the plan is to take Farmland LP public in three to five years so that anyone can invest in sustainably managed farmland and help convert more farmland. He considers his daughter, and this informs how he invests his capital: "I want it to go to things that really make a difference," he says. Wichner recognizes that others—farmers, consumers, those squirreling away for retirements—likewise desire alternatives for making their money grow while supporting sustainable change. Back when Wichner and Bradford were rethinking the value of farmland—as an investment and a place to grow food sustainably—there was no model like Farmland LP, says Wichner. "So we had to do it ourselves."
Sarah Stankorb
Sustainable America Contributor
Like this article? Donate now to support our work.