One of the easiest and most effective ways to reduce oil usage is to make vehicles — no matter what kind of fuel they run on — more efficient. Major auto manufacturers are required to do this to comply with CAFE standards, but the alternative fuel industry is working on it, too, in a race to make newer, cleaner technologies more cost effective and attractive.
Our latest investment is in a Tulsa-based company called Infinite Composites Technologies (ICT), which is working on ways to make vehicles that run on compressed natural gas (CNG) much more efficient by focusing on the fuel tank itself. ICT's patented design is a lightweight composite tank that holds 10% more fuel than current steel and aluminum CNG tanks, weighs 90% less and has a 10% smaller footprint. Carbon fiber tanks aren't flashy, but behind-the-scenes tech breakthroughs like this can make a huge difference in things we use every day.
ICT's founders Matt Villarreal and Michael Tate got the idea to design a better CNG tank as college students at Oklahoma State University, where they converted a quarter-scale Formula 1-style racecar to run on CNG. "After converting the vehicle, we put it through a 24-hour endurance event to test the fuel's viability on the track and in the car," explains Tate. "After running out of fuel a few times on the track, we started to experience what the natural gas vehicle industry refers to as 'range anxiety.' We were afraid of running out fuel before the next pit stop."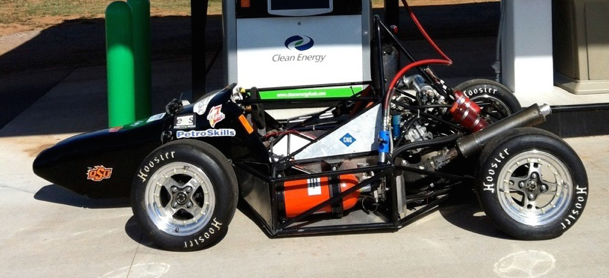 After some research, Tate and Villarreal found that range anxiety was a problem for all natural gas vehicles. Without a strong network of CNG fueling stations, natural gas vehicles are limited on where and when they can refuel. They decided to see if they could extend the range by redesigning the tank to be lighter and hold more fuel. "Originally designed in the 1800s, the older style tanks used in many vehicles require five pounds of steel to move one pound of gas," says Tate. "This is a major problem in efficiency."
Some CNG vehicles in the U.S. use more advanced composite vessels with a metal or plastic liner, but these liners take up valuable storage space, add unnecessary weight, and are some of the major causes of failures in composite pressure vessels, according to Tate. "Matt had an idea of simplifying the tank by removing the liner," he says. That's just what they did.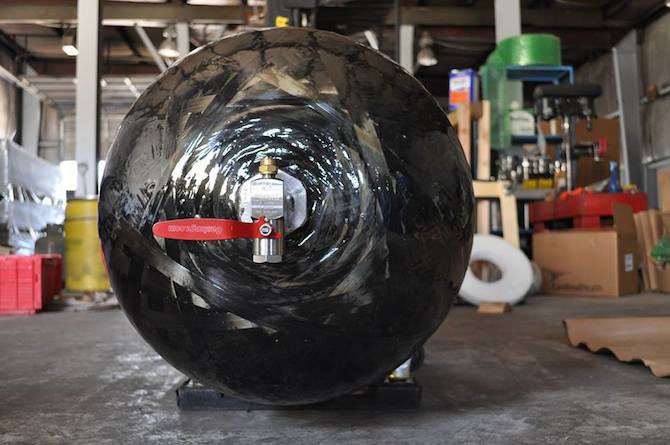 Today, ICT's tanks are fully suited to taking natural gas from a variety of sources, including natural gas derived from renewable sources like anaerobic digesters or landfill methane. The impact of these improvements over what's currently being used could enable more of the trucks that move our goods around the country to switch to CNG, which is cheaper and burns cleaner than diesel and gasoline. ICT's tanks installed on a class 8 tractor trailer truck, for example, would save 422 gallons of fuel per year vs diesel due to the reduced weight of the tanks and fuel, would reduce emissions by 30%, and reduce fuel costs by $353,000 over the life of the vehicle.
Those are the kinds of measurable improvements we are looking for when seeking new investments.
We first met ICT in 2013 at Village Capital's entrepreneur competition in Boston, where the team won a highly selective competition. At the time, the company was called Clean NG, reflecting its focus on the CNG tank market. Over time, the team worked with larger strategic partners and found that their carbon fiber tanks have applications across a wider array of industries and potential uses, from bulk gas transport to aerospace, and may even have applications for hydrogen-fueled vehicles. ICT has some early customers from several different industries, including NASA.
"When we started the company, our original mission was to increase the fuel capacity, efficiency and safety of natural gas vehicles," says Tate. "Today, our vessels accomplish those things, but we're positioning ourselves for a much larger markets down the road."
Systems that improve fuel efficiency are the "low hanging fruit" when it comes to reducing oil usage. We've made two investments in early-stage businesses in this category so far: XL Hybrids and eNow Solar. With this latest investment, we're keen to make an impact in technologies that reduce oil usage via alternative fuels, such as natural gas and electric vehicles. Sustainable America continues to seek investments in innovative companies like ICT as part of our mission to create a broad impact on food and fuel here in the U.S. Learn more about our investment program.
Gray Peckham
Director of Investments
RELATED ARTICLES
Renewable Natural Gas: Clean, Green Energy
Our Latest Investment: XL Hybrids
5 Climate-Friendly Actions You Can Take Today