This article first appeared on FoodPrint.org.
Companies like Toast Ale, Barnana, White Moustache and Sir Kensington's have made headlines for rescuing foods like bread, bananas, whey and aquafaba that would have otherwise gone to the landfill and using them as ingredients in foods like yogurt pops, mayonnaise, snack crisps and beer.
The so-called "upcycled foods" are part of an effort to reduce some of the estimated 125 to 160 billion pounds of food waste generated in the United States each year. Upcycled foods can be found in 9,000 supermarkets in 10 countries and research shows that the upcycled foods market is worth $46.7 billion (and climbing).
"The question is not whether upcycled foods are gaining traction," says Jonathan Deutsch Ph.D., director of the Drexel Food Lab at Drexel University. "Upcycling has been happening forever but the consumer role of going out and buying...a brand that is highlighting upcycling, that is a new phenomenon."
The Upcycled Food Association, a nonprofit focused on growing the upcycled food economy, was founded in 2019. In addition to formalizing a definition of upcycled food, the organization is working to establish a certification standard that would allow customers to recognize and seek out upcycled foods, building momentum for products made from ingredients that would otherwise have been wasted.
Although the movement is growing — membership in the Upcycled Food Association has grown from 10 members to 125 members in the past year — Angel Veza, part of the capital and innovation team at ReFED, believes upcycled foods face an uphill battle to go mainstream. One of the biggest challenges: Startups dominate the space while major brands are (mostly) still on the sidelines.
"It's very exciting to see all these startups come with upcycling as their solution for food waste," Veza says. "But if you're trying to reduce food waste on a national or global level, you're going to want to scale and, in terms of getting [upcycled foods] on the shelves, it could be a challenge."
In a 2020 Oakland Innovation report found that the supply chain could be a major barrier to making upcycled foods viable. Companies may need to source food waste from multiple sites, increasing the costs and environmental impact of transportation; transforming wasted foods into viable products often requires sophisticated processing; and costs can be quite high.
"Everything looks great on paper with upcycling but the devil is in the details," Deutsch says. "You can take vegetable scraps from...production lines to make upcycled vegetable broth but...it's not like carrots and celery are super expensive so, in some cases, trucking these scraps around may be more expensive than...ordering a tractor trailer load of vegetables."
Like other startups, Renewal Mill had to create an entire supply chain to make its okara flour, a product made by upcycling the soybean pulp generated during soymilk production. (The Oakland, California-based brand is also working on oat flour made from the pulp leftover during oat milk production).
"There's a lot of processing that goes into these ingredients to make them food safe and bring them back to the plate," says Caroline Cotto, co-founder and COO of Renewal Mill. "We price them and sell them as premium ingredients and 'hero' ingredients."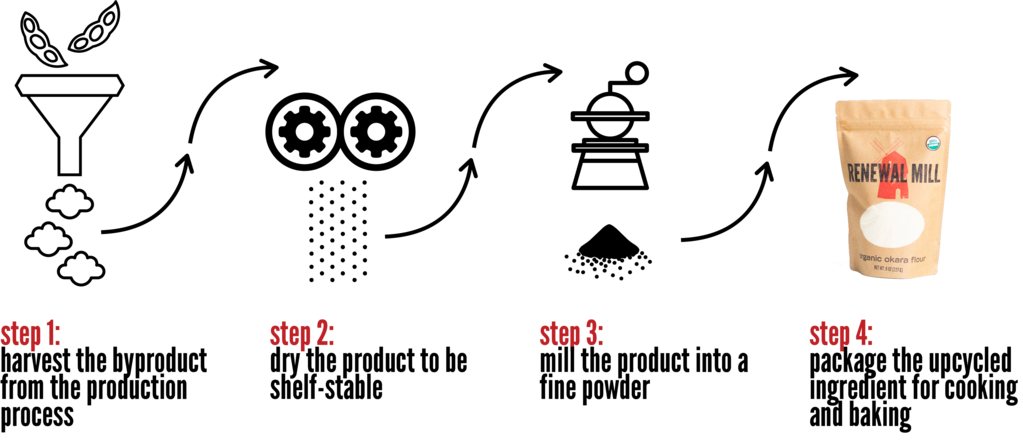 The premium pricing might be another stumbling block in building demand for upcycled foods. In his research, Deutsch found consumers had a lower willingness to pay for upcycled foods compared to conventional food products.
"If people want to pay less because they feel like they're eating food that would otherwise be wasted, the financial model is not very strong," he adds. "If consumers are excited about using their dollars to buy products that are not only delicious but have positive impact on the environment, then we see some opportunities."
To build demand, Renewal Mill created a line of baked goods made with okara flour to educate consumers about the existence of upcycled foods. Sales are strong and Cotto hopes that will help attract major manufacturers to use okara flour as an ingredient in their products.
"We see larger opportunities on the [business to business] side to move more volume of upcycled products," Cotto says. "The sales cycle for ingredients is quite long. It takes about two to three years from the time you introduce an ingredient to a producer to the time they put a product on the shelf."
Deutsch agrees that getting upcycled foods from concept to shopping cart is a long game that requires a lot of incremental steps.
"You don't start with upcycled Cheerios," he says. "You start with General Mills doing an upcycled granola that's sold in the natural food space and, in five years, you may have upcycled Cheerios."
Even when big brands enter the space, there is no guarantee of success.
In 2018, Tyson Foods, introduced ¡Yappah!, chicken crisps made from discarded chicken breast trim, to address its own food waste.
The reviews for the bite-sized crisps were poor and, less than a year after ¡Yappah! hit the market, the product was discontinued. Tyson announced the news through a note on their Facebook page that read, "we reached a point where it didn't make sense to pursue the business any further."
Other big brands have entered the space. Dole joined the Upcycled Food Association and announced efforts to eliminate food waste in its supply chain by 2025 and Kellogg's partnered with Seven Bro7hers Brewery in the United Kingdom to provide Corn Flakes that were too big, too small or too ugly to be used in their flagship cereal to be upcycled into Throwaway IPA. The beer was so successful that the brewery began creating additional beers from upcycled cereal: Rice Krispies replaced malted barley in Cast Off Pale Ale and Coco Pops are the grain base for Sling It Out Stout.
Even if upcycled foods become common on supermarket shelves, Veza is not convinced the efforts are a real panacea for food waste.
"The biggest driver [of food waste] is consumer behavior," she says. "Unless we can change consumers behaviors at home, we will not see the impact the supply chain further up…It doesn't make sense to buy [upcycled foods] if they're just going to sit in the cupboard [because] you can create more waste if they're not being used either."
Despite the challenges, Deutsch, who admits the efforts are making just a "tiny, miniscule dent right now," still believes that upcycled foods have major potential to be part of a holistic effort to address food waste.
"No one is buying a chicken snack to save the planet; people are buying upcycled chicken snacks because they want a delicious snack and if it has interesting environmental benefits, it might differentiate them from another…snack on the shelf," he says. "But there are additional benefits beyond the poundage of waste reduction and it's in consumer education and awareness. As you eat an upcycled product, you might be thinking about what else is in your food. It's a tangible place to start."
---
This piece is reprinted with permission from FoodPrint. You can read the original article in its entirety here.
Jodi Helmer writes about farming, food and the environment for outlets like Modern Farmer, Sierra, and Scientific American. You can follow her on Twitter @helmerjodi.