A big problem like food waste in America is going to take big ideas to tackle, and that's why we like the visionary new plan for dealing with New York City's organic waste floated by a young architecture firm earlier this month. PRESENT Architecture proposes building a network of Green Loops on the waterways surrounding the city that would serve a dual purpose: compost the city's organic waste and provide new park space.
The idea is an attempt to process more of New York's 14 million tons of annual waste in New York, rather than hauling it to landfills in other states, a process that guzzles fuel and creates pollution. Composting New York's food scraps rather than dumping them in a landfill would curb methane emissions while producing valuable compost that could be used throughout the city or sent to farms in upstate New York. And park space? New York could always use more of that.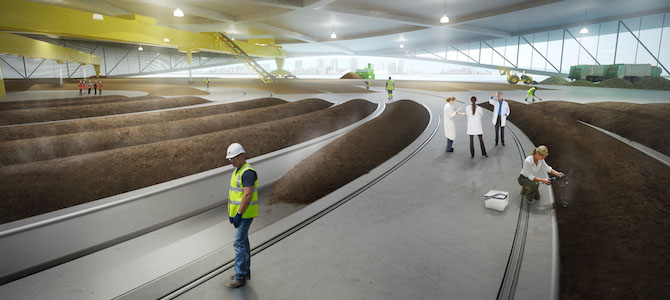 The timing seems right for proposals like this in New York. As an outgrowth of PlaNYC, a comprehensive plan for making the city greener and more resilient, former Mayor Michael Bloomberg started a composting pilot program in select neighborhoods, and also launched a successful Food Waste Challenge for restaurants toward the end of his term. Kathryn Garcia, the new department of sanitation commissioner appointed last week by Mayor Bill de Blasio, is enthusiastic about composting and says she wants to expand the program to all five boroughs within five years.
With this in mind, we interviewed the creators of the Green Loops plan, architects Evan Erlebacher and Andre Guimond, to learn more about their proposal.
Sustainable America: What was the inspiration for the project?
Evan: As a young firm we're always looking for interesting opportunities to change the built environment, to change cities, to improve cities. We came across Mayor Bloomberg's plan to start citywide composting, so we wanted to give it a vision, make it a little more real, complete with images and our ideas.
SA: What problems were you trying to address?
Evan: We first read about the composting program in the New York Times, and we started thinking about what would happen after the curb. After they drop the organic waste off, then what happens? As we started looking into the issue, we realized because of borough equity we should put a compost hub into every borough. So assuming that, how do you make one of these hubs a desirable space for the community. That's how the park idea came about.
SA: How does your plan work?
Andre: The organic waste is brought to one of these centers, and then it's processed and sorted within the center on the street level underneath the park. This process takes up to six months to produce fully formed compost. A whole lot of compost is going to be produced. Some of it, we envision being transferred up onto the rooftop into the park. But we also envision it being used in other areas of the city — on green roofs, on other existing parks — and even being barged up the Hudson River to upstate New York to be used on farms there, or up and down the east coast.
SA: How much waste would these facilities be able to handle?
Evan: We're hoping for 30 percent of residential waste, which is basically all of the organic waste. It's quite a lot. The goal would be 100% of the residential organic output. That's obviously ambitious, but that would be the dream goal: to responsibly reuse or compost all of it.
Andre: I would also say we would like to compost waste from establishments like schools and restaurants. We really see this as a comprehensive solution to New York City's organic waste.
SA: Has anything similar been done in other cities?
Andre: We spend a lot of time looking at a large composting facility in Edmonton, Canada. It's one of these composting centers that has the capacity to deal with most of city's organic waste. The difference between that example and our proposal is that that's a typical box in the outskirts of the city, far away from people. We wanted to propose a solution that would cut down on truck miles and be closer to the city and the producers of the waste.
SA: How does this particular composting process work — and will it smell?
Evan: Part of the design process was talking to experts and environmental consultants. We spoke to people at Arup, a global engineering firm with offices here in New York. They said that there are ways to reduce and eliminate odors in a building like this. One piece of technology is biofiltration, which can significantly reduce airborne odors. Another way to reduce it is basically just through the management of the compost. The recipe of the organic waste that's being composted impacts the smell, things like O2 levels, the amount of moisture and temperature. If managed properly, it significantly reduces the amount of smell. It's a really different operation than your typical backyard compost heap.
SA: What's the reaction been to the project so far?
Andre: We've had a very positive and great reaction to the project. We've been contacted from people worldwide, from Europe to Japan, all over America, offering us support or telling us they'd like to see something like this in their own cities. And we've gotten a lot of advice. A lot of people obviously are concerned with odor, a lot of people would love to see a park like this or have urban farming be integrated into the system. It's been a really positive experience for us and we're excited to continue to push the idea.
SA: What are the next steps?
Evan: Right now, it's open. Now that it's gotten all of this press, it would be great to sit down and have a more serious discussion about feasability with the people who actually manage these decisions. We haven't done that yet, but it's something we would like to do. We think that this idea or an idea like it or a scaled-down version of this idea — something could come of it. There are people all over the world who have gotten in touch with us with interest, so this could even be an idea that happens outside of New York City.
SA: Are either of you part of the New York City composting pilot program?
Andre: No, but we'd love to be a part of it. We hope that de Blasio expands it rapidly and really tests it on a larger scale than what's happening currently.
Amy Leibrock
Sustainable America Blog Editor