The sound of an ice cream truck can send kids and adults digging for change on a hot day. The trouble is that most trucks leave a trail of diesel fumes as they roam the streets and must stay running while parked to power freezers and equipment.
A greener way to get a frozen fix may be on the horizon. Nissan just unveiled a prototype for an all-electric, zero-emission ice cream van. The van is based on the e-NV200, an electric LCV (light commercial vehicle), and demonstrates Nissan's Electric Ecosystem, which combines a zero-emission drivetrain, second-life battery storage, and solar energy generation.
The equipment on-board is powered by a system that uses recovered lithium-ion cells from older Nissan electric vehicle batteries. The system can also be plugged in to recharge or harvest the energy collected through the rooftop solar panels. Operators could even earn extra money by selling solar electricity back to the grid on the off-season.
The van was unveiled as part of the U.K.'s Clean Air Day at a time when ice cream vans have been under scrutiny in the country. Diesel-fueled ice cream vans have been banned in some areas of London as part of a range of efforts to rein in the city's severe air pollution problem. "No one wants a side order of asthma with their ice cream," Caroline Russell, a Green Party member of the London Assembly, told The New York Times.
In the big picture, ice cream vans and trucks make up a small slice of the total transportation emissions of a city. But since they are often parked near schools, pools, and parks where children congregate, health concerns are more of an issue. Children are especially at risk from vehicle exhaust because their lungs are still developing and they inhale more air per pound of body weight.
In addition to the Nissan prototype, U.K. ice cream van manufacturer Whitby Morrison is testing a battery-powered ice-cream maker and all-electric ice-cream vans. They may be on the streets later this summer.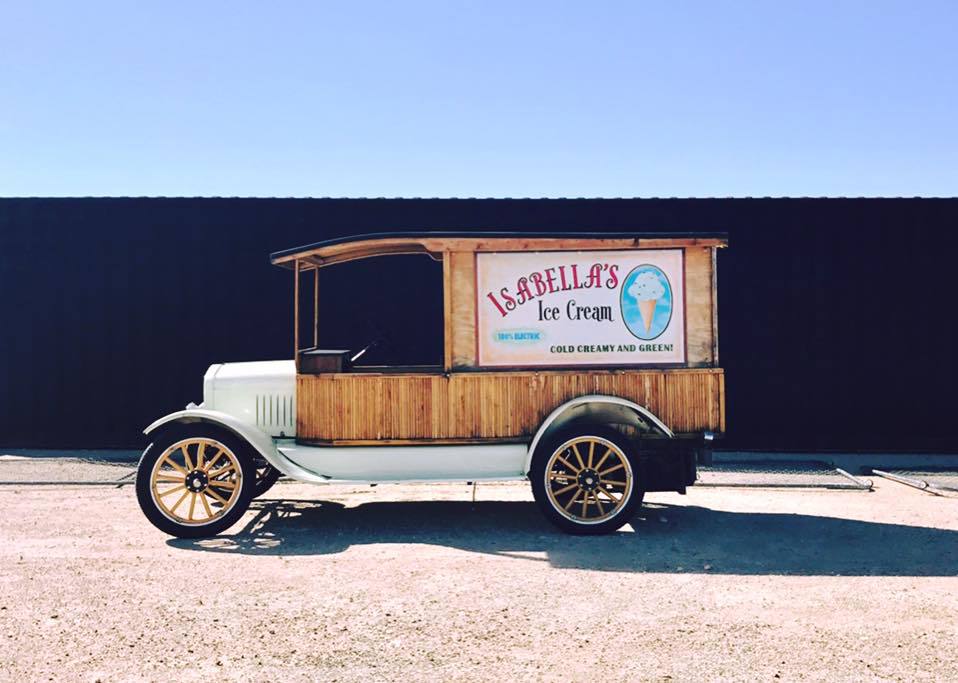 What about here in the United States? While we haven't heard of any outright bans on ice cream trucks, some cities are stepping up idling laws and enforcement. We did find one business worth highlighting. Isabella's Ice Cream in Tucson, Ariz., sells small-batch ice cream from an all-electric modified 1920 Ford Model T. The floorboards and siding were built from recycled basketball flooring, and thin rooftop solar panels power the freezers.
For a sweet, sustainable future, we need EV and solar technology to meet our summer ice cream needs, and a whole lot more. If you know of any clean-fueled ice cream truck businesses, let us know on our Facebook page.