The Sacramento Kings' new Golden 1 Center, which Paul McCartney christened last week with a two-night run, has just set the bar very high for sustainability in sports.
The arena just earned the U.S. Green Building Council's highest certification, LEED Platinum, a first for an indoor arena. The 17,500-seat venue is powered completely by solar energy and features smart temperature controls that harness the area's cooling delta breeze. It was constructed with regionally sourced materials and almost all of the materials from demolishing the site's previous buildings were recycled.
Perhaps the most buzzed-about sustainability feature of the new arena is its so-called "farm-to-court" commitment to sourcing 90 percent of its food from within 150 miles. Michael Tuohy, executive chef for Legends Hospitality, the food service provider at the Golden1 Center, is working with area farms to procure local ingredients for everything from standard sports venue eats to the more elevated offerings fans have come to expect recently. In other words, yes you can still get nachos, but the cheese is from a local creamery.
"Even our hot dogs are local. I never thought I sweat about hot dogs and chicken tenders," said Tuohy, as reported by a Sacramento Bee reporter on Twitter.
The food program is also striving to ensure none of that local food goes to waste. The arena will donate all leftover, edible food to a food bank that services 200 local agencies. Used fryer oil, which is locally produced, will be converted to biodiesel by a local business. And all of the vegetable and protein trimmings and scraps will be recycled by California Safe Soil (CSS), a Sacramento area startup that has pioneered a proprietary process of grinding, heating and enzymatic digesting that produces liquid fertilizer in less than three hours. CSS's product is then used on local farms to enrich the soil in a true closed-loop process.
"CSS brought us a sustainable, competitively priced alternative to recycle rather than landfill our organic wastes," said Tuohy. "This is the most comprehensive green waste solution that I have ever seen. Together with our ground-breaking partnership with Sacramento Community Food Bank & Family Services to distribute unsold prepared food to food banks in the Sacramento area, the Golden1 Center is a leader in eliminating food waste."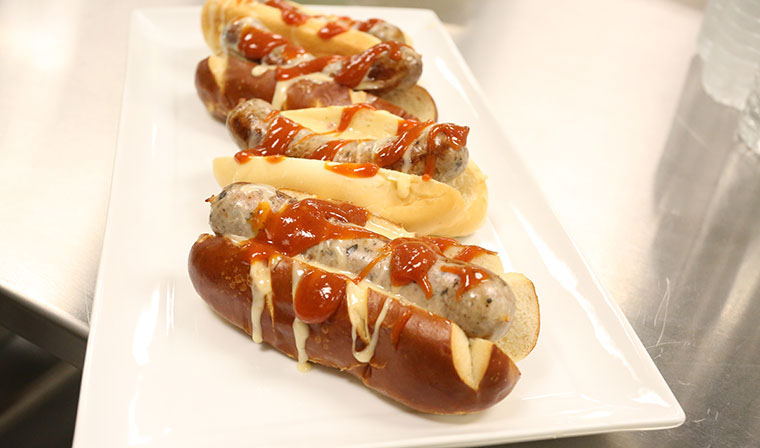 Even the location—downtown Sacramento—makes the new arena much greener than its predecessor. Sleep Train Arena, the King's old home, was on the city's outskirts and not nearly as accessible by public transportation. The new location will reduce average miles traveled per attendee by 20 percent, cut overall air emissions by 24 percent, and reduce travel-related greenhouse gas emissions per attendee by 36 percent by 2020, according to an environmental analysis cited by the arena.
One of the most valuable impacts will be that the 1.2 million fans expected to pass through the arena annually will have a chance to see cutting-edge environmental practices at work on a grand scale. Not only will their concessions dollars go back to supporting local farms and businesses, part of the Golden 1 Center food program's mission involves educating youth and adults about sustainable food. The arena will also host next year's Green Sports Alliance, a prestigious meeting of sports executives focused on environmental standards for sports facilities.
"Our hope in creating Golden 1 Center was to help drive meaningful change in our community – which includes working to curb climate change and promote renewable energy," said Kings Owner and Chairman Vivek Ranadivéin a statement. "Businesses, including large sports franchises, have a core responsibility to help facilitate the world's clean energy transition so that we can better protect the health and environment of future generations."