This week, environmental activist Rob Greenfield completed a most unconventional road trip. Not only did he travel from Wisconsin to New York City on a bike, along the way he recovered food — thousands of pounds of unspoiled, perfectly edible food — that grocery stores and restaurants had thrown away in nine cities.
From Greenfield's blog posts and news reports about the journey, it's apparent that finding discarded food was shockingly easy for Greenfield. He would spent a few hours peeking in local dumpsters, then take his finds to a public park where he'd display it for all to see. These "Food Waste Fiasco" demonstrations drew crowds and media attention and helped expose the food waste problem hidden in dumpsters across America. "Many people were shocked by what I showed them and even more were angry, not at me, but at the waste of our society when millions of Americans are hungry," writes Greenfield on his blog.
Here's how Greenfield described the idea behind his project:
"1 in 7 American's don't have the food they need yet we are throw away enough food to feed every hungry American five times over! My solution is real simple. Grocery stores need to stop dumping and start donating! It truly is a no brainer. Stores that donate are protected from lawsuits by the Good Samaritan Food Act, they get tax write offs which means it's profitable to donate, they spend less on dumpster fees, and most importantly they are doing what is right for their community! Thousands of stores are already donating to non-profits and food banks across America but it is a very small fraction of what could be done."
Below are photos from each city Greenfield visited on his journey. If you'd like to learn more about the Food Waste Fiasco project, Greenfield will be speaking in Oakland, Calif., this Saturday (Oct. 18) for Feeding the 5,000.
MADISON, WISCONSON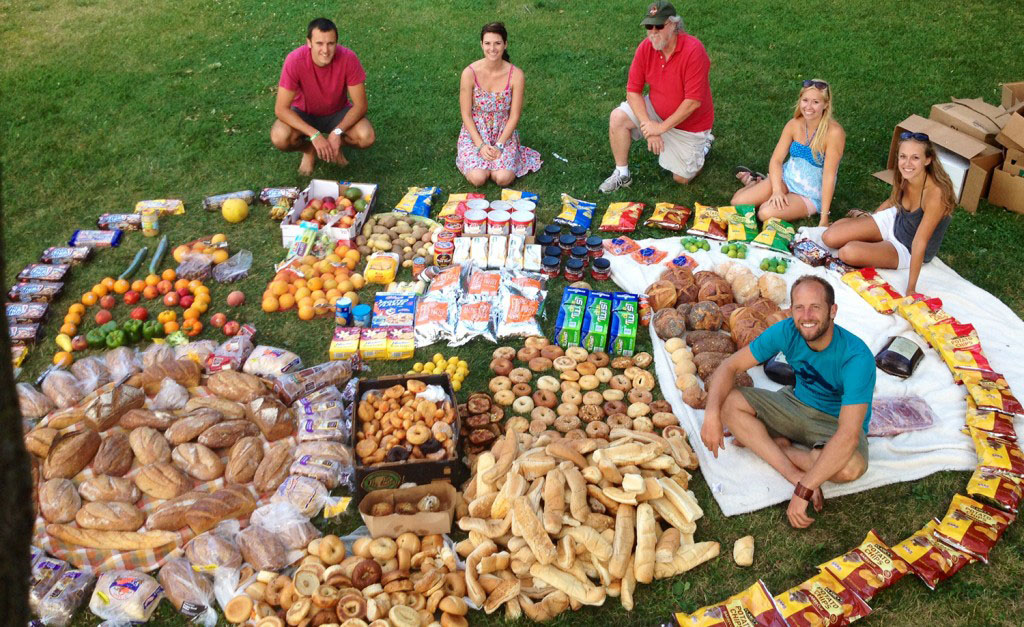 Greenfield found food in the dumpsters of Whole Foods, Big Lots, Sam's Club, Aldi, Brennan's Market, Madison Sourdough, Subway and Dunkin' Donuts.
CHICAGO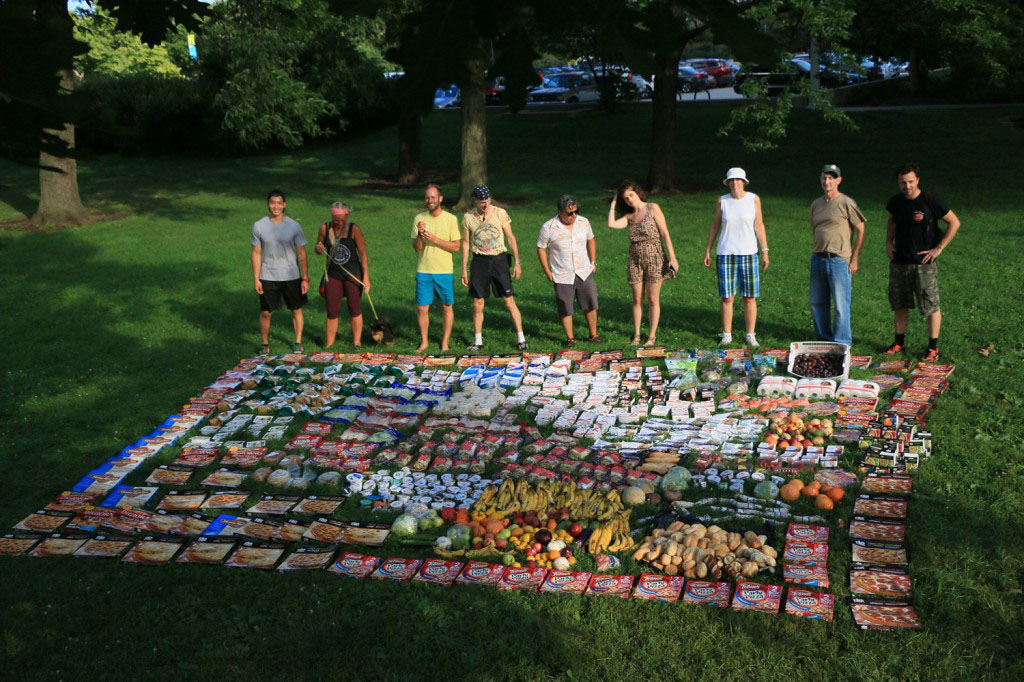 "While in Chicago I spent time in Englewood, the poorest neighborhood in town, and learned that most of the people on the block I was visiting go to bed hungry almost every night," says Greenfield. "When I explained to them what I find in dumpsters they just couldn't wrap their heads around it. So I took them out diving in the northern suburbs and we filled their jeep with over $2,500 worth of food in under two hours."
DETROIT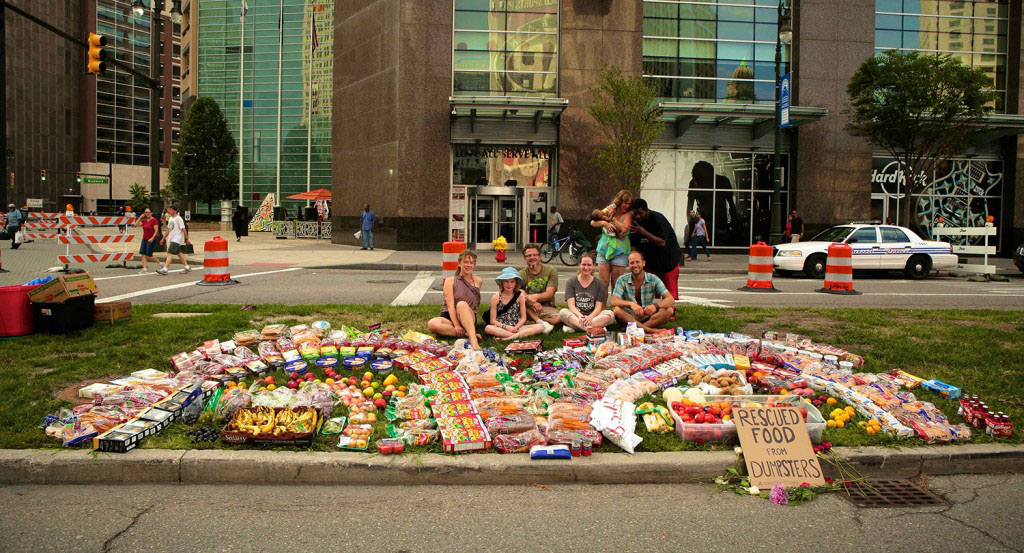 Detroit stores Aldi, Save-A-Lot, Trader Joe's and CVS also had good food in their dumpsters.
CLEVELAND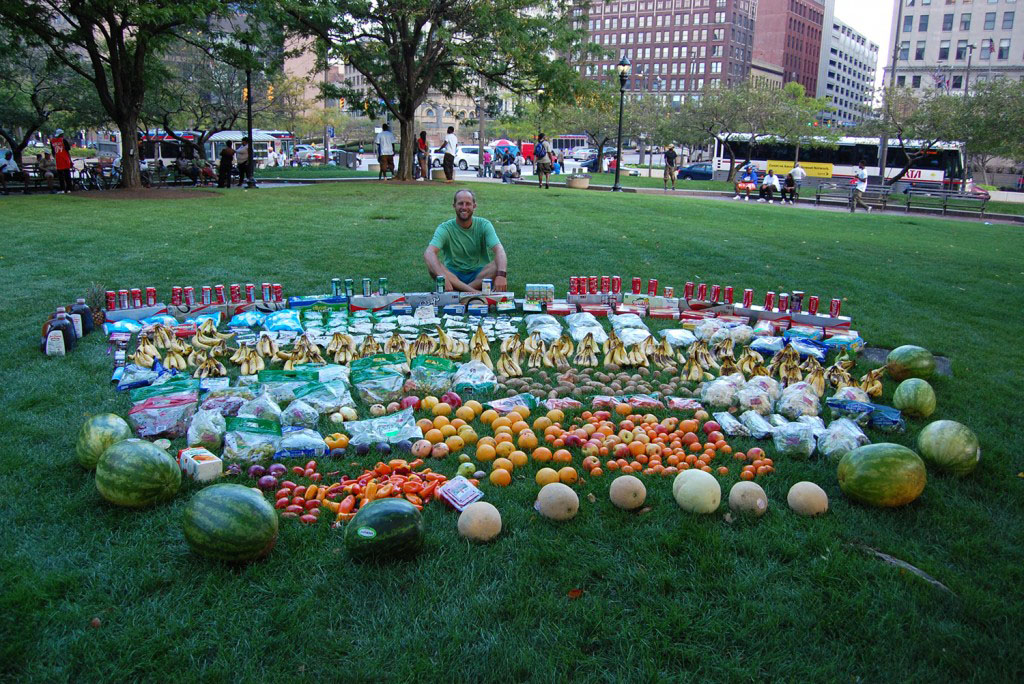 "We set things up pretty quickly and we turned out to be in a park full of people who wanted to eat this food so pretty much right after we set it up we opened it up for people to take," says Greenfield. "Within 15 minutes 80% of it was gone!"
WASHINGTON, DC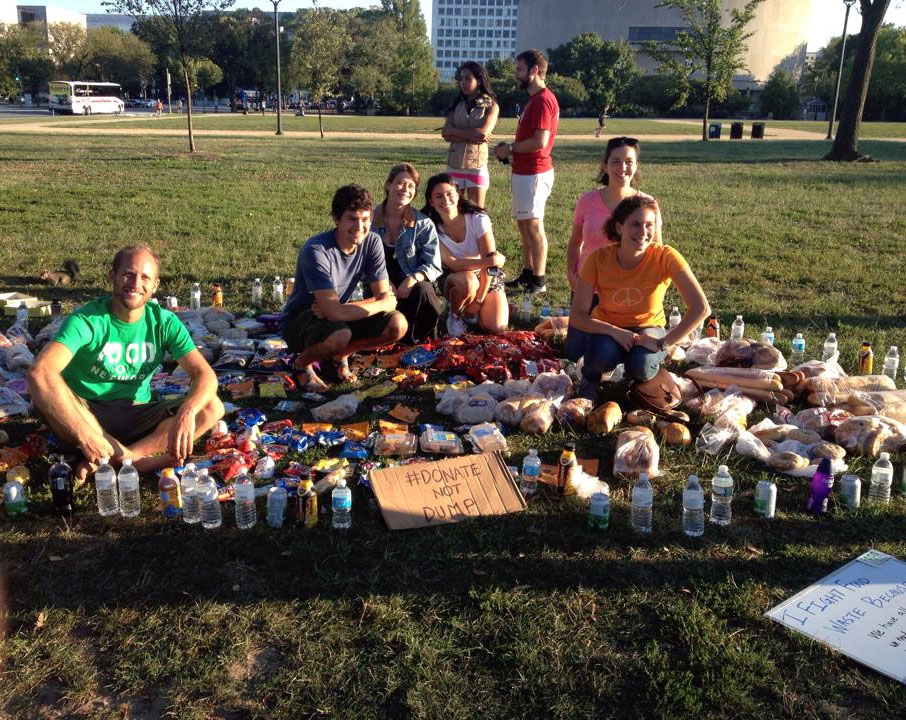 CVS, Trader Joe's and Panera made up the bulk Greenfield's find in Washington, DC.
LANCASTER, PENNSYLVANIA


In Lancaster, Penn., Greenfield says he found bags of still-cold wild-caught crabs and even a Lobster that seemed to have been alive just moments earlier."
PHILADELPHIA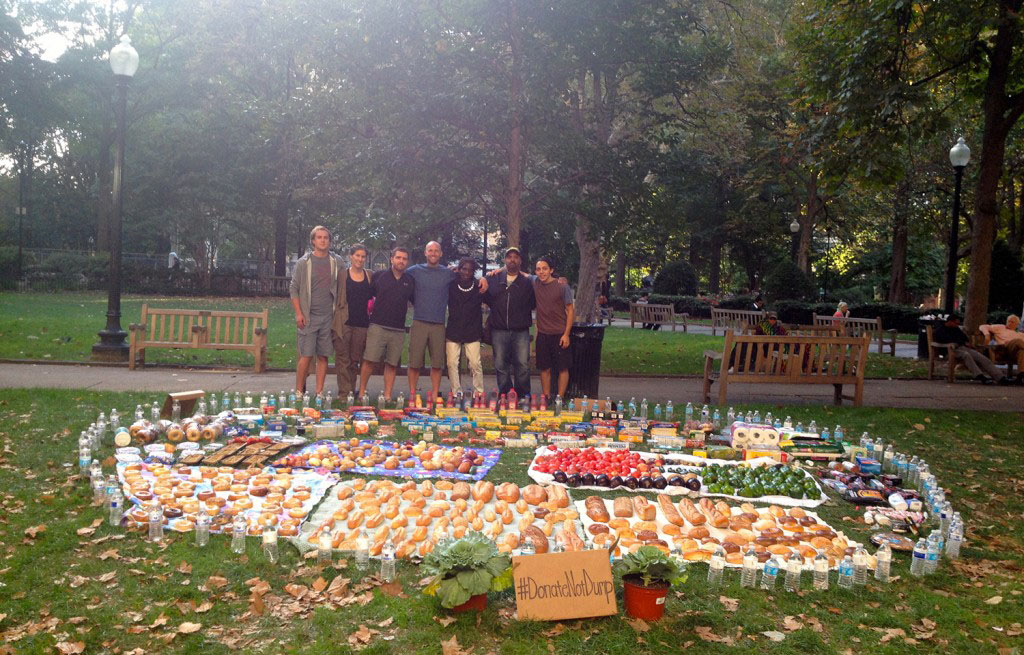 It took just four hours to collect all this wasted food in Philadelphia.
NEW YORK CITY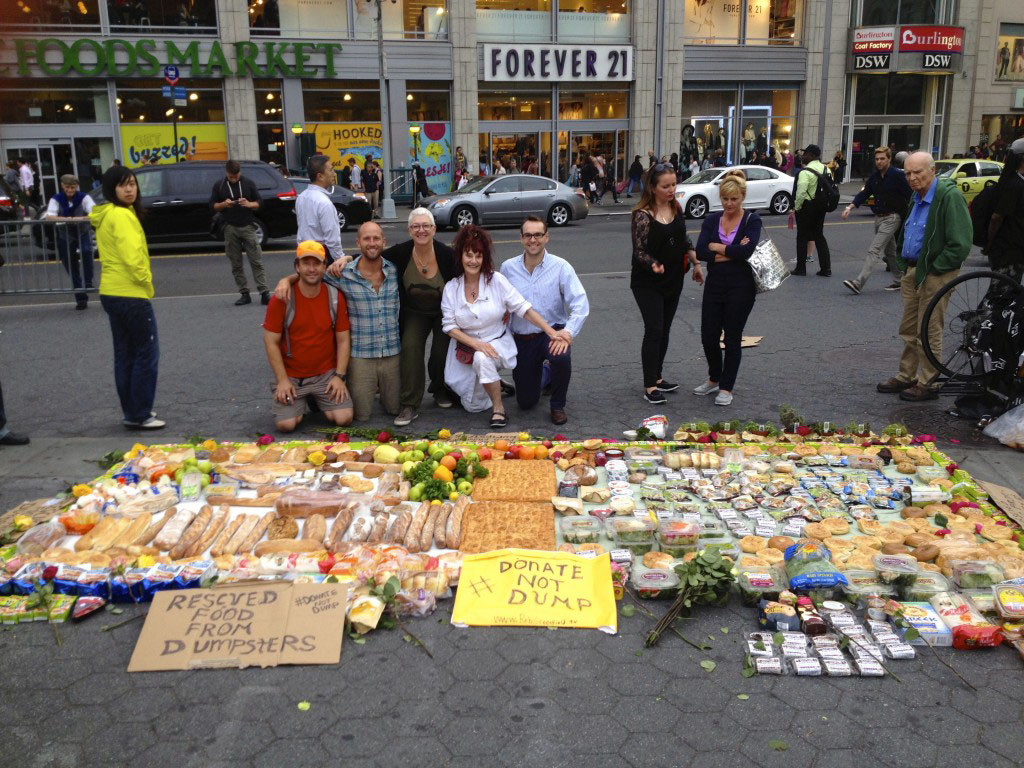 Greenfield set up his food waste display in New York's busy Union Square Park.
BURLINGTON, VERMONT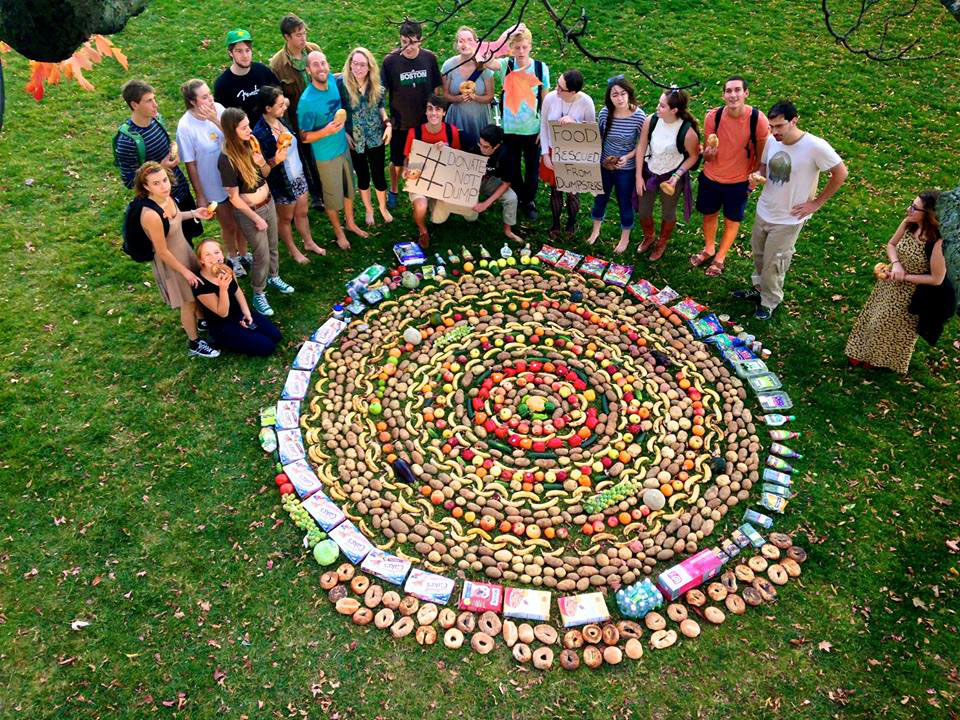 Greenfield raided three dumpsters behind grocery stores and displayed the food he found on University of Vermont's University Green.
Are you inspired to get involved with the food waste issue? Greenfield has started a social media campaign to convince companies to donate their food instead of throwing it away. Here's what he's asking: "Simply go to dumpsters with your smart phone and take a picture or video if you find a lot of food. Upload the media and tweet, Facebook, or gram it at the wasteful company with #DonateNotDump. Let them know we are not OK with them wasting precious food."