Living car-free is becoming easier in metro areas that have decent pubic transportation, ride-hailing apps, and bike and scooter shares. But what about people who want to be car-free in suburbs or small towns? The key to living in a one- or no-car family could be right on your own block.
When Carla Blackmar and her family moved from Los Angeles to a small Midwestern college town, they decided to see if they could live without a car for a year. This experiment ended up inspiring the Blackmar-Rice family and their neighbors to adopt an informal car sharing system, which is helping strengthen their community while reducing fossil fuel use. Here's how they did it:
When my family of four first took the plunge of moving to a small Midwestern college town without a car, I convinced myself it would be okay because our house was two blocks from a car rental facility and most of the places we need to go are within a two-mile radius of our home. Most days, I prefer the exercise and the experience of biking, and renting worked great on the rare occasions when we knew we needed a car in advance, but it didn't help with surprise adjustments to the youth soccer schedule or on days when I really need a car due to sickness or bad weather.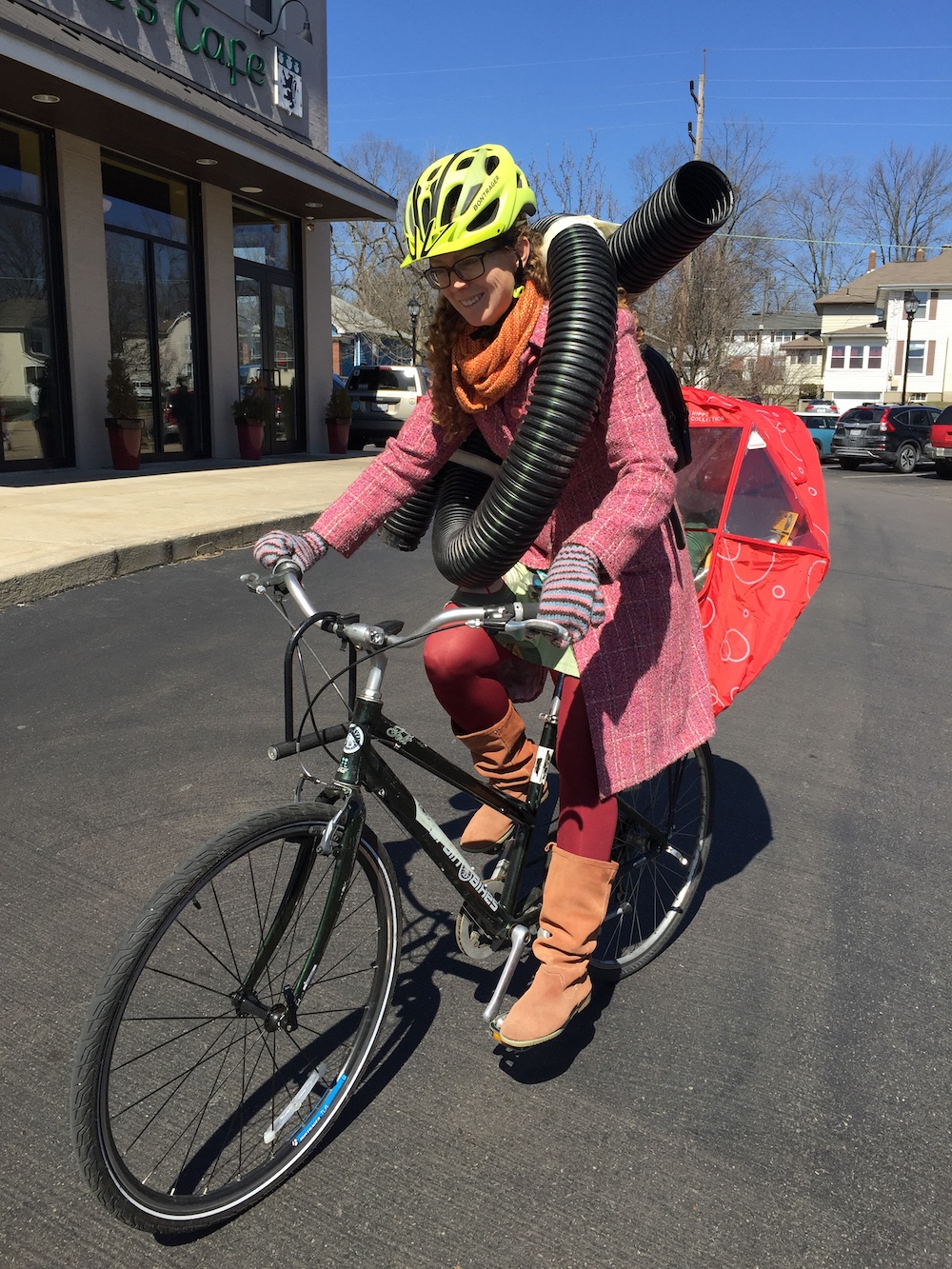 On those occasions, seeing cars that could really help our family "parked" in an ownership structure that doesn't allow their use felt like spite. Of course nobody was intentionally spiting me, but for people living car-free, the feeling of traffic zooming by while you are left to toil against auto-oriented infrastructure is a bitter one.
My neighbors are kind and generous people, however, and it didn't take much convincing for them to see their cars as a resource that could be extended beyond their own benefit. After a few months, a neighbor offered to lend us his car if we needed it. On another occasion, I got brave enough to ask a second neighbor if she'd be willing to lend us her van so I could go get rain barrels for my garden. And another time, I asked a neighbor if I could borrow her car to get my son to preschool in an electrical storm. They very kindly obliged.
The hardest part of car sharing was breaking the cultural taboo of asking for help. We have such a fear of imposing on others, or that we will be judged harshly because we cannot meet all of our needs individually. But we had moved from a multi-family, multi-generational apartment building in Los Angeles where the elevator would often break, and we'd help our 90-year-old neighbor walk up to the top floor to make sure she was okay. When you see your neighbors' lives up close, you learn that at times we all need help.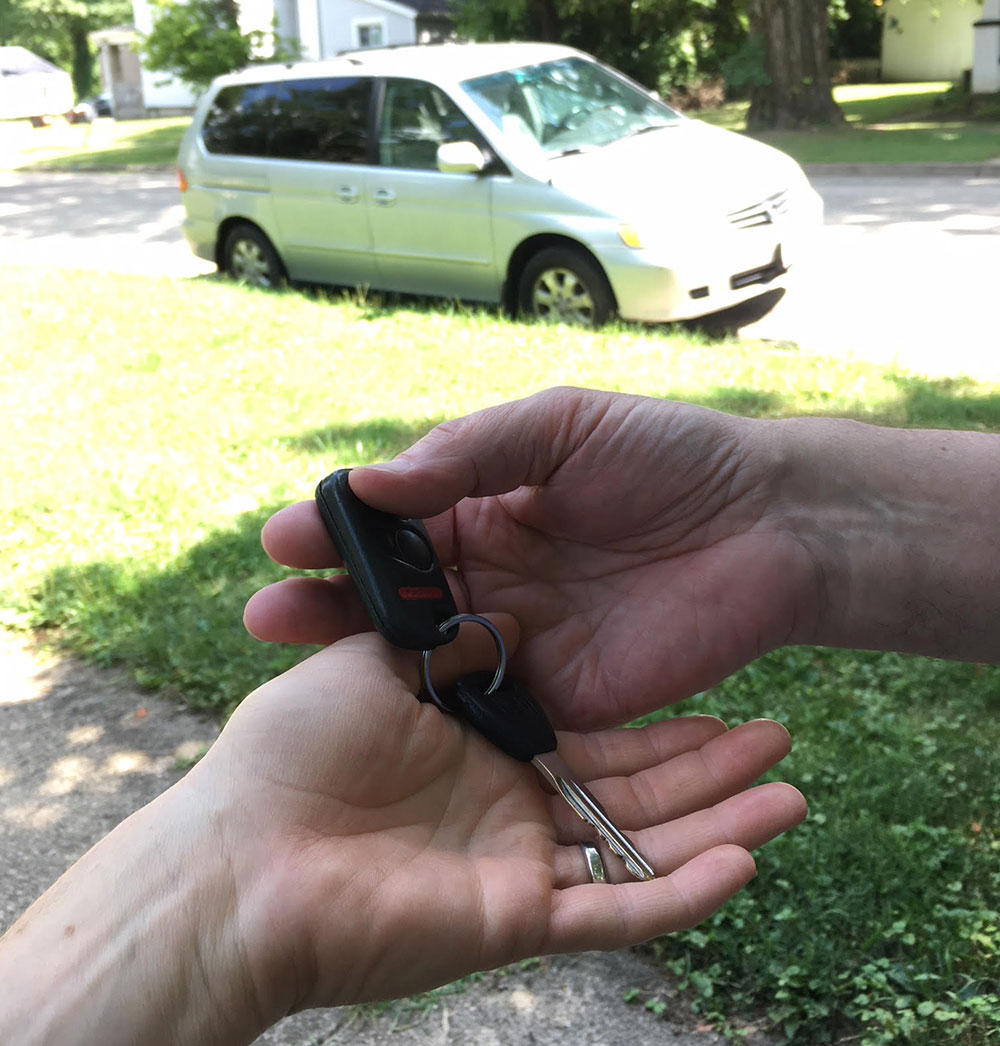 The neighbor who made car-sharing easiest on me is the one whom I can count on to tell me "no" when I ask to borrow her car—my honest request for help, her honest response when she cannot give it. Most of the time I'll ask by text message with several days advance notice—but sometimes I'll ask only an hour or two ahead of time. My neighbor is often around, or within easy striking distance (our town is very compact), so picking up a key or the car is easy. Her 20-year-old van is useful enough that other neighbors will borrow it also. We try to be respectful when it comes to re-filling the gas tank. One time, I broke the front windshield scavenging lumber—and I made sure to get it repaired.
Paying It Forward
After about a year into our car-free experiment, we were given a car, and the tables turned. We now had the chance to help a neighbor who had been living car-free with her daughter but who needed a safe way to get to a new night-shift job. Access to a car is helping her build a stable future for her family and helping our family stay strong in our commitment to reduce our driving so all of our kids can enjoy a stable climate.
Lending our car means that we continue to live car-free much of the time, and keeps the network of lending on our block open. Learning how to ask for help, graciously receive it, or deny help if you can't provide it takes continual practice and adjustment, and we continue to learn and build resilience in our approach.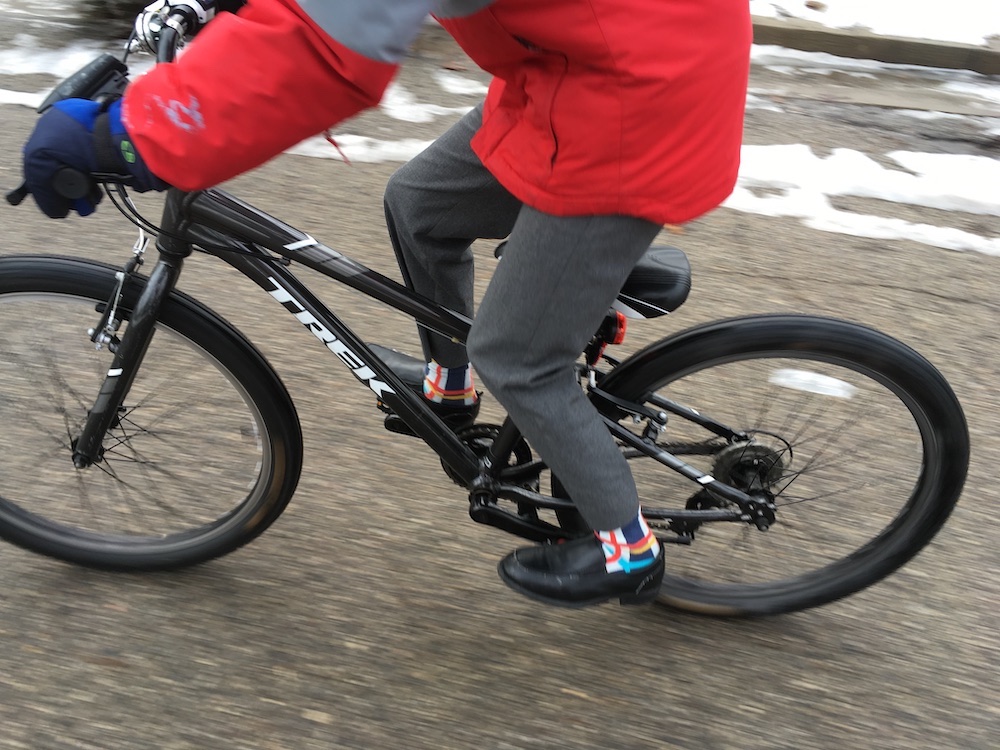 When you enter into long-term car sharing, you still have to face insurance costs. Even if you don't own a car, you must be insured as a driver. We purchased coverage for ourselves as drivers before we owned a car. It was an interesting discussion with the insurance agent, because they are used to tying your coverage to a specific vehicle. But after explaining the situation, we were able to purchase driver's insurance that provided us additional coverage in any car—whether a rental or a neighbor's vehicle. The neighbor who borrows our car was able to purchase driver's insurance as an add-on to our plan.
Envisioning a Different Way to Drive
Once the door to neighborhood car-sharing opens, suddenly there becomes the option of right-sizing the vehicle fleet of a neighborhood. Rather than a pickup and a commuter car in every driveway, maybe just one pickup truck on the block is enough. The carbon cost of manufacturing new vehicles is substantial. Demanding fewer cars by better utilizing the ones we have slackens demand for vehicles — and carries a substantial climate benefit.
Our car-sharing story resembles the past more than it resembles the future. If our neighborhood had large-scale buy-in to a peer-to-peer car-sharing app like Turo, we would have been just as happy to use that. I believe Airbnb has paved the way for a cultural shift that will normalize car sharing quickly, especially for younger urban communities. That said, informal lending structures like ours are really important for people who are rebuilding their lives or those who may not have credit cards or bank account, and it seems to have come more naturally in our small, relatively income and age-diverse town.
Every now and again car-sharing limits our personal convenience. We will get into a bind where a car is double-booked, usually because we didn't communicate or know schedules far enough in advance. But what I learned from my year living car-free is that you can always ask for help, say no to an engagement, or call a cab. Relying on a community for transportation rather than on a hunk of metal that only you can unlock has fostered rich connections on our block, and is brightening all of our futures.
About the Author
Carla Blackmar is a city planner, designer and climate advocate. You can follow her meanderings on Instagram @zerowastefail or on the web.
Tell Us Your Community Stories
This year, we are shining a light on the ways communities are working together to shift norms and make sustainability changes happen. We invite you to tell us your stories. Use the form on our Contact page to send us stories of what's happening in your community.