I drive a plug-in electric hybrid to work, and often mine isn't the only PEV in the lot. We see low-cost offerings by Honda, Nissan and Ford. We also see some of the fancier cars in our lot. A Tesla Model S and the amazing BMW i8 make regular appearances. Last year, Porsche let us display their amazing plug-in hybrid Panamera for a couple of months, and we have a Fisker Karma on display most days.
With all this EV traffic, we realized it was high time to install an EV charger at our headquarters. We are not the only tenants in our building, and we wanted everyone to be able to fill up their batteries at work. Here's how we went about it, plus some tips for those of you who want to lobby your employer to install a charger at your workplace.
EV Charging: What to Consider
First, we needed to decide if we needed a Level 1 or Level 2 charger. A Level 1 charger is like a regular household grounded outlet and offers inexpensive, basic service best suited for when you have several hours to recharge your battery. Level 2 chargers are more powerful, like that of an electric clothes dryer, and can recharge an electric car battery at about 26 miles of range per hour. (There are also Level 3, or DC Fast chargers, which can recharge 240 miles of range in an hour, but these consume more energy than a house and cost $100,000.) For Sustainable America, the right choice was a Level 2 charger – fast enough to fill up a car while parked at our office during the day. Since we often have more than one EV or PEV in the lot at a time, we decided we'd need at least two ports.
To help defray the cost of unit and installation, which totaled nearly $20,000, we were able to secure a $2,000 grant from the State of Connecticut. (Your generous donations can help offset even more.) The next question was who would pay for the electricity every month? Since encouraging more people to drive electric vehicles is a part of our organization's mission, we wanted to find a way to offer "fill-ups" at our charging station for free. The trickier question was whether Sustainable America or our landlord would pay for the electricity. We did some calculations of possible scenarios and figured out that our typical daily consumption would be less than a cup of coffee. Armed with that information, we made a presentation to our landlord, and he graciously offered to cover the first $100 of electricity consumed per month.
Making Your Case for an EV Charger at Work
According to a recent survey by the Department of Energy (DOE), access to electric vehicle charging at workplaces has almost doubled in the last two years (see chart below).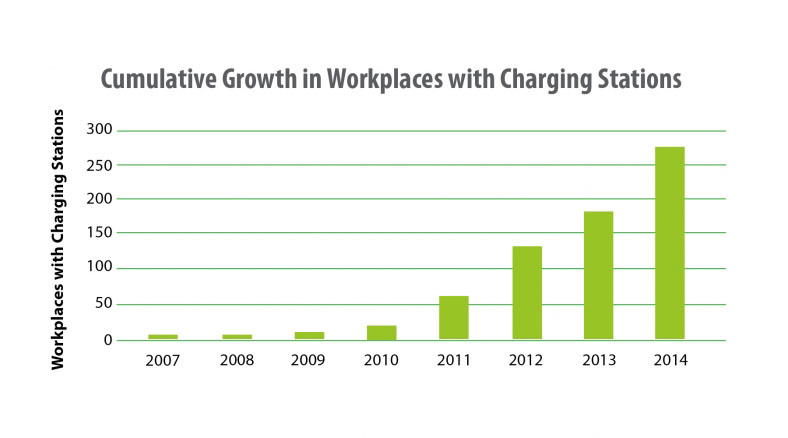 If you'd like your employer to join this trend, you'll need to start by building a case for it. Survey employees to see how many could use a charger, then recruit them to help you present the idea to management. Even if you're the only one, there are other reasons your employer might consider it. Here are a few reasons from the California Electric Vehicle Collaborative:
<ul>• To green its image.</ul> <ul>• To attract and retain highly skilled employees.</ul> <ul> • To meet greenhouse gas reduction goals.</ul> <ul> • The company's peers or competitors have installed charging.</ul> <ul> • To join a growing group of leading companies that have installed workplace charging.</ul> <ul> • To help fleets convert to PEVs.</ul> <ul> • To help attract visitors, such as in retail workplace setting.</ul> <p markdown="1">
For more information and tools to help bring electric vehicle charging to your workplace, visit the Workplace Charging Challenge. Launched in 2013 by the DOE, the challenge asks the businesses to assess workplace demand for charging stations and then to install sufficient charging in at least one workplace location. You can learn more about federal and state tax incentives for chargers and get tips on how to craft a proposal for your employer. (If all else fails, tell them how the smart folks at NASA reported "insane" savings from workplace charging.)
If you're in the Stamford area, feel free to come by with your EV to fill up for free, grab a cup of coffee and tour of our space. We look forward to seeing you, and thanks for your support.
Jeremy Kranowitz
Executive Director
RELATED ARTICLES
New Work Perk: EV Charging Stations
How Much Can You Save With an Electric Vehicle?
How to Create a Zero-Waste Workplace
Chart courtesy DOE