During the peak of the COVID-19 pandemic, biking took off, as people looked for outdoor recreational activities and city dwellers sought out transportation options to avoid crowds on public transit. Meanwhile, sales of E-bikes began to soar. They now outpace those of electric and hybrid cars combined.
In New York City, this influx of cyclists put in stark relief the shortage of suitable parking infrastructure, with 1.6 million bikers, and just 56,000 parking spots. And where parking does exist, it's often far from secure, leaving bikes exposed to the elements and vulnerable to part theft. One quarter of households in New York have experienced bike theft, a major financial burden to those who rely on their bikes for work and transportation.
Oonee founders Shabazz Stuart and Manuel Mansylla believe parking to be a key barrier to riding for those who have yet to invest in a bike of their own.
A business to help improve the biking experience
Stuart and Mansylla launched Oonee in 2017 to fill this gap. Oonee's website describes their team as "a Brooklyn-based Black- and Brown-led team of advocates, designers, and policy experts".
Oonee's offering to bike parking includes five modular designs that can be sold directly to cities, enabling riders to access free, safe parking. The designs range from curb-side "minis'' that can house up to 8 bikes, to Dutch-style storage "hubs" that can house more than 100. Riders can access them using an app.
Oonee's first design was the 20-80 bike "pod," which they tested in 2018 at the Brooklyn Navy Yard and publicly piloted in Manhattan later that year. 2019 saw Oonee launches in 2 new locations. In 2021, the first hub and curbside stations were announced. As of 2022, Mini stations will be launched in Grand Central as well as five neighborhoods around the city.
For the love of biking
Stuart grew up in Brooklyn, where he only ever biked for recreation. When he moved to Boston for school, however, he began using a bike for transportation. In an interview with Urban X he says:
"As I biked more often, I ran into problems. 'Oh, I got a flat, who's going to fix it? Oh, someone stole my handlebars, what do I do?' For many people in cities, biking is their life. They're road warriors. In the 21st century, we have so many apps for concierge experiences, especially for cars. So when something happens or goes wrong, you have someone to call. But we don't have that with bikes. It's like the Wild West — you're on your own."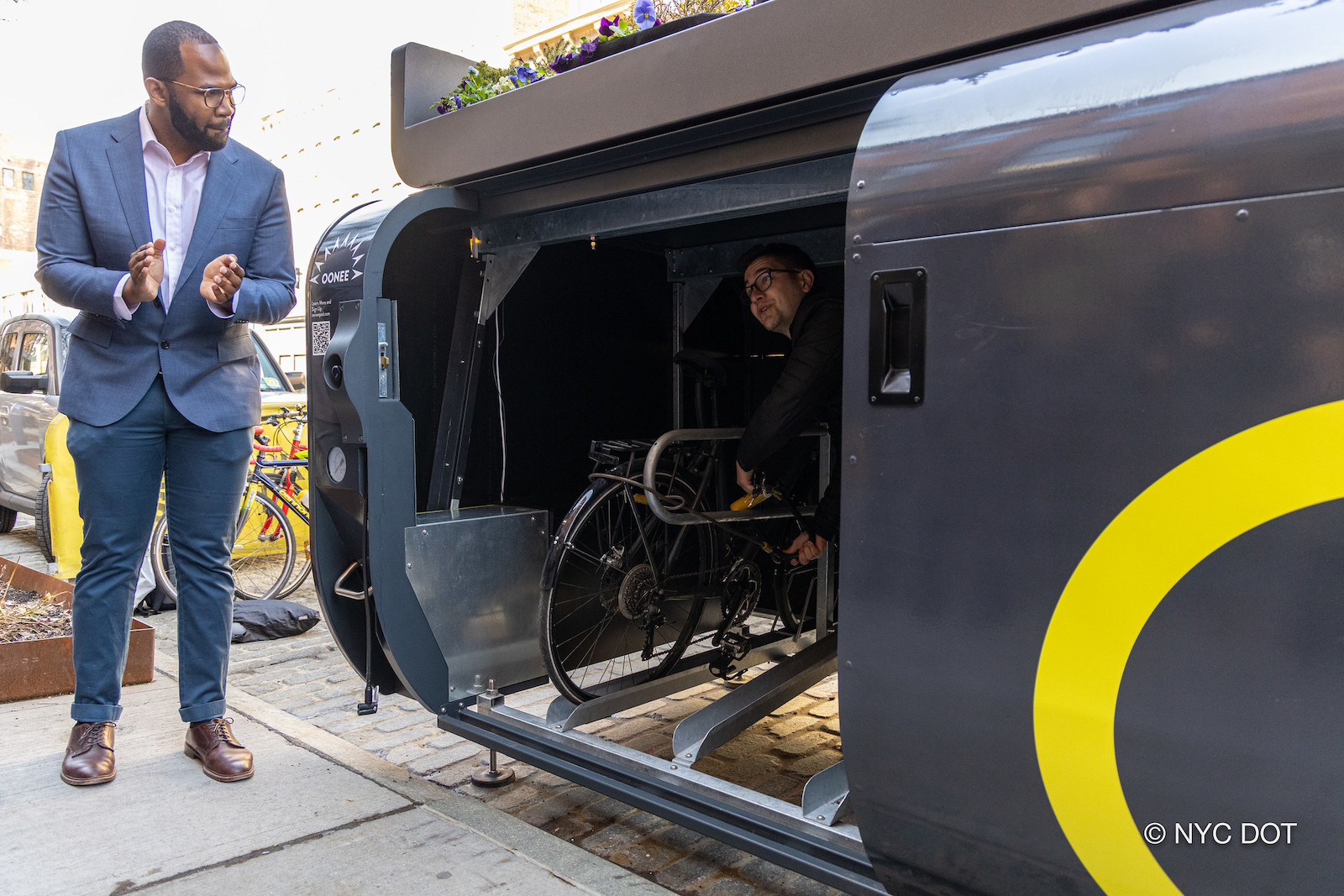 The dream of making biking more accessible
There's a sense of pride in being a road warrior for those willing to do it, but Stuart hopes Oonee can make biking easier and therefore more attractive to other people.
"I see us creating the kind of environment where cycling, as a key transportation alternative, can be competitive. I see Oonee as creating the vital infrastructure foundation that we need to reduce car dependency," he relayed to Urban X.
And Oonee's business model aims to make high-quality bike parking available for free. This would benefit the city's many food delivery drivers as well as low income individuals whose livelihoods depend on their bikes, and may struggle to afford replacing them. So far, one-third of Oonee users earn below New York City's median income of $50,000.
A focus on policy
Oonee focuses not just on the technology itself, but on working with communities and policy-makers to bring their designs to locations where they will be useful and well-received.
Making parking available for free instead of as part of a subscription requires selling the products to governments, a daunting task that might dissuade other entrepreneurs. Luckily, Stuart, with years under his belt working in city government, is well-equipped to take on this challenge.
In an interview with NYU Wagner, Stuart said: "Most companies create their business, and try to get policy to support that business. We did the opposite, create a good policy and use business to support it."
All that work is paying off. The Oonee pilot stations have been used 100,000 times, with only one theft. There are now nearly 40 Oonee stations slated for development in New York and Jersey City.