If you've been following Sustainable America's evolution over the last two years, you know that part of our philosophy is that investing in entrepreneurs and startups is an effective way to help increase the sustainability of our food and fuel systems. What you might not know is how we do it, and what some of our criteria are for making these investments.
We're an organization of diverse outlooks, skillsets and backgrounds, ranging from finance to mediation to sustainable community development. That diversity has served us well to date, helping generate meaningful impact in just two short years of existence. And we've found that similarly, aligning two efforts which conventional wisdom says are quite different — investing and consumer educational programs — produces powerful synergies that increase sustainable ecosystems. For example, we're researching an investment in an idling-reduction technology for the trucking industry which aligns very nicely with our consumer-oriented anti-idling campaign. Should the two of these efforts be successful, we would make a meaningful and measurable difference in reducing fuel consumption in the United States.
Investing for Impact
Sustainable America's mission empowers us with the will to invest in early-stage, high-risk ventures in a way that other nonprofits and venture capitalists have not or cannot. However, we do apply a good deal of investment-process rigor to our decision-making process. Along with due-diligence, when considering a new investment, we have an overlay of criteria that must be met, which includes the following:
* Mission Alignment: Is the company primarily engaged in solutions improving food or fuel system sustainability?
* Scalability: Can this venture be expanded to make a national impact?
* Measurable Impact: Can the net sustainability benefit be quantified?
* Returns: Are potential returns on capital commensurate with risk and competitive with similar investments?
Circling back to measuring impact, we make an effort to quantify the impact that the companies we invest in might make on sustainability of food and fuel systems, across a wide variety of categories:
* Markets: Does this company create a new market, or make a niche market more viable?
* Marginalization of incumbent technology: Can we measure the number of new, more sustainable units purchased, and old units retired?
* Commodity usage reduction: Can the changes in commodity consumption be measured?
* Social and societal: Can the number of jobs created be quantified; are there additional societal impacts?
As with many things at Sustainable America, some of this is an evolving work in progress. There really isn't a very extensive roadmap for what we're doing, and we invent and revise new processes each day. That's the exciting but challenging aspect of our jobs! To that end we're working toward standardizing the measurability of our impact investments to align with IRIS, a set of impact metrics used by major players in the growing impact investing market.
What Happens Once We Invest
Once we've made an investment, we continue to work with the company to offer help (staff resources, networking, etc.), because helping our portfolio companies succeed is one way to manage risks to our capital in a high-risk environment. We've helped one of our companies find potential follow-on investors and have publicized their efforts through our social media channels.
If you have invested in larger social finance funds in the past (Calvert, RSF, etc), our structure may be a bit unfamiliar. Rather than generate returns for investors, we strive to generate returns for the benefit of future startups, within an "evergreen structure." Donors to Sustainable America receive the standard tax benefit for making charitable donations, but any profits from our investments are reinvested in the next deserving startup. Similarly, we do not take any management fees or percentage of profits.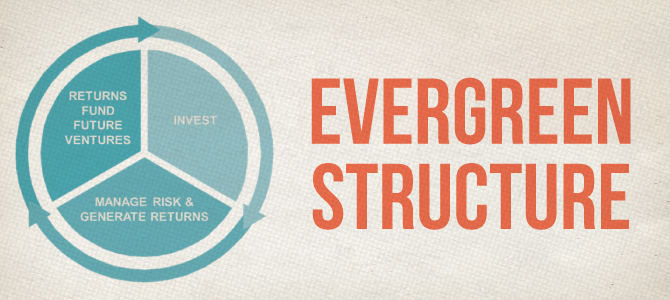 When all is said and done, we'd like to end up with a portfolio that roughly echoes the mission of Sustainable America: a 50/50 split between investments in sustainable food and sustainable transportation companies. The investments we make are largely modest in size, seeking to help startup companies with seed-scale investments ($50,000 – $100,000), as we see this stage of development as the area of greatest need — a time when many deserving companies fail due to a lack of funding. Our investments are likely to include a fairly wide range of investment vehicles with diverse return expectations, ranging from debt to equity to revenue sharing, and perhaps other more creative structures.
We're seeking to generate returns equal to or superior to other social mission funds, and we think we've got a chance to succeed based on our tight focus on food and fuel, and our growing network of co-investors who help us find exceptional new companies to invest in, and share their collective wisdom.
Where We've Invested So Far
To date, there are two investments we'd like to highlight. Spensa Technologies to created a system for smarter monitoring of agricultural pests in real-time, which enables farmers to reduce pesticide application by up to 15%. Aerofarms is a grower of field-greens using aeroponic technology, which greatly reduces inputs like water and fertilizer, reduces the transportation miles that food must travel to market, and increases the resiliency of our food system.
We're looking forward to a busy 2014 for investing, where we are likely to make four or five impactful investments. So stay tuned. We hope to have some exciting updates for you throughout the year!
As always, we appreciate your help in spreading the word about what we do here at Sustainable America. Thank you for your support.
Gray Peckham
Sustainable America Director of Investments