Working remotely and eating at home, I find myself running out of flour more often than ever. More time spent cooking means more groceries. Baking aisles saw a boom as the grocery industry was upended by the pandemic, and grocery stores had to make shifts as shopping behavior was forced to change. Many Trader Joe's locations still have lines wrapped around their stores to give shoppers a more socially distanced experience. Other grocers are offering online ordering and curbside pickup at a time that's convenient for you. And online-only grocers are continuing to gain traction among those of us looking to get our food safely and conveniently.
When you're not the one holding the items and reading the label, selecting foods that are good for you and the environment can take a bit more effort. Considering low contact ways to get pantry staples while supporting organic farms and small businesses, we've collected a list of some of the top online grocery providers that put their best environmental foot forward. As we explore these options, we wanted to arm you with things to consider when online grocery shopping sustainably.
The Changemakers: Sustainable Online Grocers
Thrive Market - The Costco for organic delivery.
Established in 2015, this 100% carbon-neutral, zero-waste certified company is committed to regenerative farming practices. organic standards and fair trade.
By either supporting brands who invest and make their products with regenerative farming practices, or making their own branded products from scratch, Thrive Market is carving their own market that makes healthy living easy and affordable while helping reverse the effects of climate change.
What comes around goes around — each paid membership provides a membership to someone in need including low income families, students, teachers and veterans. Their 500k+ members pay an annual fee of $60 and receive wholesale prices to brands that are building a better future for us all. It's like Costco for organic food delivery. Shoppers save 20-50% off retail pricing and an average $30 each order.
The products they curate are delivered to you in 100% recyclable and reusable packaging, down to the tape. They may not have all of the groceries on your list, but you can browse and checkout at a time that's convenient for you. I gave a membership a try this past month and was impressed with the prices, but more so how my order got to me — all wrapped up in one efficient box.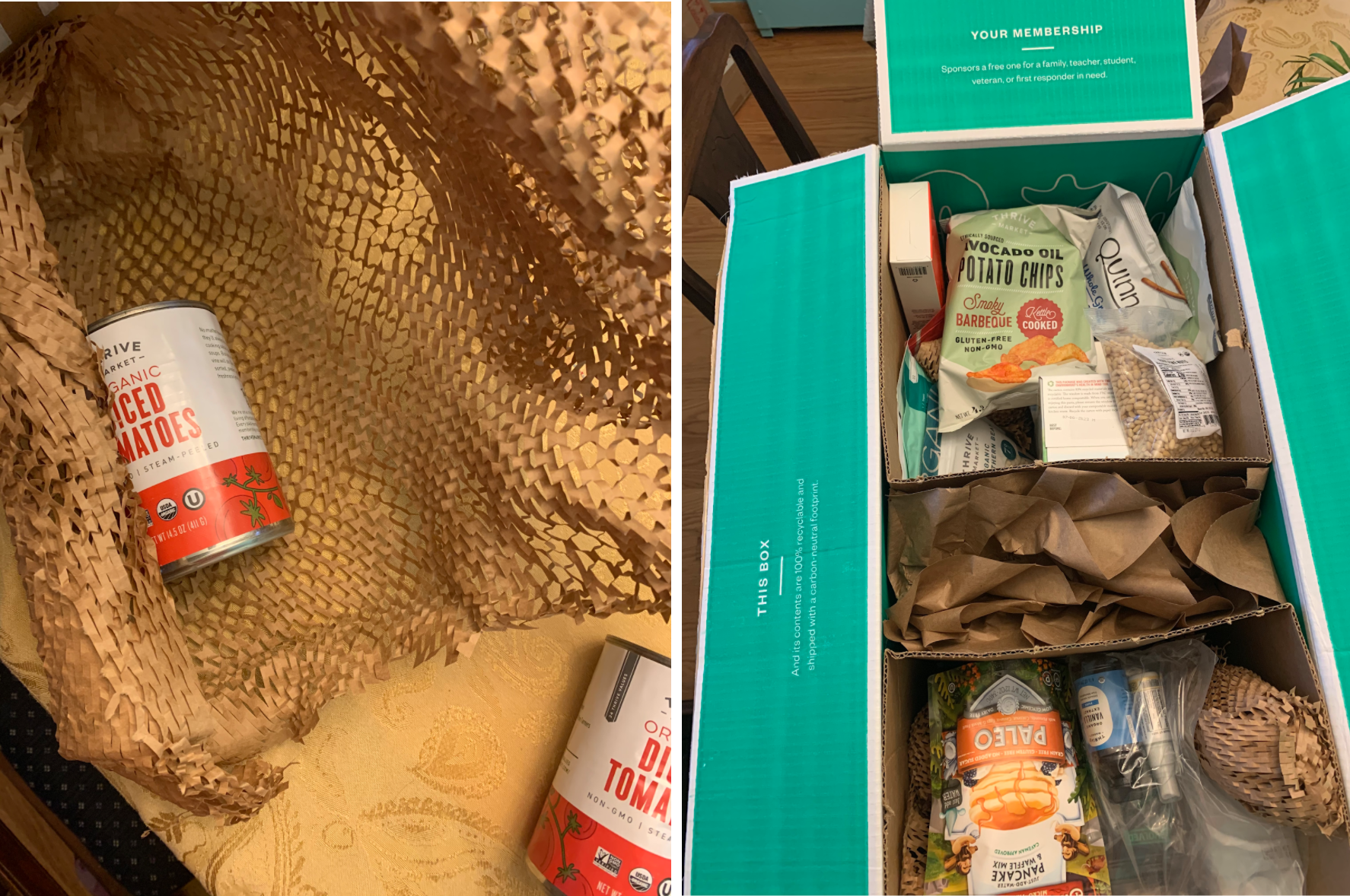 Azure Standard - The drop point farm to doorstep.
Also committed to natural organic growing practices, Azure Standard started in 1971as a 2,000-acre wheat and cattle ranch when they made radical changes to their family farm. They removed chemicals from their farming cycle and waited for their crops to slowly regain fertility. From there, they began selling their organic foods and curated organic products for their customers.
Free to join, you can get frozen foods, refrigerated goods, fresh produce and even plant starters for your garden, in one shipment with standards we can feel good about. They even list their unacceptable ingredients for food items right on their website.
The delivery process is a bit unique where you can shop online and either get your order delivered to you, or pick it up at a drop point near you. A drop point is usually someone's house who is an Azure site coordinator, where a semi-truck from Oregon delivers the products to the drop location, and you find the box with your name on it. They have set delivery days, so when you place your order, you know which day you will need to pick it up. This process removes the middleman and grocery overhead, giving you healthy food directly from the producer.
Misfits Market - The mischief or madness produce box.
Established in 2018, Misfits Market is a subscription box filled with "ugly produce" for 40% off what you would pay at the grocery store. "Ugly produce" are fruits and vegetables that are rejected by grocery stores due to natural imperfections or variations in size (this does not mean GMO or something is wrong with them). They partner with hand-picked small to mid-sized farms and food hubs, and buy from the farmers' co-ops that run CSAs across the Americas to source certified-organic produce delivered to your door.
Boxes are available in many states and are growing quickly. You have the option to purchase a smaller Mischief Box, feeding 1-2 people with 12 different types of fruits and vegetables, or a larger Madness Box feeding 3-5 people with 14 variations. Produce is packaged in compostable plant-based bags delivered in boxes made from recycled cardboard. You can choose the delivery cadence from either every week or every other week. Because Misfits Market has produce available all year round, this subscription is a complement to CSA supporters during the off seasons.
By purchasing food that would otherwise go to waste, you're letting organic farmers generate extra income. This also helps reduce the carbon footprint by rescuing and using any high-quality, responsibly-sourced food they come across.
Imperfect Foods - The original "ugly food" grocer.
We can't forget about the "original" online ugly produce provider: Imperfect Foods (disclosure: Sustainable America is an investor in Imperfect Foods. Learn more below). Established in 2015 in San Francisco formerly under the name of Imperfect Produce, they renamed the brand in 2019 to incorporate a wider variety of offerings including dairy, meat, fish, snacks and grains. Imperfect delivers quality food at affordable prices while on a mission to eliminate food waste and build a better food system for everyone from farm to store to home.
Free to sign up, buyers have the option of a flexible grocery system delivered weekly. You start by selecting either conventional or organic produce, pantry staples, dairy, eggs, meat and seafood. You add the items you want to be delivered on a weekly basis. Imperfect will notify you a few days before your box arrives for you to pick out exactly what you want. And they encourage you to upcycle your box by picking old boxes up on delivery days to repurpose.
Buyers typically save 30-50% compared to retail prices, while also helping support independent producers and combat food waste. More than 139 million pounds of food have been saved by Imperfect Foods. Imperfect is also one of the few online grocers that do accept SNAP, making healthy groceries truly available for all.
Market Wagon - The farmers and artisans digital community.
Established in Indianapolis in 2016, Market Wagon brings a farmers market to your doorstep by supporting local farmers and artisans through an online marketplace. They sell goods like eggs, meats, dairy, grocery items, household goods, and pet foods regardless of the season.
Made by two co-founders—one a farmer and the other an entrepreneur with a background in software, logistics and order fulfillment—their vision is to be the leading producer in local food channels in the segment of grocery sales. No contract, subscription or minimum order, you can search by zip code for items with a variety of filters and categories in an easy-to-search interface.
They are using cutting-edge shopping and supply chain technology to enable food producers to thrive in their local markets. Once your order is placed, the farmers and artisans gather together to bring all of the items you ordered and prepare for delivery (typically Thursdays). It's a small, startup business so you can get that direct communication to understand where your food comes from and how it gets to you.
The Power of Choosing Local
Local grocery chains are paving their way in the ecommerce market to keep up with the change in our shopping patterns. Midwest grocer company Kroger bought British robotics company Ocado to sort online orders and build a network of fulfillment centers across America. Kroger saw a 92% growth in digital sales by the end of May, contributing the success to repeat visits from pickup and delivery options becoming more available.
While we are building new habits, repeat visits and online shopping is making it harder for smaller, newer brands to get in front of a larger audience. "Seventy-five percent of repeat online shoppers start shopping in their previous basket, so if you're a new brand it's hard" says Franklin Isacson, founding partner of Coefficient Capital, a consumer packaged goods venture capital firm, in an interview with the Washington Post.
That's where partnering with the list in this blog has helped pave a market for these businesses in turbulent times. Take Crooked Row Farm in Kentucky, who supplied salad greens to students at public schools and the University of Kentucky. After schools went virtual, their farm shifted to online home delivery to keep their head afloat after the pandemic left them with an excess in crops they can't sell. Brands also have the opportunity for more digital advertising on platforms like the self-serve ad platform on Instacart.
Not to be outdone by upstart providers and larger grocers, many local farms, food hubs, co-ops and CSAs continue to offer safe, efficient and sustainable ways to get your groceries. Check with them to see how they have adapted to the pandemic and can better serve you.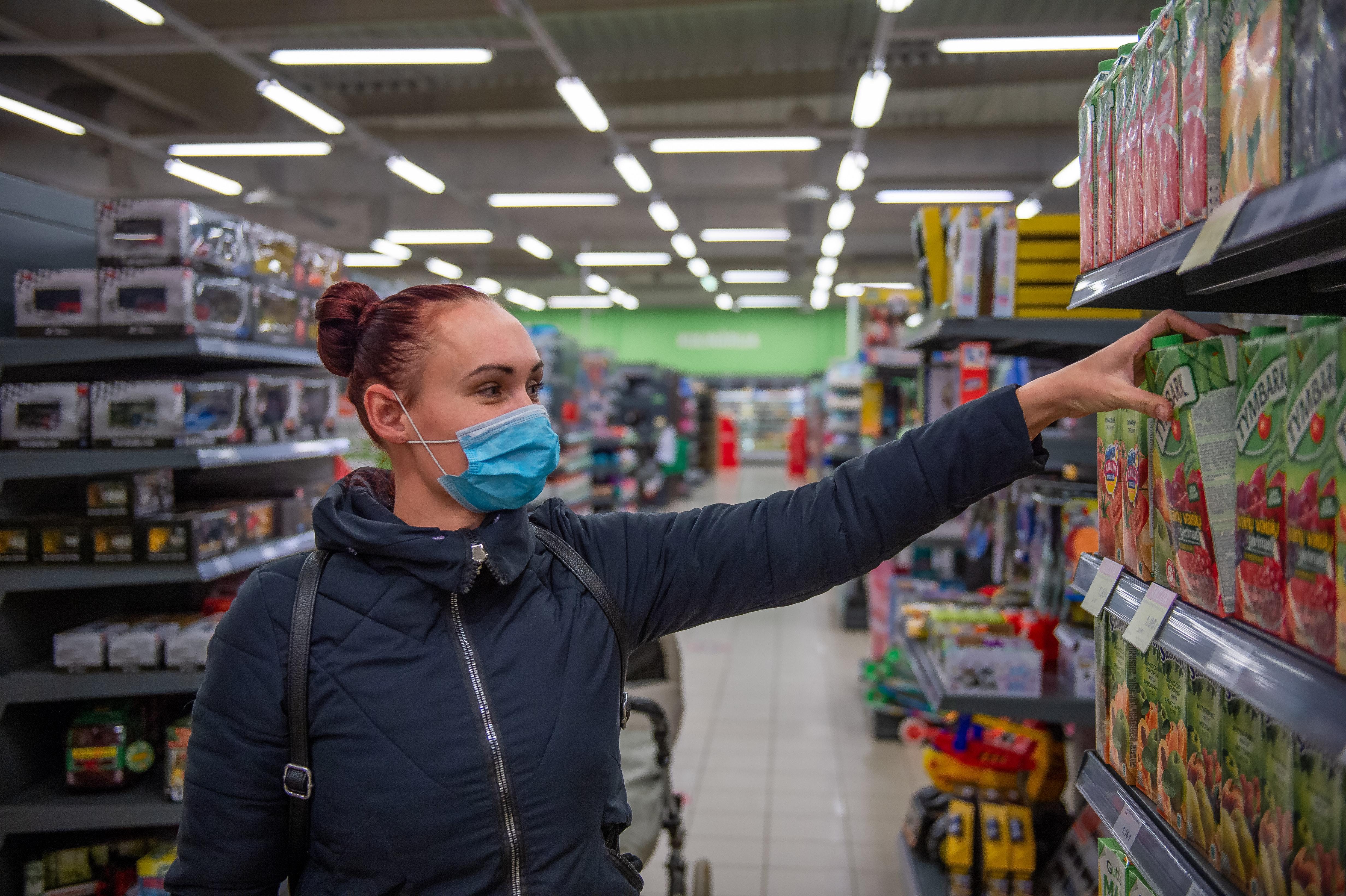 The Impact of Your Dollar
No matter whether you opt to get your groceries delivered, shop curbside or visit your local market, be sure to keep the following in mind to make sure you're shopping sustainably and making the most impact with your grocery budget.
Make a plan
When you're online shopping more, you could be making your purchase worse for the environment, no matter how sustainable your item is in your cart. Avoid making lots of small orders at a time, and continue to carefully plan your shopping to reduce multiple truck deliveries/drop-offs.
Reduce your carbon footprint
To go off this point of planning, your five mile round trip to the grocery store to put dinner on the table multiple nights in the week isn't helping either. Consider swapping one of your trips with a walk or bike to the store, or utilize your freezer to make your food last longer and take less trips.
Provide in areas that really need it
One of the greatest things about the accessibility and affordability of online grocery shopping is serving food deserts, and giving more people the option of having fresh produce and healthy options on the table.
Talk with your local farmers first
Through the CSA, your local co-op or local farmers market social networks, connect with farmers to see if they are selling off-site near you. There is a farmer in my area selling eggs, bacon, beef, chicken, squash and other vegetables out of his van in the city hall parking lot on Saturday mornings.
Follow us on social media and let us know how you are grocery shopping sustainably.
---