America's driving culture is an integral part of our nation. Among the freedoms we treasure most is the freedom to travel to anywhere we want to go, anytime we like. Sustainable America doesn't want to change that. We benefit from it, too. Considering that, our goal to reduce our country's oil usage by 50% over the next two decades is ambitious, and we realize that it's not going to be met by asking people to drive half as much as they did in the past.
So the question becomes how can we make driving better? How can we make it more efficient and cleaner for the environment while still being fun and getting us where we need to go? Our answer is through technological innovation. Happily, companies like Porsche are working hard to achieve that innovation.
A few years ago, Porsche surprised the automotive world by announcing that it would design and build its first plug-in hybrid electric (PHEV) supercar. This car would be designed to exceed the performance of its other models and maximize fuel efficiency — a revolutionary move. Until this point, all supercars had gasoline-only engines.
The promise of the Porsche 918 Spyder is now being realized, as deliveries have just started in the United States. Porsche's ambitions for the 918 Spyder are grand: "A car that sets out to redefine an entire industry. A culmination of everything we are capable of, and yet, just the beginning of where we are headed."
By starting from scratch rather than adding electric to an existing auto platform, Porsche has been able to engineer impressive performance from the 918. The car set a new track record for a production car on the famous Nurburgring race circuit in Germany: 6 minutes, 57 seconds. The 918 goes from 0 to 60 mph in 2.5 seconds. Its total horsepower, when combining the gasoline and the electric engines, comes to 887 hp. The car's 600 amp output is enough to power five houses for 10 seconds. It weighs only 3,692 pounds; more than some of its competitors, but shockingly low given the extra battery weight normally associated with an electric car. Finally, the car gets an excellent 67 mpg, according to the EPA.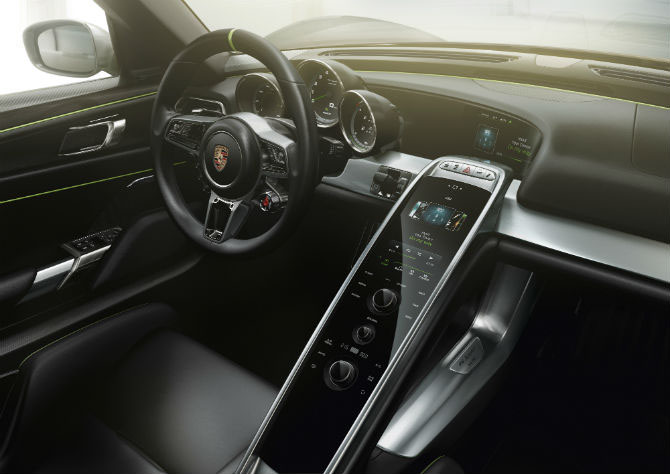 Sustainable America is pleased to announce that Porsche has agreed to become one of the title sponsors to our first fundraising gala on June 26. We've been honored to spend time recently with Porsche and the 918 Spyder, both at the New York International Auto Show, and on the track, at the Monticello Motor Club. Our verdict? This may be the best automobile ever built. But what really excites us is the implications for the future. If Porsche can learn to make a car so light, and so fast, we would expect to see that be reflected in their other models. If Porsche attracts new buyers with this technology, its competitors must follow. Eventually, the nation's fleet of cars become lighter and more fuel efficient, while plug-in electric technology becomes more mainstream. America's car culture remains intact, indeed enhanced, while fun and performance goes up, but oil usage declines.
Still not sure? Try it for yourself. See what "maximum performance and minimum consumption" feels like in person. Porsche has generously donated to Sustainable America a 918 Spyder driving experience for two at the Porsche Sport Driving School and test track in Birmingham, Alabama, complete with travel, accommodations, and a driving school lesson.
You can learn more about the Porsche 918 Spyder package here: biddingforgood.com. Bidding starts on June 12, and the final winner will be determined at our Gala on June 26. For a preview the car and the driving experience, check out the video below.