Pumpkins. The plump, orange orbs are everywhere this time of year. While you're picking out a few for Halloween decorations, it's worth it to set aside a few for eating too. We've rounded up some recipes that will help you make use of everything but the stem, and we've found some ideas for what to do with the ones that get carved as well.
Pumpkin Seeds
Whether you're carving or eating, you first have to deal with the pumpkin seeds. Simply roasted and salted, the seeds were a special treat when I was a kid, but now the Internet is full of more interesting recipes to spice up this fall favorite.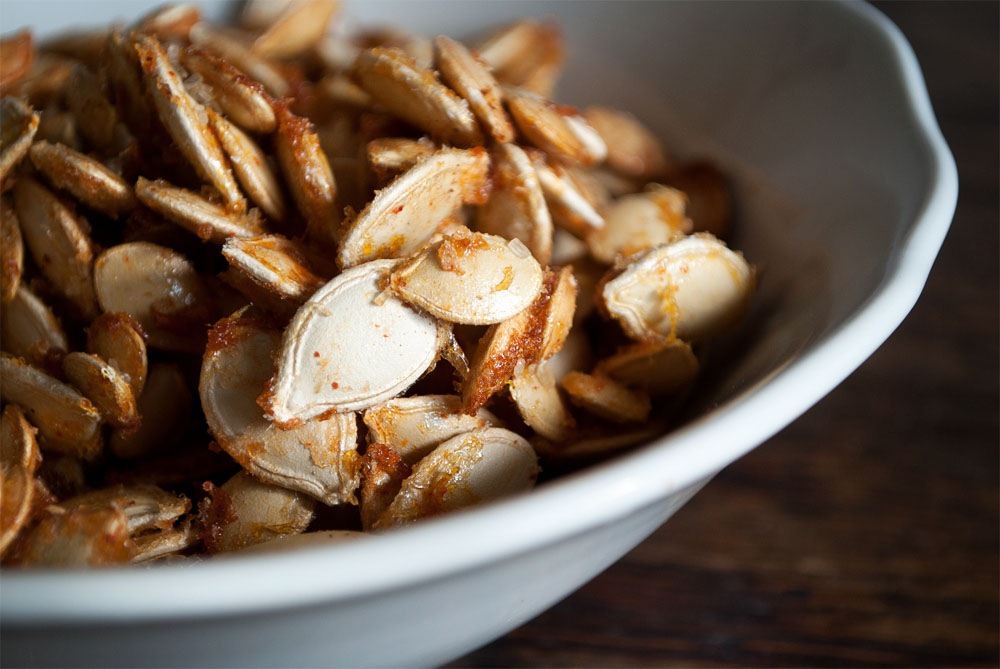 First scoop the seeds out of the cavity, rinse some of the pulp off, and spread them on a towel to dry. (If you have a garden, you can save some of the bigger seeds to grow next year.)
Here are a few recipes to try. You can use these recipes for seeds from other types of squash as well.
Basic Roasted Pumpkin Seeds
Sweet and Spicy Roasted Pumpkin Seeds
Cinnamon Maple Pumpkin Seeds
Sweet and Salty
Curried Pumpkin Seeds
Spicy Roasted Pumpkin Seeds
Salted Caramel Pumpkin Seeds
Once roasted, you can also add pumpkin seeds to granola or use them in a snack mix with dried fruit, nuts and chocolate candy.
Pumpkin Flesh
It's not just for pumpkin pie anymore. Roasted, cubed or pureed, pumpkin is a quintessential autumn ingredient. Once you puree the pumpkin flesh, you can use it as a substitute for canned pumpkin in endless recipes, from sweet — like pumpkin bread, cookies, pancakes and cakes — to savory — think soup, lasagna, hummus, even burgers. If you don't use all your puree, make sure to freeze the leftovers. Frozen, it will keep for six months. (Pie photo: CutiePiesNYC via Flickr)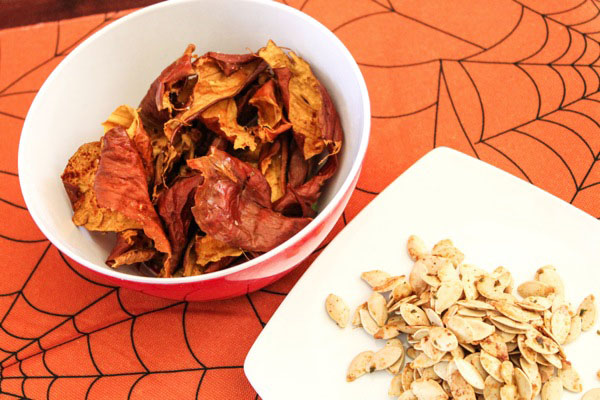 Pumpkin Skin
After you've peeled the skin from your roasted pumpkin, don't toss it. It can be dehydrated into a crispy, nutritious snack. Here are some ideas:
Pumpkin Chips (shown at right)
South Indian-Style Roasted Pumpkin Skins
Blossoms
If you happen to grow your own pumpkins, you can also eat the blossoms using any squash blossom recipe, like this one for Ricotta-Stuffed Squash Blossoms.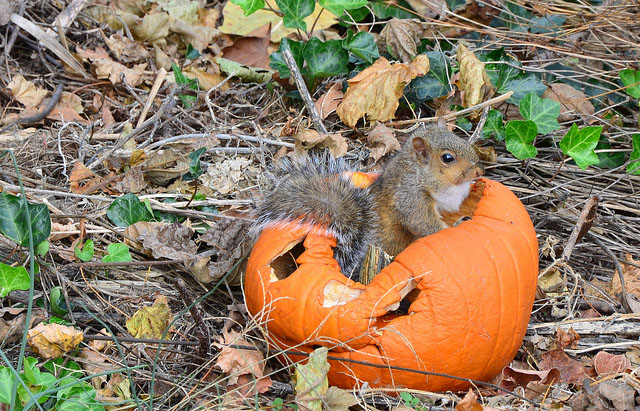 What to Do With Carved Pumpkins
It should go without saying that it's not a good idea to eat a pumpkin that's been carved and sitting around for several days. When your Jack o' lanterns start to shrivel, you can compost them, or just bury them in the yard. If you plan to do more planting this season, you can start a shrub, tree, perennials or bulbs in it, then plant the whole thing in the ground. Or, fill it with seeds and use it as a bird and wildlife feeder — birds will eat the seeds and critters will eat the flesh. (Photo: Bob Mical via Flickr)
For more ideas for reducing food waste, visit ivaluefood.com.