If something can be said to be more American than apple pie, it's probably blue jeans. Unfortunately, the trademark denim blue color has become dependent upon toxic chemical processes. Natural indigo, the original plant source of that famous blue jean color, has been almost entirely forgotten in the textile supply chain.
Textile dyeing is now responsible for 17 percent of global industrial water pollution. Produced mainly in China, synthetic indigo blue dye depends upon refined petroleum and coal tar derivatives, using the equivalent of 45,000 railroad tanker cars full of industrial hazardous chemicals annually. Those chemicals go right into the clothes we wear.
That's why we're proud to back a company that is developing an alternative: Stony Creek Colors, a sustainable producer of plant-based indigo. Stony Creek Colors grows an indigo crop tailored for the soil and climate of the American Southeast, which due to natural compounds in the plants, requires no chemical pest control or soil fumigants. These particular species of indigo are legumes, which produce increase soil nitrogen level for the next season's crop. After harvest, color is extracted from plants in the lab using a water-based method. Leftover leaves get composted. Each plant becomes color; its remnants go back to become soil.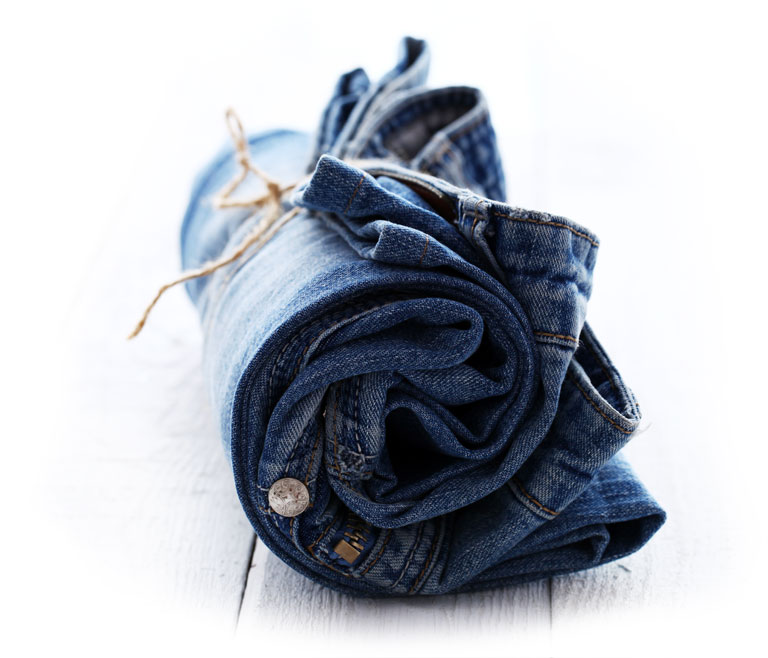 An American Agricultural Opportunity
Sustainably grown indigo not only stands to revolutionize how our clothes are dyed, but it's bringing needed and new opportunity to farmers in Tennessee and Kentucky. "Some have totally lost their tobacco contracts. Others are growing tobacco and see the end is coming," says Sarah Bellos, CEO and founder of Stony Creek Colors.
Bellos, who herself has a background in sustainable business and a degree from Cornell University's Agriculture School, started learning to grow natural dye crops while running a Nashville urban farm and borrowing plots of land from "nice people who let me use there land."
As demand for tobacco wanes, farmers near Stony Creek Colors' factory are looking for high-value crops, which is what indigo represents, along with access to a niche local market. Currently, nearly all of Stony Creek Colors' goods sold are sourced within a 50-mile radius, and this proximity gives denim mills and brands a neat seed-to-jeans story to tell. This puts Stony Creek Colors' farmers "closer to the end user than if they were selling corn to commodities markets," says Bellos, "where they're much more subject to the winds of macroeconomic trends."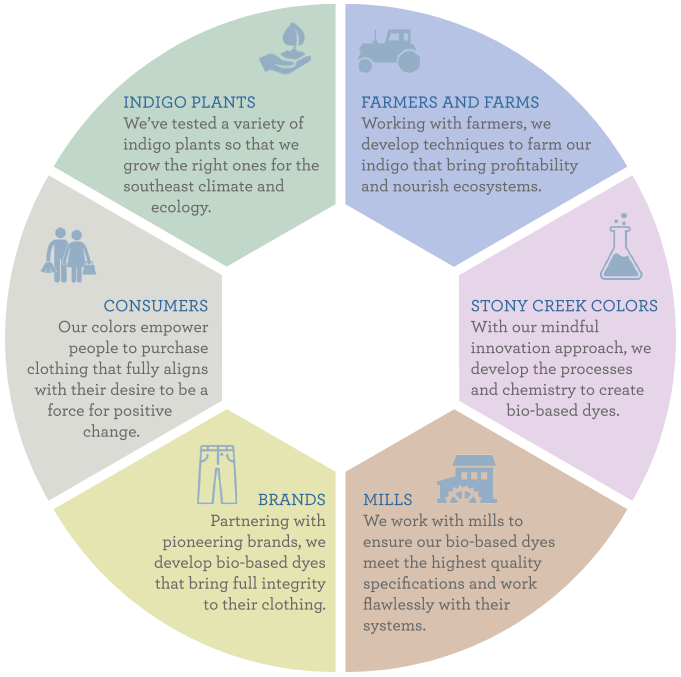 Growing the Market for Bio-Based Dyes
There are currently 10 farmers growing 50 acres of natural indigo for Stony Creek Colors. The business, still in its expansion phase, is on target for scaling crop production to 17,000 acres by 2020. That would be a big ramp-up for a small company, but only replace 1 percent of synthetic indigo. Taking on synthetic indigo in a textile colorant and dye market estimated at $6 billion, that first scale could demonstrate change is possible for the industry.
Already, Stony Creek Colors has signed an exclusive sales agreement with Cone Denim, a denim mill that sells fabric to leading brands. Last summer Cone Denim announced its new line of 100 percent U.S.-grown natural indigo denim, which was by all accounts the first time in over a century that natural indigo had been used in a commercial denim mill in the U.S. That natural indigo denim won best in show at the Kingpins NYC denim trade show. Stony Creek Colors' natural indigo is now also being used by a number of smaller luxury and premium brands including Tellason, WH RancH and Left Field NYC. The company is also identifying opportunities to transform agricultural waste and by-products, such as nut shells and fruit pulp, into natural dyes to round out their color palette.
Stony Creek Colors has taken the best of naturally grown indigo dyeing—a process essentially abandoned over a century ago—and has boosted plant growth using natural techniques, added a new seed supply, a new water-based processing method, and increased productivity by modifying modern agricultural equipment to its needs. The company brought all of these advantages to Tennessee and Kentucky farmers who needed an alternative for their troubled farms. And it's done so in a way that positions the company to begin competing against the toxic, chemical stew that's become the status quo in denim and all other textile dyeing.