At the same time that automakers Ford, Daimler and Nissan are working to develop a common fuel cell electric vehicle (FCEV) system and Toyota and Honda are preparing to release new fuel cell vehicles next year, high school students in Connecticut are working to finance parts for their own hydrogen FCEV — a project that has been in the works for a decade. In creating an automotive alternative firsthand — and balancing the costs of innovation — these tenth- through twelfth-graders at Darien High School are learning how sustainability, engineering, entrepreneurship and public outreach intertwine.
The DHS Fuel Cell Team is a student-run, year-long course supervised by technology education teacher Richard Reynolds. It's an elective that some students take year after year, with older students mentoring younger classmates. "We run a lot of trial and error — it's mostly trial and error," says Austin Appleby, junior and head engineer. Appleby adds, "Each year kind of teaches the upcoming class, so that's how knowledge gets passed down." It's a peer-based collaboration teaching everything from fabrication to design, mixed in with business—and the challenge of grassroots fundraising since, as a public school group, the team cannot accept corporate sponsorship. (Because the group is a registered nonprofit, donors can take tax deductions.)
Together, the students developed a vehicle—complete with upcycled bike wheels—that ran on electricity generated from hydrogen and oxygen. Like other fuel cell electric vehicles, the only output from DHS's car was water.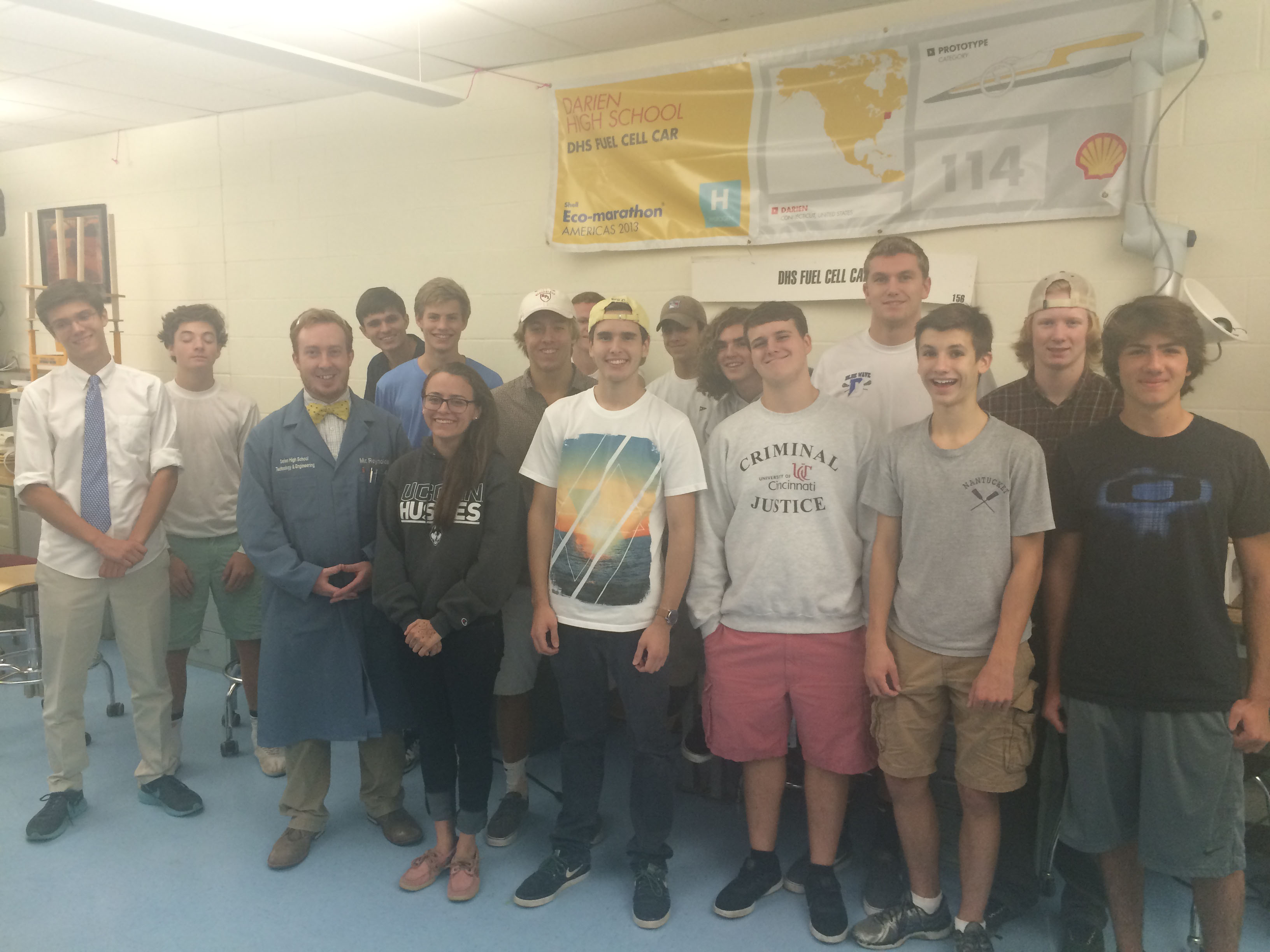 "We had a working model," notes Appleby, "but the class from two years ago tampered with the fuel cell—they accidentally broke it. This is the second year that we're having the class without the fuel cell." With a goal of competing at the 2015 Shell Eco-Marathon — a worldwide competition that challenges students to design, build and drive the most energy-efficient car — in April, the team needs to raise $8,200 to finance a new fuel cell in time to get their car up and running before the competition. A total $1,500 from the Darien Board of Education was not even enough to buy all the necessary nuts, bolts and other simple mechanical parts.
"We need the fuel cell to be able to compete in the Eco-Marathon, but we need to get it as soon as possible because it's not going to be like, we buy it, and we plug it in, and it works. We need to design the electrical system, have some test-runs," says CJ Attisani, eleventh grader and head engineer. "It's going to take a couple months before we actually have the vehicle up and running."
The DHS Fuel Cell Team is working at the cusp of automotive innovation, and with that, they are learning some lessons that span the industry. Hydrogen fuel cell technology has been stuck in a catch-22, with automotive companies slow to put FCEVs on the market, in part, due to lack of fueling stations; fuel station operators have, similarly, resisted building retail outlets until there is a demonstrated uptick in sales of FCEVs.
But as the Los Angeles Times reported—thanks to a package of environmental credits for automakers for complying with California clean air mandates, $5,000 rebates in California and an additional $4,000 federal rebate through the end of 2014 for FCEV buyers—there are increasing incentives to go hydrogen, at least in California. Moreover, the state is offering $20 million annually to develop hydrogen fueling stations.
The technology requires this sort of infrastructure investment to make scaling FCEVs viable. And as those investments begin in California, the market is responding with Toyota touting, "we're at the turning point," in its fuel cell advertisements announcing "a new era in automotive history."
The students at DHS want to be part of that history.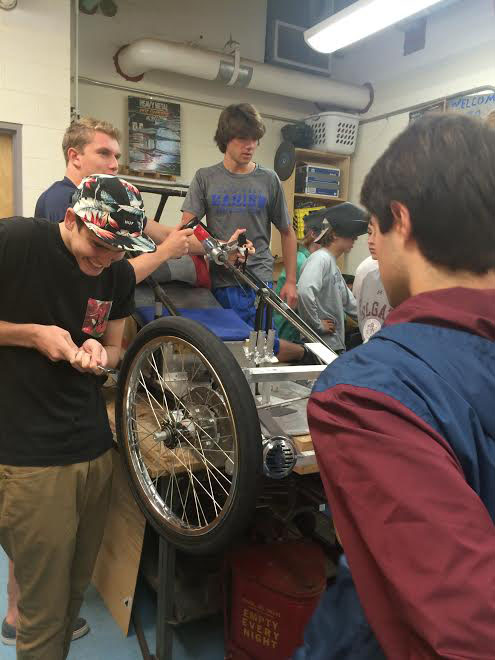 "I think one of the things we're really trying to do as a class is show people that hydrogen fuel cell vehicles are really an option… I've noticed that there was a lot of fuel cell use out West right now… But here on the east coast, we don't have access to hydrogen, or we don't have fuel cell cars on sale," says Ewan Johnson, a junior on the public relations and mechanical teams. He adds, "With us designing this fuel cell car, it kind of brings the idea to the east coast."
The DHS team members have become ambassadors of sorts. "Along with designing this fuel cell vehicle, we make it our goal to educate the community here about fuel cell cars," says Attisani. The group hosts an energy symposium every year, taking a day out of the school year to invite guest speakers to talk to students about alternate energy sources.
"I do think we are taken seriously in our school and in our community, but we're also we're a very small percentage of the total students, so it's very hard for us to get funds from local sources," notes Appleby.
The last time the team competed at the Eco-Marathon, it was one of three high school teams going up against hundreds of university teams. Just being part of the team may help these kids stand out to university admissions departments. "I've gone to engineering departments, and I've talked about this, and they all say this is probably one of the coolest things they've ever heard about. They've never heard about high schools doing this," says Senior Christina Boccadoro, head engineer and driver. She plans to double major in electrical engineering and business communications.
While 2015 may be a linchpin year for FCEVs, for drivers in California and a group of 15 Connecticut students, "it's the future of auto, really," says Attisani. Dana Cahoon, an eleventh grader on DHS Fuel Cell Car's public relations team adds, "Speaking not just from an environmental but from an economic perspective, fossil fuels are running out, and they have been for a long time." Searching for alternative fuel sources is important, says Cahoon, "because eventually, we're going to need to switch over to something that is renewable and is not just easy, but it's also helpful."
To make a donation to the Darien High School Fuel Cell team, click here.
Sarah Stankorb
Sustainable America Contributor