Note: This month, we're showing how much we #LoveFoodRescue in order to get more people engaged in reducing food waste and feeding the poor in their communities. Check out the Food Rescue Locator to get involved.
Today, the act of saving food from being wasted is often called "food rescue," but for centuries it's been known as "gleaning." The word might conjure up biblical references or Jean-François Millet's famous painting The Gleaners, but gleaning — the practice of letting people pick leftover food from farm fields after the main harvest is done — is still practiced today.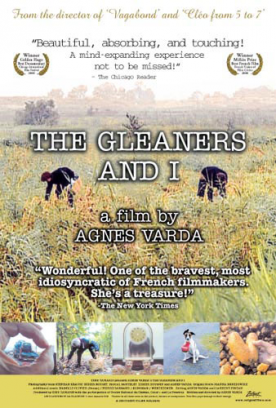 During a dreary 1999-2000 winter in France, filmmaker Agnès Varda explored modern-day gleaning in the documentary The Gleaners and I. The 17-year-old gem of a film, which can be streamed on Amazon or Netflix, is worth a watch for anyone interested in the interwoven threads of waste, poverty, and human ingenuity.
Varda, who has been called both the mother and grandmother of the French New Wave film movement, begins the film with a visit to see The Gleaners painting at Musee d'Orsay in Paris then travels throughout France exploring different types of gleaning and the people involved in it. What she finds is a complex web of motivations for gleaning, from tradition to necessity to moral, as well as a variety of laws and customs around gleaning.
In a potato-growing region, tons of "outsized" tubers are rejected for cosmetic reasons and dumped in the fields. She films locals filling up plastic bags until they bulge, and talks to other poor people who don't even know about the mountains of food they could be gleaning.
She visits a chef whose grandparents taught him to pick along roadsides; he's continued the tradition and makes Michelin-star meals with his finds. She films a magistrate in a just-harvested cabbage field reading a 1554 law that gave people the right to glean "from sunup to sundown" after the harvest.
In an apple-growing region, Varda learns that gleaners must be registered in order to follow an orchard's pickers, who leave 10 tons unpicked, according to an owner she talks to. In the Burgundy region she finds out that gleaning vintage grapes is illegal. Surplus grapes are picked and left on the ground purposely to protect "our profession and capital," explains a vintner in this clip:
Varda even finds dumpster diver who says he's eaten completely out of the trash for 10 years, even though he has a job and could buy food. "Salvaging is a matter of ethics for me because I find it utterly unacceptable to see all this waste on the streets," he says.
Varda points out that gleaning doesn't just happen in fields and orchards, and in modern throwaway society, food isn't the only thing that's gleaned. She visits with several artists, both homespun and highly acclaimed, who make art from other people's trash. She shows how people "harvest" valuable cooper from discarded televisions and fix up broken refrigerators to sell or give to a friend.
If Varda had a political agenda for making the film, it was gently stated, but one issue she covers has been addressed by French lawmakers in recent years. Late in the film, Varda presents different sides of a case about street youth who were arrested for scrounging and vandalizing supermarket dumpsters for leftover food. To deter dumpster diving, supermarkets started dousing food they were throwing out with bleach. In 2016, France took on this issue as it became the first country to make it mandatory for large supermarkets to donate unsold food to charity. Now, instead of tolerating people digging through their dumpsters, supermarkets must distribute leftover food with "dignity" — a win for all sides.
What you can do
Here in the United States, gleaning is also alive and well. In the traditional sense, groups around the country volunteer to glean fields and orchards that have leftover food. Other food rescue groups focus on grocery stores, restaurants and dining halls. Despite their efforts, only about 10 percent of edible wasted food is recovered annually, which means there's plenty of opportunity for crop gleaning to grow.
If you want to get involved with gleaning, you can search for gleaning groups in your area through our Food Rescue Locator. Vermont Law School's National Gleaning Project has a collection of legal resources for gleaners and a directory of organizations. You can start your own group using this helpful toolkit from the USDA. You can even glean your own garden. Ample Harvest, an organization that helps gardeners find food pantries to donate excess produce to, estimates that 11 billion pounds of garden produce becomes food waste annually, enough to feed 28 million people.