One great way to reduce food waste at home is to learn to cook with what's on hand. If you get better at using what you have, you'll be less likely to let ingredients go to waste. Professional cook Ronna Welsh has been teaching strategies like this to home cooks and chefs for more than 20 years. Reducing waste is one outcome of her techniques, but her approach is also extremely helpful for cooks who just want to simplify their kitchen routine without sacrificing quality or flavor.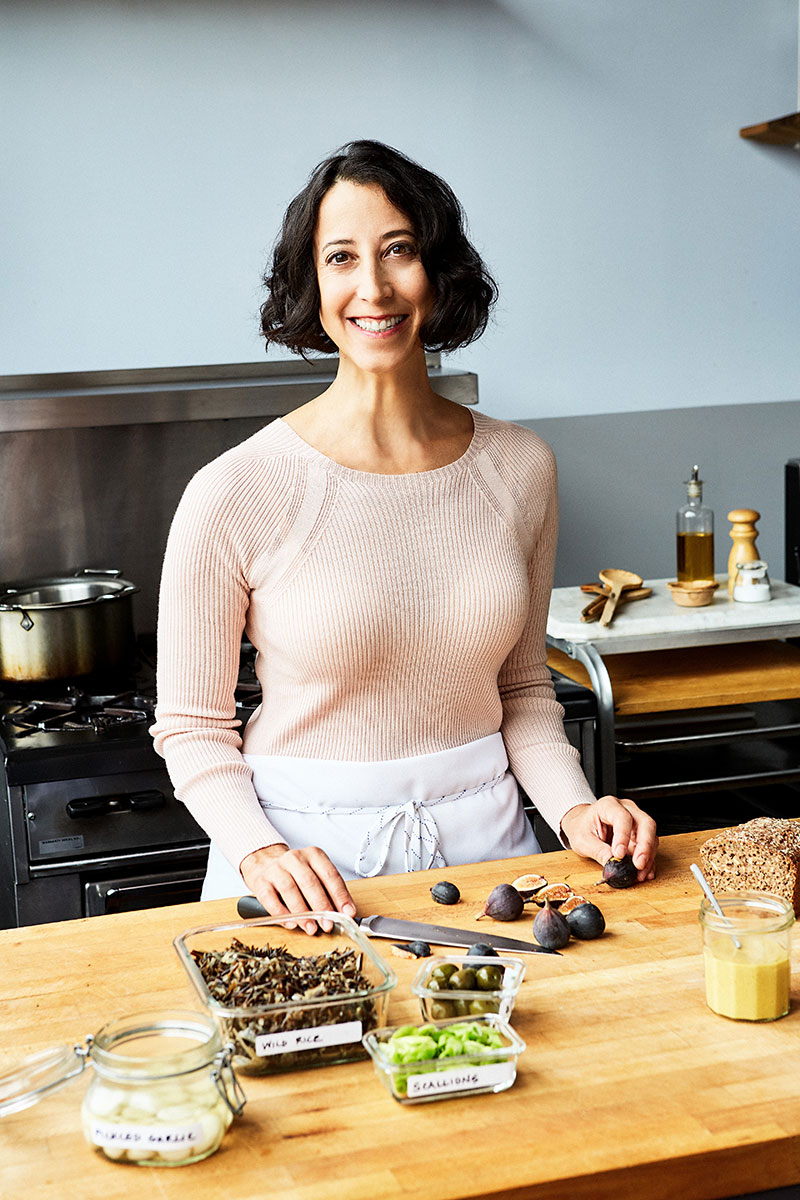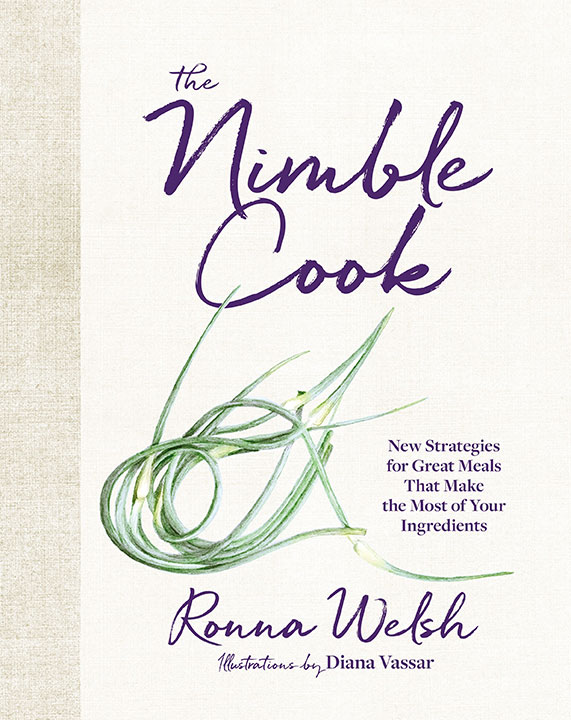 Ronna teaches her techniques through her business Purple Kale Kitchenworks in Brooklyn, N.Y., and now through her new cookbook, The Nimble Cook, which includes more than 400 recipes, as well as strategies that can help you lean less on formal recipes and let ingredients lead the way
We caught up with Ronna to learn more about her approach to reducing food waste. She's also sharing a refreshing gazpacho recipe that makes use of one of summer's quintessential scraps: watermelon rinds!
Sustainable America: What does it mean to be a "nimble" cook?
Ronna Welsh: A "nimble" cook is attentive, flexible, ever ready, and always game. Her aim is to make food at any given moment, no matter what ingredients she has on hand, the number of people she has to feed, and how little time she has to cook. The nimble cook looks at the contents of her kitchen as flexible pieces in an ever-changing plate, rather than as parts of a predetermined dish. She is a not a planner, but a pragmatist. She might prep for what she hopes will happen, but is ready for whatever will. To be a nimble cook requires neither experience nor inspiration. Rather, it involves a shift in perspective, which puts ingredients first and values inquisitiveness over anything else.
SA: Even though this book isn't solely about wasting less food, it's a current that runs through it. What are some of biggest changes home cooks can make to prevent food waste?
RW: No one likes to waste food. But few people are motivated by the guilt of throwing food away. My book takes the perspective that everything edible deserves our fair attention, not because of some moral stance, but because cooking the "whole" ingredient has huge pay off in savings (money and time) and more delicious, creative things to eat.
Never mind "scraps," to get good at wasting less food, we have to start by using the food we buy with every intention to eat—a half bunch of herbs—but wind up throwing away. The first thing we can do is make these ingredients more convenient to use, possibly also extending their shelf life. I submerge soon-to-wilt herbs from my produce drawer into an "Herb Tank" (a clear container of ice water). Or I toss them—stems and all—into a pot of melted butter, preserving their freshness in a pantry item that keeps for months. Second, we should explore new ways to use up these oft-tossed ingredients: I'll use an assortment of fresh herbs—stems and all—in an incomparably fresh herb salad, the flavorful little leaves taking the place of typical lettuce. I'll mince parsley stems for a salad then discover they hold up better than the leaves, stirred into a vinaigrette.
**SA: If you were to "take stock" of your kitchen right now, what would you find and make from it? **
RW: Summer is a great time to reckon with the neglected contents of your kitchen, because it is a treat to be able to stock up anew for the fall. I grab beans that are older than six months and cook them off with hunks of onion and garlic, a handful of bay leaves, then a spoon of vinegar at the end. I take opened condiments on my refrigerator door that I can combine in quick ways (mustard with anchovy with hot sauce) and then loosen with olive oil for a pungent dressing to toss with the beans. Those dressed beans pair well with anything grilled—fish, meat, vegetables—and are a treat to have at the ready.
SA: We're in the middle of summer's most bountiful time. What are some ideas for making use of some often-wasted parts of summer produce?
RW: Summer is an easy time for cooks. We may not want to take on a stove's heat, so we welcome the ease of the season's ready-to-eat produce and tend to buy these fresh ingredients in amounts to cover many meals—or to serve an impromptu picnic. For this reason, we accumulate ingredient "scraps" in larger quantities, too. This is useful: making a quick kimchi from cucumber peels seems not only possible, but sensible (even, inevitable!) when you have in front of you a pile of peels from a couple pounds of cucumbers, rather than the few strips from a single one.
Watermelon challenges us most directly on the food-waste front. To get at the melon's pink flesh, we have to reckon with the equivalent volume in rind. But the white rind is distinctive in taste (think honeydew crossed with cucumber) and texture (like jicama), and merits its own treatment. While you are surrendering your kitchen counter to butchering the whole fruit, you might as well stay at it a few minutes longer to take apart the rind, too. Here's one way I like to use it.
White Watermelon Rind Gazpacho
This "white" gazpacho is more vegetal and creamy than the red version, owing to the cucumber, watermelon rind, almonds, and bread. I use cherry tomatoes—which are super sweet—but in a small amount so they do not overwhelm the other ingredients.
I prefer the finer puree of a blender over the slightly coarser texture from a food processor. For the best consistency, I first make a paste primarily with the almonds, bread, and olive oil. Then I add watermelon rind and cucumber.
MAKES 7 CUPS, ENOUGH FOR 6 TO 8 SERVINGS
3/4 cup slivered blanched almonds
Packed 1 cup mixed fresh flat-leaf parsley and mint leaves
1 celery stalk, coarsely chopped
1/2 cup cherry tomatoes
1 garlic clove
1 1/2 cups 1-inch cubes good white bread (hard crusts removed)
5 Tbsp. excellent olive oil
4 cups roughly chopped cucumbers, peeled (about 1 pound)
8 cups 1-inch cubes watermelon rind, white and pale pink parts only (about 2 pounds; See Note)
1 Tbsp. plus 2 tsp. balsamic or sherry vinegar, plus more if needed
1 Tbsp. coarse kosher salt, plus more if needed
Combine the almonds, herbs, celery, tomatoes, garlic, bread, and oil. Use a blender or food processor to puree in batches, 2 to 3 minutes per batch. Transfer to a large bowl. Don't bother to clean out the blender or food processor.
Combine the cucumbers, watermelon rind, vinegar, and salt. Puree in batches. Add to the almond mixture and stir well. Taste for salt and vinegar. Chill before serving. The gazpacho will keep in the refrigerator, covered, for up to 2 days.
NOTE: Using Watermelon Rinds
Carving away the watermelon's pink flesh, you are left with a rind that consists of a crunchy white inner strip, sweet like a honeydew melon and vegetal like a cucumber; and a dark green, helmet-hard, crisp outer shell. After you've removed the flesh, you can keep these pieces intact in a covered container in the refrigerator for up to 5 days.
When you are ready to use them, carefully remove the white part with a paring knife—it's okay if there's a bit of pink flesh still—leaving only a 1/8-inch layer behind on the green. You can continue to store the white rind separate from the green rind for another few days. The green parts can be pickled.
Recipe excerpted from THE NIMBLE COOK: New Strategies for Great Meals That Make the Most of Your Ingredients © 2019 by Ronna Welsh. Illustrations © 2019 by Diana Vassar. Reproduced by permission of Rux Martin Books/Houghton Mifflin Harcourt. All rights reserved.