Have rising gas prices made you consider buying an electric vehicle this year? Maybe you even put money down to reserve a Ford Mustang Mach-E or one of Volkswagen's ID.4s?
Unfortunately, we may need to put our EV dreams on hold, as world events are continuing to cause hiccups in the supply chain and our material lives. While some of these supply shortages may be temporary, there's no telling how long increased prices will remain before we return to "normal". Let's look into what's contributing to these shifts and what it means for consumers.
LINGERING COVID-19 IMPACTS
As people sat at home amid lockdowns during the height of the COVID-19 pandemic in 2020, vehicle sales plummeted and car manufacturers cut production, significantly reducing their demand for semiconductor chips which control many functions in modern vehicles. As the world began to re-open in 2021 new car demand increased, but continued closures and port congestion caused the supply of vehicles to remain sluggish. According to a report released by Deloitte, revenue losses from auto sales in 2021 equaled more than $210 million.
Semiconductor production is ramping back up but a recent surge of a new omicron variant has forced plant closures in China, where many of the world's batteries are produced. In an effort to balance the global supply chain, Intel recently announced they will be building two state of the art semiconductor fabrication plants in Germany.
Domestically, Ford and SK Innovation plan to invest $11.4 billion in plants in Kentucky and Tennessee where they will produce electric vehicles and lithium-ion batteries in 2025. Volkswagen also announced plans to begin production in Tennessee for their ID.4 vehicles with hopes to lower the EV's price by around $5,000.
WAR IN UKRAINE AND RUSSIAN SANCTIONS
Ukraine and Russia are strongly tied to the mining of lithium, nickel, and cobalt – all used in EV battery manufacturing.
Russia is the third largest producer of nickel with the firm Norilsk Nickel producing around 20 percent of the world's class 1 nickel, used in EV batteries. As Russian sanctions were set earlier this year, the price of nickel skyrocketed to $100,000 a ton, prompting the London Metal Exchange to freeze prices for the first time in decades. Morgan Stanley estimates that the price change could add up to $1,000 to the price of an electric vehicle in the U.S.
Neighboring Ukraine is a major producer of neon gas, essential for the lasers used in chipmaking. According to Reuters, two Ukrainian firms supply around half of global semiconductor grade neon – with both plants shuttering production since the Russian invasion. Ukraine also contains undeveloped regions with large lithium reserves in the Donbas region. As the race to build EV batteries continues, these reserves will become increasingly valuable.
The immediate impacts of Russia's invasion are horrific for those living through it, and the world will likely continue to feel a rippling effect that changes our lives. Russia currently accounts for only 2% of rare-earth minerals, but the country houses large undeveloped areas containing the materials, which will become increasingly important as the world races to meet electric vehicle targets. Speculations have arisen that part of Russia's motivation in invading Ukraine can be tied to these reserves, as Ukraine had been positioning itself as a partner in the global transition to clean energy.
PRICE INCREASES & LOW INVENTORY
With the global supply chain disrupted, all vehicle prices are on the rise and inventory remains low. The impacts are hardest felt in the EV, hybrid, and plug-in hybrid classes of vehicles, where expansion has slowed, significantly impacting the adoption of the technology. This is in contrast with the past few years in the U.S., where the market has grown and prices have steadily decreased.
For electric vehicles, batteries remain the most expensive component. As the price of materials increases, many car manufacturers have increased vehicle prices. Tesla raised the price of its entry level Model 3 sedan to $44,990, an 18% increase since 2020. The company is also stalling on plans to release a $25,000 model, as promised in 2020. Even after price increases, many Tesla models are sold out until next year, reflecting inventory shortages.
Those looking to purchase a Volkswagen ID.4, received an email in mid-March from the company stating that due to the conflict in Ukraine, they were no longer on track to deliver vehicles by their projected delivery date and the company did not have a foreseeable timeline.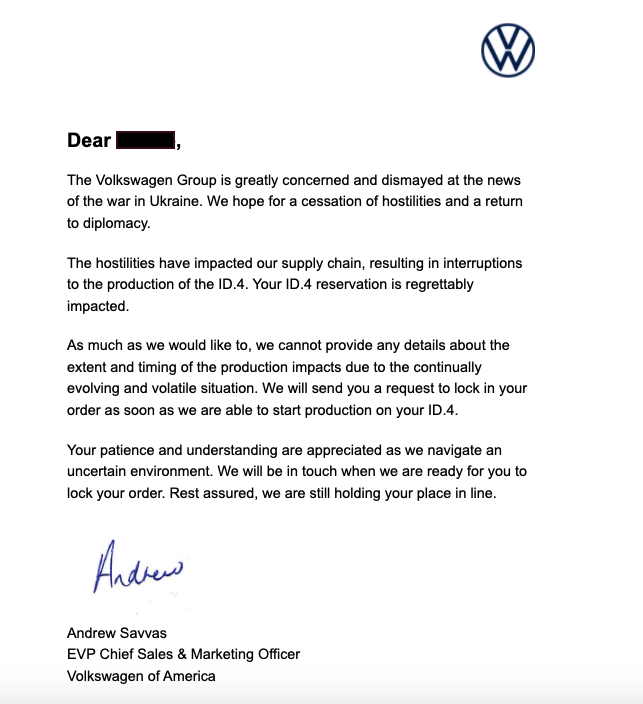 WHEN COULD THIS CHANGE?
Car manufacturers predict that the shortage will shift over the course of the year as new manufacturing facilities open around the world and new mining ventures commence, but there is no telling when the conflict in Ukraine will stop and how it will further impact future inventory and prices.