How does the idea of skiing on algae sound? What if the algae used to make the skis was developed to not only replace but out perform its petroleum-based counterparts?
WNDR Alpine has set out to develop a new genre of backcountry skis using state of the art technology designed to eliminate the industry's long-standing dependence on fossil fuels. The algae-based materials the company uses were developed specifically with the goal of creating a high performing ski. The company is looking to set a new standard in the industry by using more sustainable materials and upcycling production waste into their products.
BEHIND THE ALGAE-SKI
WNDR Alpine was founded by parent company Checkerspot, who develops the algae-derived biomaterials used in their skis known as AlgalTech. Products begin in fermentation tanks as microalgae at Checkerspot's Alameda, California facilities. The microalgae produce new oils that serve as the building blocks of WNDR's products.
Producing ski equipment creates a lot of waste and uses numerous inputs during production. Skis are traditionally made of wood and a number of petroleum-based inputs including a foam composite, fiberglass, carbon fibers, epoxies, and polyethylene. To avoid using many of these materials, WNDR uses two Checkerspot proprietary technologies for the skis: Algal Core, a light-weight algal polyurethane hard foam vertically laminated with domestically sourced aspen which acts as the core for their skis; and Algal wall, a cast polyurethane that acts as the skis sidewalls.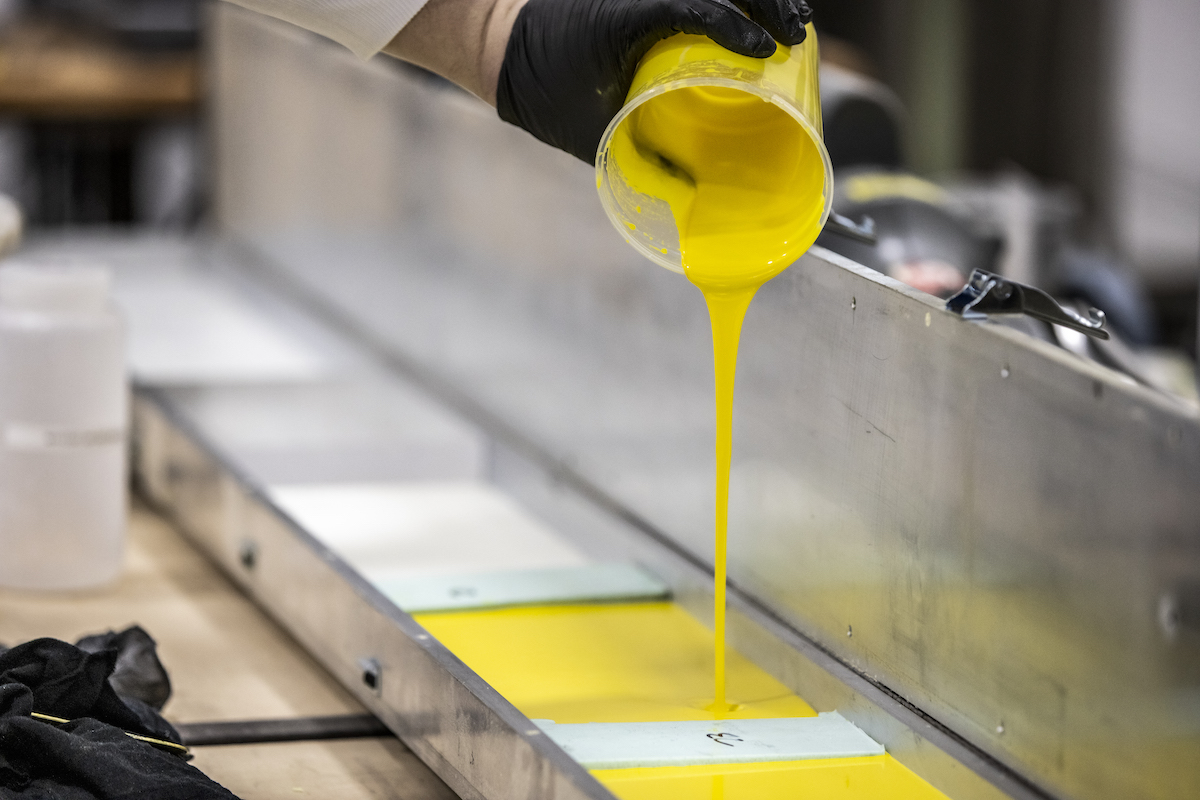 Conscious of the waste and unnecessary inputs that go into production, WNDR has worked to streamline processes each year to eliminate excess inputs and waste from production.
"After two decades of building skis, I feel responsible for the impacts all these skis have on the planet, be it their carbon footprint, waste stream from production, or their monumental landfill impact at end of life," remarks founder Matt Sterbenz of WNDR's work.
AND YOU'LL SKI BETTER
Beyond decreasing reliance on fossil fuels, the process makes for a more intentional ski design. Traditionally, ski manufacturers relied on plastics already available but not specifically designed for skiing. Acting as their own supplier, Checkerspot is able to develop materials with particular specs in mind.
The technology used in producing Algal Wall has a strong dampening effect, meaning the materials absorb energy from impact and create a smoother, less chattery ride. The company claims that the materials also create a ski that is 10 percent stronger than their competitors — fit for stomping down steep couloirs in the backcountry.
A NEW STANDARD
As a Certified B Corp, WNDR Alpine looks to take responsibility for the impact they have on the environment. The company's production facility runs on 100% renewable energy and, in 2020, the company diverted approximately 1kg of excess raw material from landfill for each pair of skis produced. Post-production polyethylene, rubber, and plastic are granulated and used as alternative inputs to their products. They even donate the sawdust they generate to a local stable to be used as horse bedding.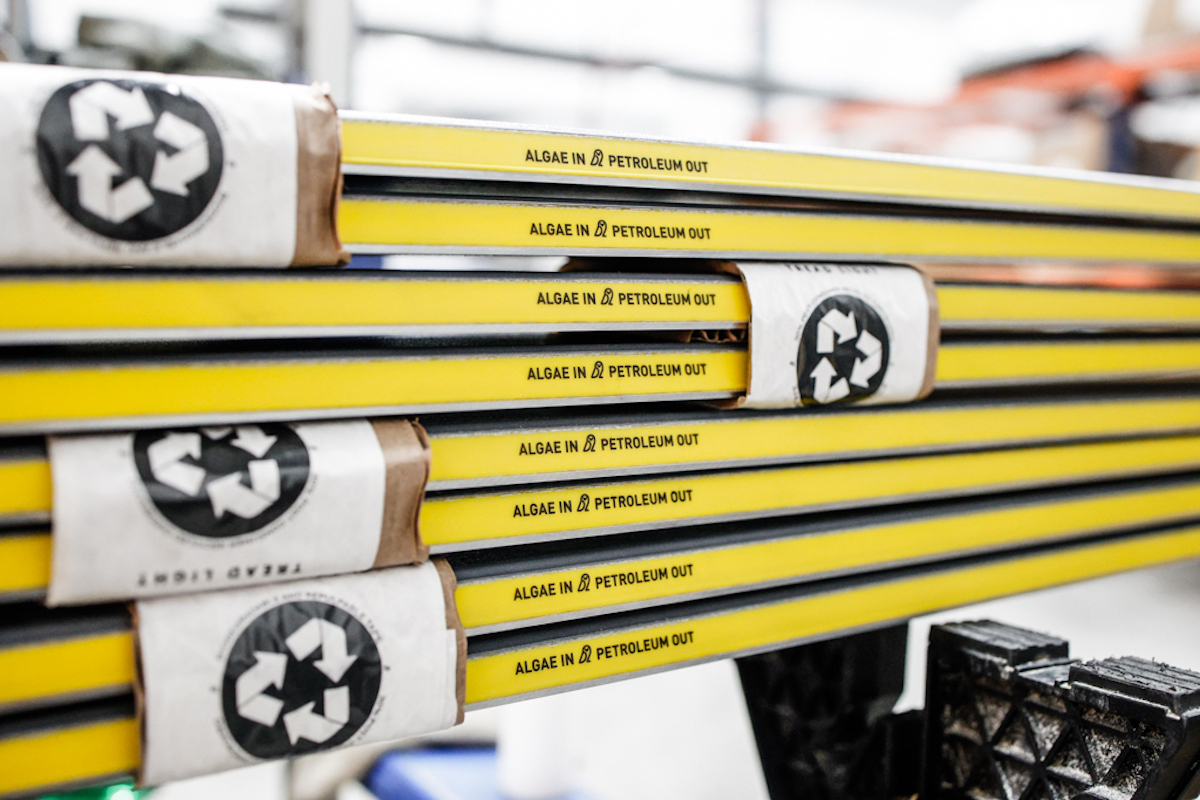 ON THE HORIZON
Many outdoor clothing manufacturers have felt the social and environmental pressure to create more sustainable textile practices, but ski manufacturing seems to be late to the game. Other companies are also looking to make changes, but not necessarily with algae. Liberty Skis and Pure Freeride Design have both switched to bamboo, a more sustainable wood source and Polish manufacturer Majesty Skis uses Forest Stewardship Council certified wood. The Council certifies woods based on environmentally responsible and socially beneficial forestry practices. Majesty also plants a tree for every pair of skis purchased through their Skis for Trees program.
Veteran retailers are adjusting their practices too. Nordica is developing a photovoltaic solar system that will supply 15 percent of their Austrian plant's power, and Italian manufacturer Tecnica, (because you need boots too) launched their "Recycle your Boots" program this past year to decrease the amount of ski boots ending up in landfill. Their program accepts boots and liners of any kind returned to select partners in France, Switzerland, Austria, and Germany. Boots are recycled into raw materials to be used in future manufacturing.
As for the future of algae in additional ski equipment, Checkerspot completed Series B funding in 2020 and plans to direct the $36 million raised towards commercial development and expanding their capability to create new materials and products across multiple industries. In partnership with green chemistry startup Beyond Surface Technologies, they created the first 100% biobased wicking coating for textiles, commercialized as MiDori BioWick and available today from a variety of consumer brands, including Patagonia, Lululemon, and Mammut. Checkerspot and WNDR are also in discussion with a number of major snowsports brands regarding commercial use of their algal polyurethanes, as well as exploring the use of microalgae oil in a variety of industries, including personal care, food ingredients, automotive, and aerospace.