This month, we're teaming up with Jordan Figueiredo, anti-food-waste activist and founder of endfoodwaste.org, to spread the love for food rescue.
Jordan declared his love for food rescue in a Huffington Post blog post, which we've excerpted below. Take a read and learn more about how grassroots food rescue organizations are reducing food waste and hunger in communities around the country. Then, join in the #LoveFoodRescue movement by using our Food Rescue Locator to find organizations in your area where you can donate food, volunteer your time or provide financial support. We'll be talking more about food rescue on our social media channels this month. Follow along and join in with hashtag #LoveFoodRescue!</em>
From Jordan Figueiredo:
Food rescue has a special place in my heart when it comes to preventing wasted food. There really isn't anything like food rescue — the act of saving wholesome food that would otherwise go to waste from places like grocery stores, restaurants, markets and dining facilities and getting it to those in need. Between its environmental, financial AND social benefits, there may be no other food-waste prevention act that can have such wide-reaching impact.
What Is Food Rescue?
Food rescue organizations fill a void in the overall effort to feed the hungry in our country. While food banks are amazing resources, they often aren't able to accept small donations of fresh or prepared food. Their role is to warehouse and distribute food to hunger relief organizations on a more macro level; if they receive three cases of ripe bananas, for instance, they might spoil before they reach recipients. The food rescue model is more nimble and direct — most organizations pick up fresh or prepared food and deliver it to recipients the same day.
While the food pantries and community dining rooms that are supplied by food banks fill a great need as well, there are plenty of people who do not visit them. Food For Free in Cambridge, Mass., the first food rescue organization in the U.S., has found that most of their school donation clients do not utilize pantries. The reasons are varied — the hours might not fit all work schedules, locations might not be accessible, or the stigma of "being hungry" may keep some people from visiting. Food rescue organizations try to fill these gaps by meeting people where they are, at places like apartment buildings, which Boulder Food Rescue does really well, or schools, which Urban Gleaners in Portland, Ore., has an amazing program for.
Food rescue organizations are run entirely, or almost entirely, by caring, passionate and all-around amazing people doing it because they want to get extra food to people who need it. Nowhere is this more heart-warming than with the angels at Keep Austin Fed, an organization run completely by volunteers (on a tiny budget) that rescues 50,000 pounds of food a month!
Many food rescue organizations use their volunteers' vehicles or company trucks; some even go the extra mile toward sustainability and rescue food on bicycle! (Trust me, my attempt at cycling over 300 pounds of food uphill for Boulder Food Rescue six months ago showed me this is anything but easy.) Then, there's the inspiring Robert Lee who left Wall Street to start Rescuing Leftover Cuisine, a food rescue organization with more than a dozen chapters around the country.
Why Food Rescue Matters
Why do I (and so many others) care so much about food rescue? Food insecurity isn't some small problem in the U.S. The largest groups of food-insecure people are our most vulnerable: children and seniors. To top it off, college students are increasingly at risk of hunger as well; did you know that food pantries are popping up at universities and colleges all over the nation?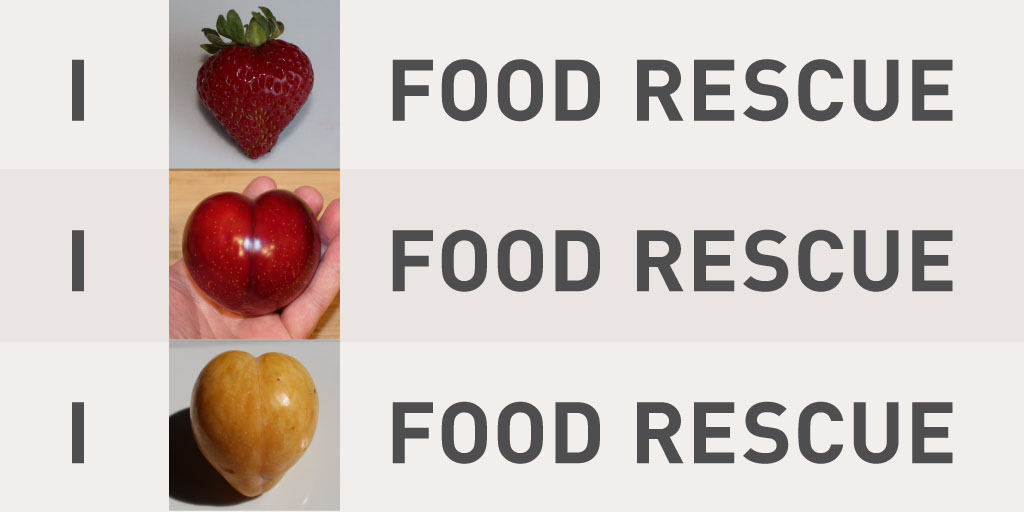 While people are going hungry, we are wasting 40 percent of our food in the U.S. Only about 10 percent of the good extra food in this country is saved and donated to those in need. That means that the other 90 percent is composted or landfilled (mostly landfilled since only 5% of the country has compost service!). Needless to say, there is a large opportunity for increased food rescue across the board.
The good news is that food rescue organizations have been expanding all over the U.S. in the past five to 10 years. This, despite the fact that food rescue groups do not have the big corporate donors that food banks do.
Love Food Rescue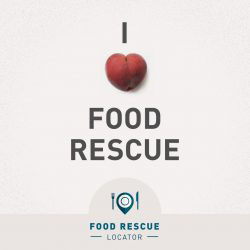 Let's make sure good extra food goes to feed people, not landfills. Volunteer, donate, and join in the #LoveFoodRescue movement by using the Food Rescue Locator to find organizations to support in your area. Tell supermarkets, restaurants, food processors, and others that you love food rescue and they should too. And put the "I Heart Food Rescue" logo on your website and promote it across social media by saying "I Heart Food Rescue and you should too!"