With comparisons to the dustbowl experience of the early 1930s already starting to circulate, it is still unknown how bad the drought we're experiencing this summer can get. Water supplies in many states are at severe lows prompting a variety of water-saving responses, and the effects on farms and farmers is severe as crops wither and access to water for irrigation becomes difficult.
At the Snellville Farmers Market in Georgia, where a state of emergency has been declared due to lack of rain, several farmers simply haven't been show up because they have nothing to bring.
Here are some of the effects of the drought being felt around the country:
– In Nebraska, farmers have been ordered to stop using streams and rivers to irrigate their crops.
– All of Indiana is under a water shortage warning, with communities issuing water conservation measures.
– In Decatur, Illinois, mandatory water restrictions have been implemented to stave off water shortage. Lake Decatur, their primary water source, is dropping 1/2 inch daily.
– Des Moines, Iowa has issued two peak water alerts this month as the demand Monday reached 96 million gallons, topping the 2006 record high of 92 million gallons.
– In Arizona, the US Department of Agriculture has declared all 15 counties 'drought disaster areas', in hopes of enabling farmers and ranchers easier access to government assistance.
– Lake Mead and Lake Powell, the two largest reservoirs on the Colorado River, are only 60% full with the peak summer months just around the corner.
The dry conditions are plaguing some two-thirds of the country, according to the US Drought Monitor in a statement released July 17.
<div class="caption" id="attachment_2865" align="alignnone" width="670"]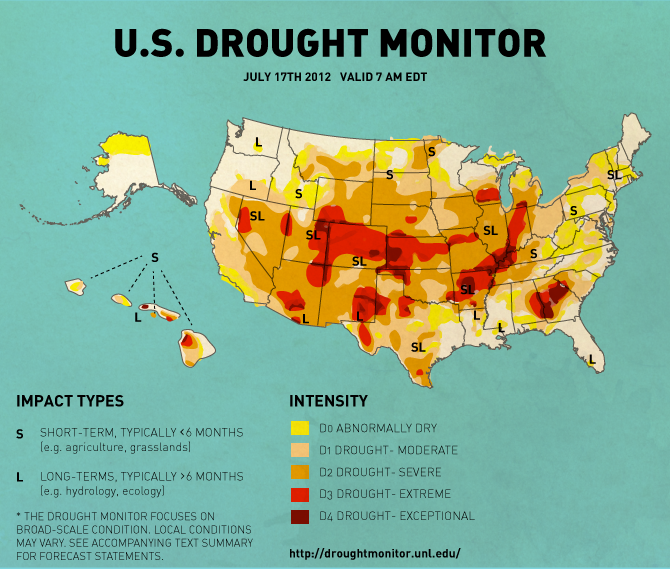 Source: US Drought Monitor</div>
From USA Today:
>"You have the worst of all worlds: very little supply and an absolute straining of the system," says Les Lampe, vice president of Black & Veatch, a global engineering and consulting company specializing in infrastructure. It's a reminder, he says, of the need to replace aging and leaking water distribution systems.
The coupling of record high demand and hot, dry drought conditions is pushing reservoirs to the limit all over the Midwest. With wells drying up daily in Comstock Park, Michigan, Mike Wahlfield of Wahlfield Drilling prophetically stated, "It's hard to live without water."
For more on the 2012 drought and how it's affecting farmers and food prices, read our previous post - The Drought of 2012.