NOTE: To see a food waste audit in action, scroll down to the bottom of the page.
Food waste happens at all points in our food system, and school cafeterias are no exception. With 31 million school lunches being served every day, there's a tremendous untapped opportunity to prevent student food waste and teach kids about food conservation at the same time.
A new tool released earlier this month is going to help schools do just that. Guide to Conducting Food Waste Audits was researched and developed as a unique collaboration between the United States Department of Agriculture (USDA), the U.S. Environmental Protection Agency (EPA) and the University of Arkansas. It's an easy-to-follow roadmap that students, teachers and staff can use to investigate what food is going to waste in their cafeterias and how to implement solutions for preventing and reducing student waste.
Conducting a student food waste audit is a great way for kids to make a direct impact on an important environmental issue, learn new skills and habits, and have fun. And, because food waste is both bulky and heavy, reducing the amount thrown away can even save the school money in avoided disposal costs.
GETTING STUDENTS INVOLVED
Melissa Terry, a graduate student in the University of Arkansas' Political Science Department of the Fulbright College of Arts and Sciences, developed the guide based on her work at schools in the Northwest Arkansas area, where she piloted student food waste audits with six schools in Washington County.
During the audits, students asked their schoolmates why they didn't finish a particular food and recorded the answers. Then they separated the food into buckets for weighing at the end of the lunch period.
"Students are integral to this process. Given the options available to them, the personal choices they make and how they reduce their waste can significantly affect the success or failure of programs that aim to improve sustainability at the schools," said Bryan Staley, executive director of the Environmental Education and Research Foundation, which is helping to promote the guide.
In Terry's pilot programs, she was surprised to find that milk — the most expensive item in the lunches — was the most wasted item. "We were getting about 17 unopened milks per lunch period," she said.
"The majority of the students said they were taking a milk even though they didn't want it because they thought they were required to take one," said Terry. If kids and cafeteria staff are not up to date about this change, dozens of unopened milk cartons could be going to waste every week. As a fix, Terry suggests posting educational signage that lets students and staff know that milk is a healthy choice but not a requirement.
"Our main goal in conducting student food waste audits is to make food waste visible to the students," says Terry. "Once they see what's going to waste, the results generate lots of good discussion and behavioral changes at the individual and student body level."
For instance, if an student food waste audit reflects that a surplus of unopened drinks and whole fruits is going to waste, the school can start a share table, where kids can place items they aren't going to eat or drink as a way to share these extra items with other students. Teachers can collect what remains on the share table to serve to their students as afternoon snacks or in after-school programs. This helps facilitate a closed-loop food system where any surplus foods are consumed by students at different parts of the day.
Good signage, share tables, and reusable utensils and trays are all steps in the right direction. Other ways to reduce student food waste, particularly when it comes to milk, is for schools to consider doing away with milk cartons entirely and switching to a bulk milk dispenser, an idea that has been addressed by the Chef Ann Foundation.
FEEDING MINDS OF FUTURE LEADERS
Promoting share tables to feed hungry children rather than feeding trashcans and landfills complements the educational mission of schools while also promoting an ethic of food conservation and respect for the impacts of food waste.
Decomposing food in landfills creates and releases methane, a greenhouse gas, into the atmosphere. Two years ago, the Intergovernmental Panel on Climate Change reported in its definitive Fifth Assessment Report of the scientific literature that methane is 34 times stronger a heat-trapping gas than CO2 over a 100-year time scale. Our children are emerging leaders who are going to need to understand how to reduce and mitigate these emissions.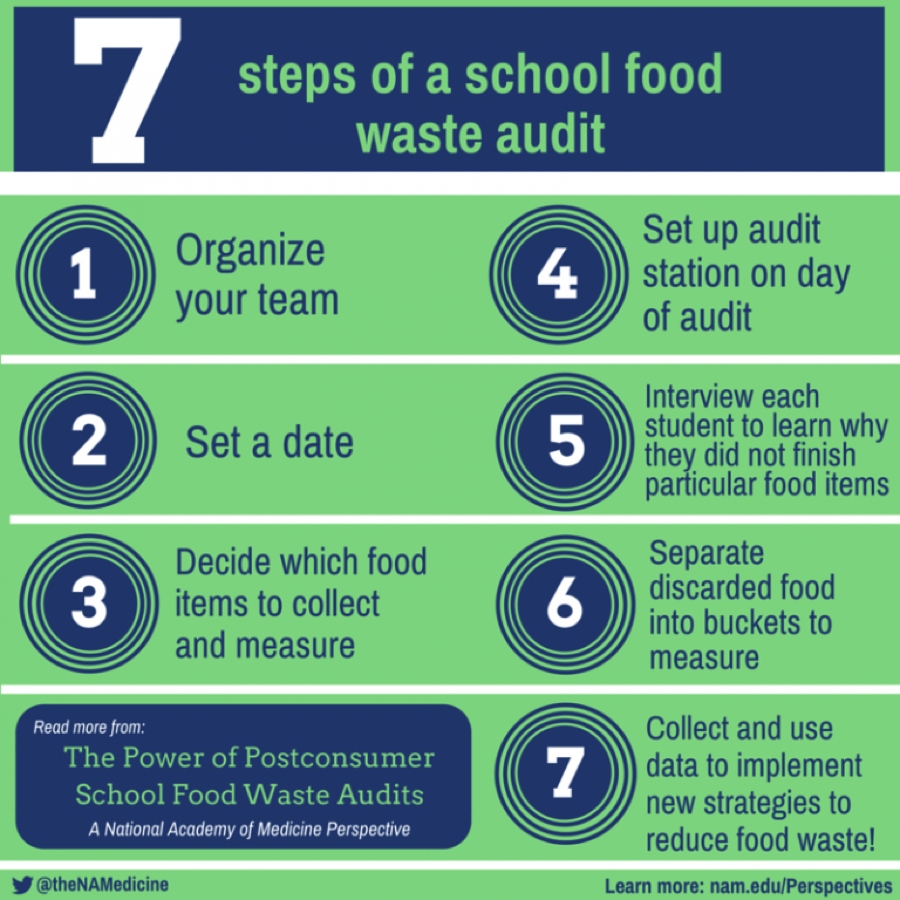 Employing share tables and talking about their collective impact is an excellent opportunity to engage students in the areas of science, technology, engineering, and math (STEM). Student food waste audits and share tables can be a tool for diving into issues related to local/regional food systems and the social and environmental services costs of food conservation versus wasting food. For schools wanting to explore these topics further, Johns Hopkins' Center for a Livable Future has a free curriculum for high school students, designed to foster a deep understanding of critical food system issues, empower students to make healthy and responsible food choices, and encourage these emerging leaders to become advocates for food system change.
Research on ways to reduce student food waste has grown in scale and scope from one or two schools to a national initiative. Terry is currently working with experts from the World Wildlife Fund (WWF), the Environmental Research and Education Foundation and the National Consumers League's LifeSmarts program to promote and assist schools all over the country in conducting their own audits.
In describing WWF's engagement at the school food waste level, Pete Pearson, Director of Food Waste Reduction, had this to say, "When students understand the connection between food and our planet, and the subsequent impacts of wasting food, we elevate awareness on how the food system impacts all life on Earth."
For more information on how to conduct a student food waste audit and/or to register your school, check out the School Cafeteria Discards Assessment Project (SCrAP).
Video: Melissa Terry recorded a food waste audit at Owl Creek School in Fayetteville, Arkansas, and interviewed teachers, students and custodial and cafeteria staff about the difference this process is making in their school.
— melissa terry (@melissaAterry) April 27, 2017