In April, we returned to the Richmond International Raceway for a third time for a weekend of food waste diversion and recovery at the Toyota Owners 400, a NASCAR race. Coordinating food recovery at an event this size is a challenging task, but we learned lessons from two previous races in 2015 that have increased our efficiency — and the amount of food we were able to divert. The results demonstrate the important opportunity that large event venues have to reduce their environmental footprint and help those in the need in their communities.
Working with Natural Organic Process Enterprises (NOPE) for composting and Henrico County for recycling, we diverted 5 tons of food waste to composting and 1 ton of recyclable materials from landfill.
The biggest news, however, was our food rescue and donation results. In our first race in April 2015, we captured 1,359 meals, which went to Good Samaritan Ministries in Richmond. Last September, we increased that number by 49%, delivering 2,027 meals to Good Samaritan and also The Doorways, a converted hotel in Richmond that offers meals and housing for out-of-town patients and family members who are receiving treatment in area hospitals. This past April, donations rose even more. We were able to deliver 3,592 pounds of nutrient-dense food to Good Samaritan, The Doorways, and two additional agencies — Caritas and St. Francis Home. Caritas' emergency shelter is the largest in the area, supplying over 90% of the beds available to homeless women in Richmond.
Here's a rundown of the numbers from our three food rescue race weekends. Scroll down to read more about how we did it.

This is food that is desperately needed. Caritas wrote us saying, "You played a significant role in helping our staff worry less about funds and more about putting men back on the pathway to stability." St. Francis Home, a nonprofit assisted living facility for the elderly and disabled with little or no income, told us, "Sustainable America is manna from heaven."
The food that Americrown, the racetrack's caterer, donated was not just pretzels and popcorn. In September, almost 900 pounds were beef, chicken and other meats. Last month, almost a third of the donation consisted of meats and cheeses, with donation totals landing at a 120% increase versus April of 2015.
Beating the Clock
Historically, the Richmond International Raceway has donated nonperishable food to the local food bank. Rescuing prepared food is a greater challenge, as more work is required to prepare and transfer perishables in accordance with safe food handling practices. The nature of operations at the track presents further challenges. When the checkered flag goes down, all food service personnel pack up and move to the next track the following day, leaving a very short window for rescue to take place.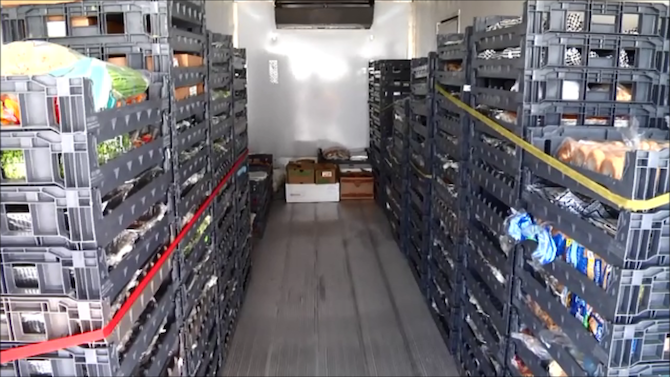 Having seen the quantities rise from April to September of last year, we anticipated needing a bigger refrigerated truck this spring. We are grateful to Penske Truck Rental who donated the use of a 26-foot refrigerated truck for us to collect and deliver the food. When we saw it, we thought it was too large, but it turned out that we needed every foot of it. Together with a small army of volunteers, we had food stacked 6 to 7 feet high down both sides of the truck as we rumbled off to make our deliveries.
Not only was the rescue the most beneficial aspect of the effort from a social and food justice standpoint, it also had the greatest environmental impact. All told, the effort yielded a greenhouse gas reduction of 16 metric tons of CO2 equivalent. Even though the tonnage of the food donated was a small portion of the total diversion, it accounted for almost half of this amount (7MTCO2EQ).
Needy Virginians received healthy food, greenhouse gasses were averted, and the raceway saved money through enhanced tax deductions for making the donation, while at the same time saving money that they would have spent to dispose of the uneaten food. We think that this is a triple bottom line win of the best variety.
Through our We Value Food program, we can help your business or event reduce food waste, save money and achieve sustainability goals. For more information, contact Katrina Kazda.