Over the years, we've shared plenty of strategies to lower at-home food waste, from our I Value Food initiative to blog posts on reusing leftovers and using extra garden veggies, among others. One of our favorite ways to reduce waste starts before you even begin cooking. By being mindful about the foods you cook and making a conscious effort to use up every ingredient, you can enjoy a less wasteful, yet just as flavorful bounty of meals in your home.
Longtime friend of Sustainable America Anne-Marie Bonneau, also known as the Zero-Waste Chef, knows this intimately. As the Zero-Waste Chef, she frequently shares advice, tips and recipes on her blog, Instagram and Facebook for approaching cooking and living sustainably and reducing your food waste (and other types of waste) down to zero.
With the release of her first-ever cookbook this month, The Zero-Waste Chef: Plant-forward Recipes and Tips for a Sustainable Kitchen and Planet, we caught up with Anne-Marie to learn more about bringing her popular tips and recipes to the printed page and to gain insights on how to cook and live zero-waste. She also shared with us a wonderful recipe for a delicious Kernel-to-Cob Corn Chowder that emphasizes using up every bit of the corn cob including the husk and the silk!
This interview has been lightly edited for clarity.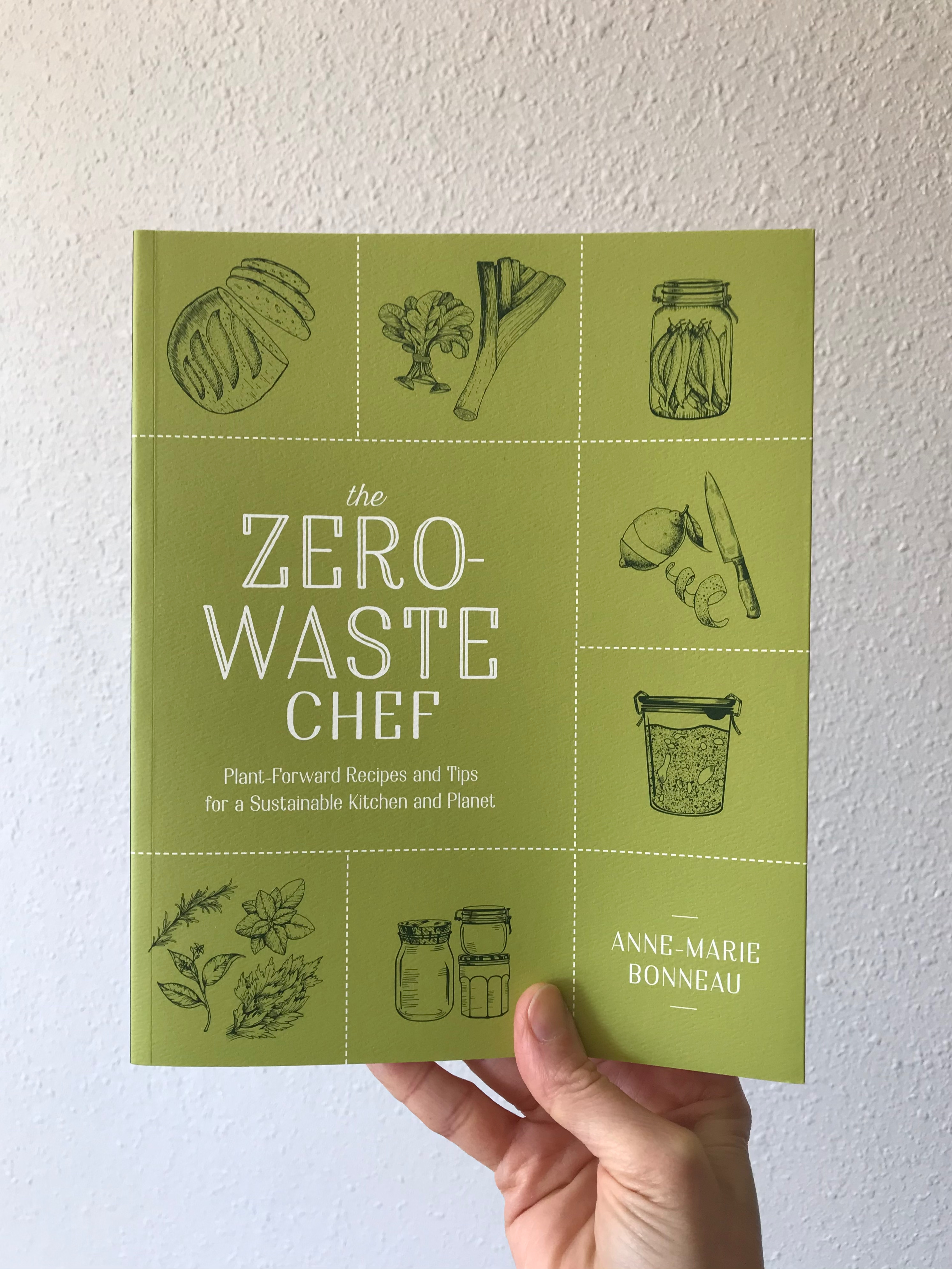 Sustainable America: What inspired you to go from blogging to writing a full-fledged cookbook?
Anne-Marie Bonneau: I had hoped to one day write a book. From the start of my blog, I always thought of posts as rough drafts for a possible book. So when my fabulous agent found my amazing publisher, I was all set!
What was the process like for putting the cookbook together? How was it different from how you approached your website and Instagram page?
The cookbook was a huge project. I had to develop and test recipes and then have others test the final recipes for me in their kitchens. So managing all of that was challenging. I have a newfound respect for project managers. The book offered me lots of room to outline a cohesive cooking strategy all in one place, unlike a blog which is sort of a sprawling medium that can grow out of control. I had to write much more for the book but I had much more time to do it. On Instagram, I fly by the seat of my pants more (or panic more: "What on earth am I going to post today?!").
How has your approach to cooking, food and waste changed over the years?
It has changed a lot. Like many people, when I used to set out to cook a meal, I would think about what I wanted to eat, look up a recipe, jot down a shopping list, buy the ingredients, bring them home and make the dish. Now, I look at what food I have on hand. I figure out what I can make with that and if I need any missing ingredients, only then do I go shopping. This is opposite to how most of us were taught to cook. It basically eliminates food waste because you use what you have before it can become waste.
What would you say are some of the biggest "keys to success" for becoming an effective zero-waste home cook?
In addition to starting with what's in the kitchen before going shopping, do some meal planning! You don't have to plan every morsel of food you'll eat for a month but even thinking ahead about the next couple of meals you'll make will save you time and energy, while reducing your waste and stress. Planning is key to reducing waste. Also, try to cook food that can become other food later. So, if you roast a bunch of vegetables, for example, roast extra to add to a frittata or tofu scramble later in the week. Or puree them later in homemade broth that you made from the vegetable ends you save from prepping all week. Try to not start from scratch. That's a lot of work.
What's your process for coming up with a new recipe? Are you carefully planning things out most of the time so as not to waste too much, or are you experimenting as you go?
I am always trying new recipes. I often base a recipe on something I've made before. For example, I love biscotti. I tested over and over a mixed-nut orange biscotti recently that I put orange juice and zest into in order to get as much good stuff out of the orange and to add flavor. A couple of months ago, I started a batch of limoncello. I had been preserving lemons and had a bunch of rinds leftover so I peeled those and started my limoncello. Next, I'll make this same biscotti recipe but with limoncello and lemon zest instead of orange juice and zest. I'll make some other desserts also with it (and drink some), like limoncello bars. So I try to make recipes that can build on each other.
Many people are environmentally conscious and care about their carbon footprint, but committing to going zero-waste feels too hard. There's a barrier of entry, so to speak. Did you ever feel that? What changed for you?
I started out by going plastic-free—the plastic accounts for a huge amount of the waste—and later, zero waste. After reading about the plastic swirling around in the oceans and devastating the oceans' inhabitants, I simply wanted to contribute as little to that as I possibly could. Of course, even if I don't bring plastic home, it still exists in the supply chain—I just don't see it. But it was hard getting started. I had to figure out how to wash dishes (I use a dishwashing block these days), how to clean my home (baking soda and vinegar mostly), where to shop, what to buy and so on. People often find the "zero" in "zero waste" daunting. But it's a goal, not an absolute. And you can't do it overnight. So just start reducing your waste with the easy things and see where the journey takes you, without worrying about reaching that zero.
Are there other zero-waste tactics you use outside the kitchen? What's one of your favorites?
Outside of the kitchen, one of my favorite tactics is getting things secondhand. There is so much good existing stuff out there. When I need something or think I need something, if I'm patient, I am usually able to get it secondhand. And I don't usually have to wait that long.
Is there any other advice you can offer to those beginning to think about living zero-waste?
The hardest part is getting started. When we cut the plastic, I had no idea where to start. But once we got going, it became like a game. We'd figure one swap, get that down and then try another and then another. Also, try to find your people. That will also help keep you motivated. You'll find a huge zero-waste community online. I have met some of the nicest people through this community.
So what's next? Are there any plans for book events (virtual or otherwise) or perhaps a sequel cookbook in the works?
I have some virtual events planned to coincide with the book launch and for Earth Day. I do have a file on my computer "Ideas for the next book." So we'll see!
---
Buy The Zero-Waste Chef from your favorite retailer here.
Sign-up for one of Anne-Marie's Zero-Waste Chef virtual events or workshops here.
Kernel-to-Cob Corn Chowder

This recipe calls for every part of the corn—the husk, the silk, and the cob for broth and the kernels for the chowder itself. When I consume anything made from the peels or skins of fruits or vegetables, I choose organic produce because the skins and peels usually contain the most pesticide residue. Non-organic sweet corn does contain less pesticide residue than most other fruits and vegetables treated with pesticides, though. In fact, it comes in at second place on EWG's Clean Fifteen List, a ranking of non-organic produce varieties containing the least pesticide residue.

Nevertheless, I would avoid putting silks and husks of non-organic corn into this broth, because they protect the corn kernels from the pesticides that might be used on the crop. But if you can buy organic, the silks and husks really do add flavor.

Serves 4

4 ears corn on the cob, with husks and silks
8 cups water
½ cup raw cashews
2 tablespoons olive oil 3 garlic cloves, minced
1 (1-inch) piece fresh ginger, minced
1 large onion, chopped
to 2 serrano or jalapeño peppers, minced, with seeds
celery stalks, including leaves, chopped
1 tablespoon dried oregano 2 small red potatoes, cubed
1 tablespoon fresh lime juice (from 1 lime), or more as needed
1 teaspoon salt, or more as needed
Chopped fresh cilantro
Red pepper flakes (optional), to serve

Remove the husks and silks from the corn. Scrub the ears well. Use a sharp knife to cut off the kernels.

Place the cobs, husks, and silks in a large pot with 8 cups of water and cover. Bring to a boil over high heat, turn down the heat to medium low, and simmer for 30 to 45 minutes, until the broth turns golden and fragrant and tastes sweet. Strain through a sieve; you'll need approximately 5 cups of broth.

Place 1 cup of the hot broth in a blender and add the cashews; let soak for 10 minutes.

Heat the olive oil over medium heat. Add the garlic, ginger, onion, peppers, and celery and sauté until softened, 5 to 10 minutes. Stir in the oregano. Add the corn kernels and the potatoes, and stir until coated.

Add 4 cups of the reserved broth, bring to a boil, then cover and turn the heat to medium-low and simmer until the potatoes are tender, about 10 minutes. Purée the cashews and broth in the blender until creamy.

Add 2 cups of the soup to the blender and purée until smooth, then stir the purée into the pot. Add the lime juice and salt. If desired, add more broth to thin the chowder if it seems too thick. (Refrigerate or freeze any remaining broth.)

Ladle the chowder into bowls and sprinkle with the cilantro and, if desired, the red pepper flakes.
Excerpted from The Zero-Waste Chef. Copyright © 2020 by Anne-Marie Bonneau. Photography by Ashley McLaughlin. Published by Penguin Canada, an imprint of Penguin Random House LLC. Reproduced by arrangement with the Publisher. All rights reserved.