The amount of food waste generated on college campuses might not cross every student's mind as they rush through the cafeteria before class. But if they looked into it, they would learn that 22 million pounds of edible food is thrown away at college campuses each year. Two inspiring organizations are working to change that.
Campus Kitchens Project and Food Recovery Network have been mobilizing an army of students around the country who are working to raise awareness about the food waste problem and get food that would be wasted to people in need in their communities. We reported on these groups a few years ago, but their recent accomplishments deserve an update.
Food Recovery Network
Food Recovery Network (FRN) spreads awareness to college students about the amount of perfectly edible food that is wasted at their school and works to divert that food to people in need.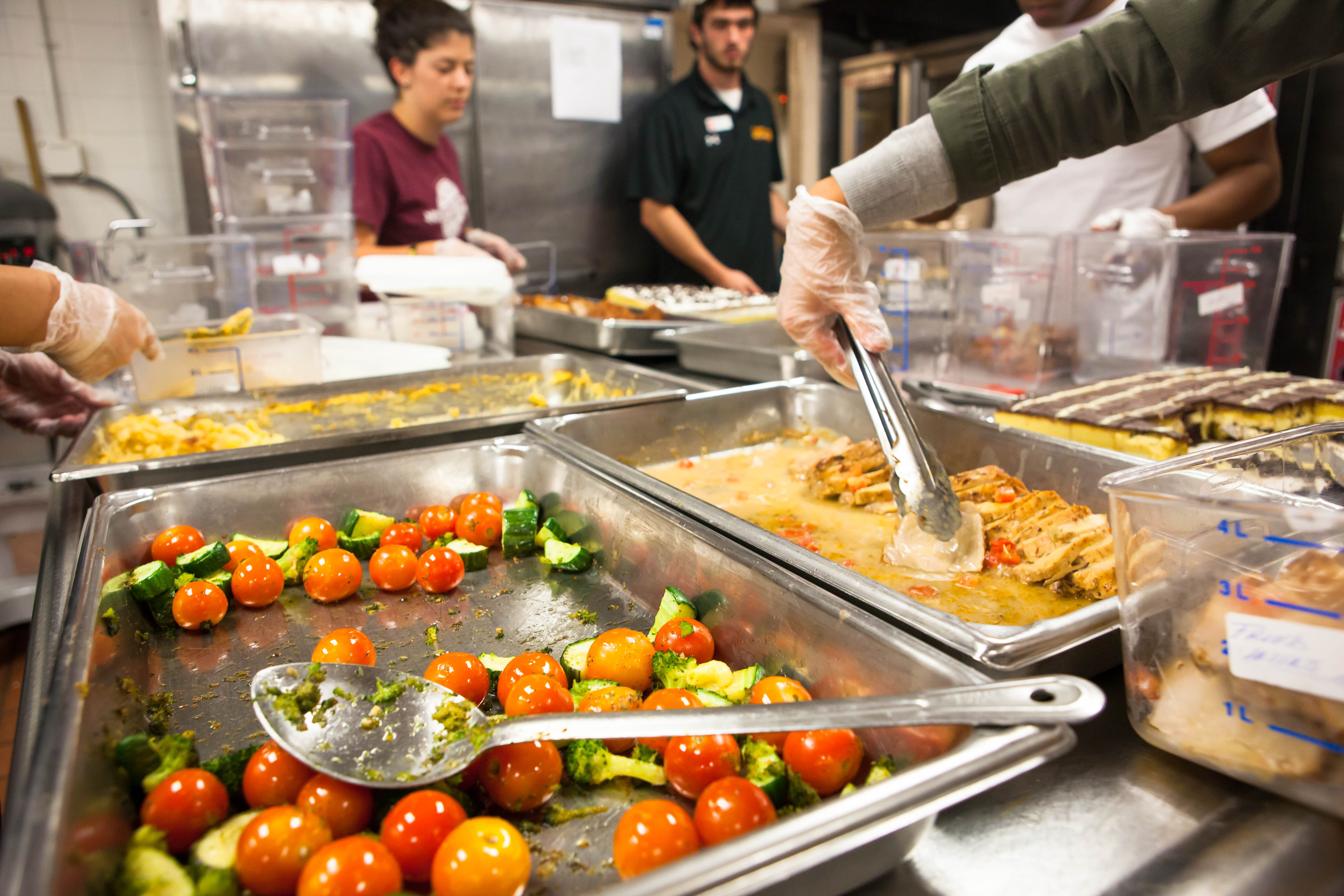 Established in 2011 by three students from the University of Maryland-College Park, FRN has grown to 150 chapters at campuses around the country as of May. It recently exceeded its goal of donating a cumulative 800,000 pounds of recovered food with a tally of over 816,500 pounds. During the Fall 2014 semester alone, FRN volunteers logged 55,620 hours recovering food and fighting hunger. There are currently FRN chapters in 36 states and the District of Columbia.
»Find a food rescue organization in your community«
In 2013, Sodexo Foundation made a $150,000 grant to FRN that allowed the mostly volunteer-run organization to hire fill-time paid staff and expand to more campuses. The organization's impressive work has earned it the designation of one of the top student-run nonprofits by Guidestar and press coverage by MSNBC, ABC, The Washington Post, and the LA Times.
Students attending any college in the country have the ability to create a chapter of FRN at their school, allowing them to accumulate food from their dining halls and donate it to local people and shelters in need. In five years, FRN's goal is to have a chapter at every campus in the country and make food recovery the norm rather than the exception.
The Campus Kitchens Project
Similar to Food Recovery Network, The Campus Kitchens Project (CKP) is an organization that helps campuses divert food that would be wasted to members of their communities. CKP volunteers collect leftovers from their cafeterias and gather donations from local supermarkets, restaurants, and farms. Then they prepare meals for people in need using donated kitchen space during off hours.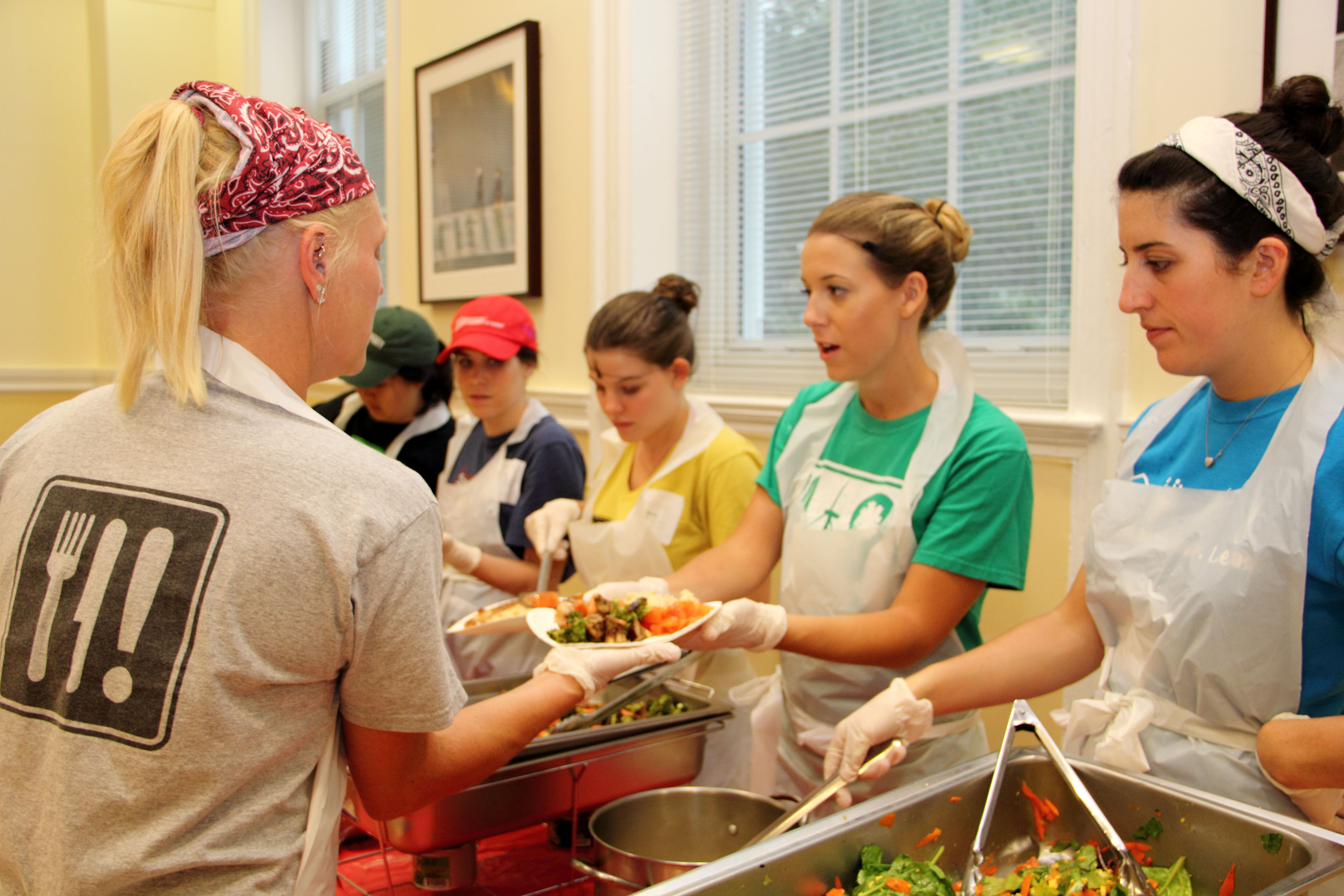 CKP encourages volunteers to identify the unique needs of their communities in order to determine which programs that are most in demand. On average, they serve over 14,000 clients per month through 45 chapters. Within these chapters, volunteers have recovered 868,007 pounds of food and prepared 281,290 meals.
CKP also provides curriculum to help volunteers run nutrition and wellness workshops and community garden programs.
CKP has support from the AARP Foundation to use their model to reduce senior hunger. In 2013, CKP and AARP's partnership served 46,000 meals to 1,800 older adults, and in 2014, the AARP made a three-year, $625,000 commitment to CKP with the goal of serving 500 more seniors each month and opening 20 senior-focused Campus Kitchens over the next three years.
Building Young Food Waste Leaders
In April, FRN and CKP co-hosted the Food Waste and Hunger Summit at the University of Georgia. The Summit brought together student leaders and gave them the opportunity to learn from experts in food waste, food insecurity and health. It also promoted the benefits of diverting food and the most efficient ways to do so.

These two young organizations are doing important work every day in their communities. More importantly, they are teaching a generation of students that food doesn't have to be wasted and getting young minds thinking about new solutions to the problems of waste and hunger in America.
Katie Breck
Sustainable America Intern, Food Waste
RELATED ARTICLES
Campuses Fight Food Waste
8 Ways to Take Action on Food Waste
Watch John Oliver Take Aim at Food Waste in America