School lunches are a ubiquitous and consistent presence in public schools across the U.S. Ever present are the chicken nuggets, fruit cups, and milk cartons—in many cases unchanged for decades. Despite the appearance of institutionalized uniformity, the National School Lunch Program is rife with inconsistencies, political arguments, and changing objectives over time. Originally developed as a way to ensure that students were adequately nourished, particularly in times of war, the National School Lunch Act signed in 1946 by President Harry Truman delicately knit together the interests of agriculture, educators, food safety specialists, and nutritionists. The reauthorization, which occurs with each new Farm Bill, often brings up fundamental questions about child health and nutrition and the role of government in our daily lives.
The concept of farm to school arrived into this mix in the mid-1990s, and was established, though not funded, as the National Farm to School Program in 2004. Despite the appearance of something fundamentally new, farm to school puts a fresh face on an old concept, which is to ensure the feeding of school-aged children while simultaneously creating consistent markets for farmers. Where past school lunches aimed to increase caloric intake for malnourished children, farm to school adds fresher, healthier foods. Where past school lunch programs created a market for surplus commodities produced by big ag, farm to school creates new markets for small-scale farmers. It is, presumably, a win-win: students get fresh, local food and area farmers have new, consistent marketing options.
If only it were that simple! Starting in 2010, I worked with a mid-sized public school district in Iowa to start a farm-to-school chapter. The chapter quickly had some successes starting school gardens and developing a series of "farmer fairs," in which local farmers would come to elementary schools for an afternoon of agricultural education and food tastings. The chapter also planned to get local foods into school lunches, a process that turned out to be much more complicated than it first appeared. I detailed the whole process in my book Making Local Food Work: The Challenges and Opportunities of Today's Small Farmers (University of Iowa Press, 2017). Here are some of the key lessons we learned that first year.
1. Salads aren't simple.
In January of 2011, the chapter decided that it wanted to provide one local side dish for all 6,500 lunches in the district before the end of the school year. After some discussion, we decided to serve a mixed lettuce salad, figuring that lettuce would be affordable and available by early June. We sent bid requests to eight growers in the area and received two responses that met our price and quantity needs. We still had some work to do, though, because the growers sold their lettuce by the head. We needed about 300 pounds of washed and chopped lettuce. We had to work with the growers to figure out how many heads of lettuce we would need—but we didn't yet know how large they would be, as that was dependent on Iowa's fickle spring weather. We also had to make arrangements for the lettuce to be washed and chopped. The school district's labor costs were high, and they sourced their lettuce already chopped and bagged. Six volunteers ended up working an eight-hour day washing and chopping the lettuce in a commercial kitchen. We quickly learned that sourcing products requiring any significant preparation would be a hindrance to the program.
2. Buy-in is everything, but may not mean what you think it means.
The food service director, "Carol," was very willing to work with our farm-to-school chapter to get local foods in school lunches. A dietician by training, it was important to her to serve healthy food to the kids in the district, and she appreciated the positive public feedback about farm to school. However, she also had constraints that were hard to work around. One was time; she could not free up her kitchen staff to do tasks like chop lettuce when they had so many other things to do. In addition, she needed to know exact portion sizes. Later in the year, when we worked on purchasing apples, she requested "113-count" apples, which means that 113 apples will fill a 50-pound box. This allows her to provide the correct portions of apples for each lunch per federal nutrition regulations. Many small orchards do not have the labor force to sort apples, nor do they have the inventory to sell only one size to a large institution. It took some time to find a producer who could fulfill that request. Recognize that even if a food service director is enthusiastic about the idea of farm to school, there are still likely numerous barriers that are mostly out of his or her control.
3. Farmers and food service directors speak different languages.
One of the foundations of local food is that consumers do a little more work to talk with farmers, learn about agriculture, and embrace the non-standard produce. Farmers have gone to some length to encourage consumers to enjoy the ugly tomatoes and crooked carrots. For their part, local food consumers are often interested in hand-picked produce. They seek out farms that are not highly mechanized where people have done the work of harvesting and distribution. In a school kitchen, however, hand-picked produce invites contamination and food safety concerns. In addition, non-standard produce causes problems not only for portion size, as mentioned above, but when trying to use labor-saving devices. Crooked carrots, zucchini, or cucumbers often won't fit through mechanical slicers that are built for perfectly straight produce. We have to recognize that local food and institutional kitchens approach food from completely different perspectives. Even though everyone usually agrees about the benefits of fresh, local produce and wants to support local farmers, a farmer and a food service director may have trouble learning each other's languages.
4. Baby steps, not baby carrots.
After our chapter's experience with lettuce, we took a deep breath and a step back. We learned a lot, and we did get a local salad served across the district, even though it was much more difficult than we expected it to be. Our next step was to look at the summer feeding programs. In the Midwest, another challenge of farm to school is that the most abundant produce months occur over the summer when regular school isn't in session. Our district's summer school and feeding programs gave us a smaller venue in which to try new products. That summer, we were able to purchase cherry tomatoes, zucchini, and cucumbers for these programs. The cucumbers and zucchini could be sliced using a wedge orange slicer, speeding up preparation. The cherry tomatoes could simply be rinsed and served whole. We also purchased watermelons, which were so successful we continued buying them into the school year. Watermelon had been a standard produce item on the district's menu, so the kitchen staff was used to slicing and serving it. An added bonus was that we could purchase the local watermelons for considerably less than from the national distributor.
Although these early efforts may sound small, our persistence paid off. In 2011, the district purchased 1,392 pounds of local produce. That number grew to 13,270 pounds in 2017, a ten-fold increase! It took time to find regular, affordable products that growers had enough of and that kids would enjoy. If you're looking to get involved with a farm-to-school program, don't be discouraged with one or two side dishes in the early years. Keep building those relationships and translating between farmers and food service directors. Even fairly small purchases can make a big impact for a local farmer, and taking the time to build a sustainable program is definitely worth it.
For more information about starting and growing a farm-to-school program, contact the National Farm to School Network. Or check to see if your state's departments of agriculture or education have a farm-to-school program.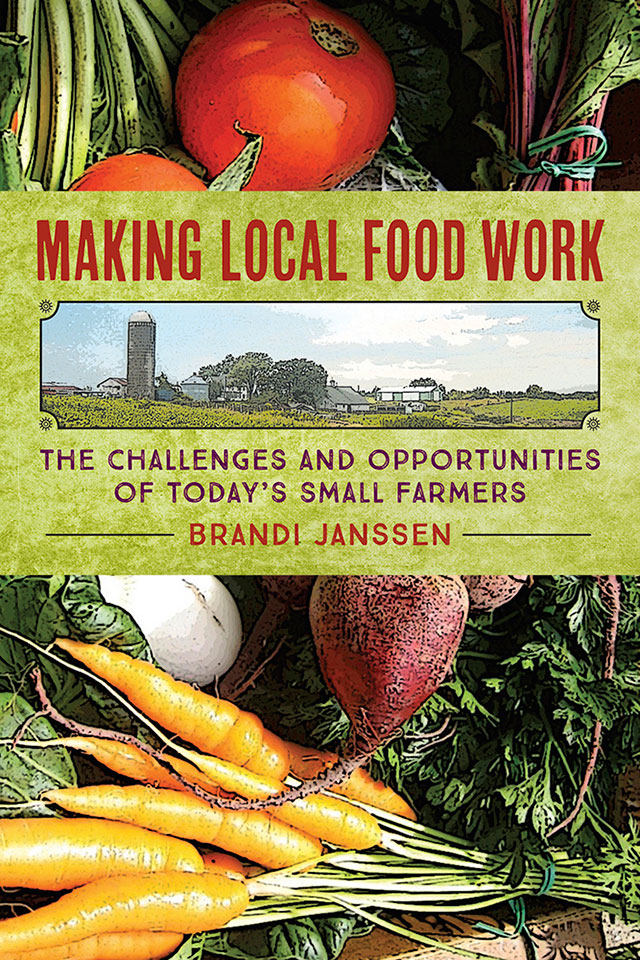 About the Author
Brandi Janssen, author of Making Local Food Work: The Challenges and Opportunities of Today's Small Farmers, is a researcher and advocate for local food systems. She is a clinical assistant professor in the department of occupational and environmental health at the University of Iowa and the director of Iowa's Center for Agricultural Safety and Health (I-CASH). She lives in Iowa City, Iowa.