If it seems as if farmers markets have sprouted like weeds from every vacant parking lot in the last few years, you're not imagining things. According to the latest data from the USDA, the number of farmers markets in the United States has grown by 76 percent since 2008. There are now 8,268 markets listed in the USDA's National Farmers Market Directory — that's one market for every 38,000 people.
The new numbers were released this week to kick off the fifth-annual National Farmers Market Week.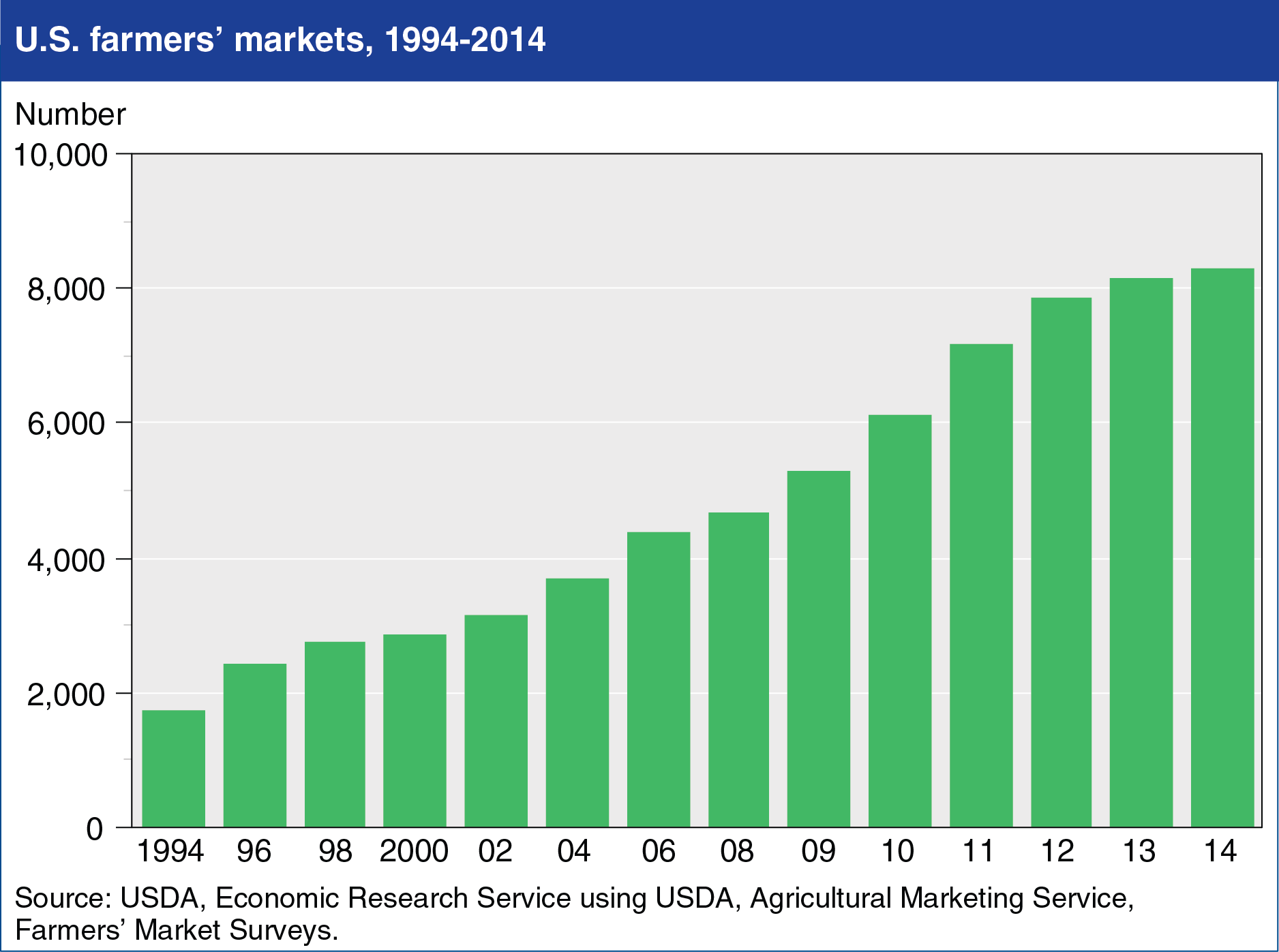 Market growth is good news for the local food movement, which uses farmers markets to help small farmers and consumers connect. In addition to giving shoppers access to fresh, local food, farmers markets have also proven to help farmers expand their businesses. A 2013 survey from Washington State University found that 82% of farmers market managers reported that their vendors had developed or expanded their business beyond the market within the past three years by opening storefronts, restaurants, farm stands or CSAs or selling online or to grocery stores, co-ops, restaurants or wholesalers.
Farmers markets have also become important gathering places for communities around the country. At my local market, I've been able to drop off food scraps for compost, recycle clothing and fabric, listen to live music, meet up with friends, learn new recipes, and, of course, buy some amazing food.
But is there an end to this growth trend? Local food pioneer Alice Waters recently predicted that there will be "at least one farmers market in every town in the country," but the numbers may be telling a different story. After a jump of 17% in markets between 2010 and 2011, this year's growth percentage of 1.5% is the lowest it's been in 14 years, according to USDA data.
One factor in the leveling off of growth could be that there simply aren't enough local farmers to support the demand for new markets. In Chicago, for example, farmers are so in demand that market managers are offering perks like free parking and help from volunteers to woo them to set up shop.
But the strongest increase in markets last year was in southern states like Tennessee, Louisiana and Texas, which could mean that the market for farmers markets is reaching a saturation point in urban areas and will now grow more slowly in smaller towns and rural areas.
Nevertheless, we're betting that farmers markets are here to stay, and this is a great week to visit one near you. Summer harvests are reaching their peak, and some markets are planning special events to celebrate National Farmers Market Week. The Pacific Coast Farmers Market Association, which operates market in the San Francisco Bay Area, is hosting a "Love My Market" photo contest. The Farmers Market Coalition hosted a farmers market poster contest. (The winner, shown above, was Hudson Farmers Market in Ohio).
To find a market near you, visit the USDA Farmers Market Directory LocalHarvest.org or EatWellGuide.org.
Amy Leibrock
Sustainable America Blog Editor
RELATED ARTICLES
Is Your State Locavore Friendly?
Six Ways to Help Your Local Family Farmer
What Is a Food Hub?