Jeremy Kranowitz is a current board member and former executive director for Sustainable America. He currently serves as President and CEO of Keep Indianapolis Beautiful.
You might not guess that Indianapolis is one of the most interesting cities for electric cars. From the recently shuttered BlueIndy electric car share program to its significant amount of EV infrastructure, the city is well equipped for drivers looking to reduce their reliance on fossil fuels.
Long-time readers of this blog know how much we at Sustainable America love stories about companies that encourage more people to drive and enjoy electric vehicles. And now, there's a new company following in Indianapolis' innovative EV footsteps called Motor offering a unique monthly subscription service solely for electric cars called Motor Drive. I had the chance to try it out for myself and have a few thoughts on its potential.
As a paid monthly subscription, Motor Drive allows users unlimited access to an electric vehicle of their choice to drive as their own without having to worry about mileage limitations, lease agreements, routine maintenance, car insurance and roadside assistance — all are covered in the monthly price. Drivers can choose from several different models of electric vehicles, including the Chevy Bolt, Nissan Leaf, Tesla Model 3 or Model X, or Audi e-tron, through this concierge-like program. Motor staff even deliver the vehicle to your door and will pick it up at the end of the program, so there is no need to go to a dealership.
It's a fantastic alternative for folks who may want to take a turn behind the wheel of an electric vehicle for a little while, but are afraid of making a long term commitment. Rentals can be as short as 30 days or recurring for as long as you'd like. And once you have more comfort driving an electric car, you might be more ready to take the plunge, especially as more and more exciting models come out each year.
At first blush, pricing may seem a bit high. But once you factor in the insurance and maintenance costs, the month-to-month pricing is comparable to gas-powered cars at similar price points. I can imagine Motor acting as an exciting, extended test-drive for those on the fence or a good long-term option for those who want to rethink how they buy their next car.
During my trial subscription, I have been driving a new Nissan Leaf, which has surprising acceleration. It's not Tesla fast, but it's fast enough to give you that roller coaster feeling in your stomach. I have also given a number of short test drives to my colleagues at Keep Indianapolis Beautiful, many of whom have never been in an EV, let alone driven one. The reactions were all incredibly positive. The Leaf has aggressive regenerative braking, which means that the car actively brakes after you take your foot off the accelerator, with that energy captured and returned to the battery. I think everyone was surprised by both the speed and the so-called "e-pedal."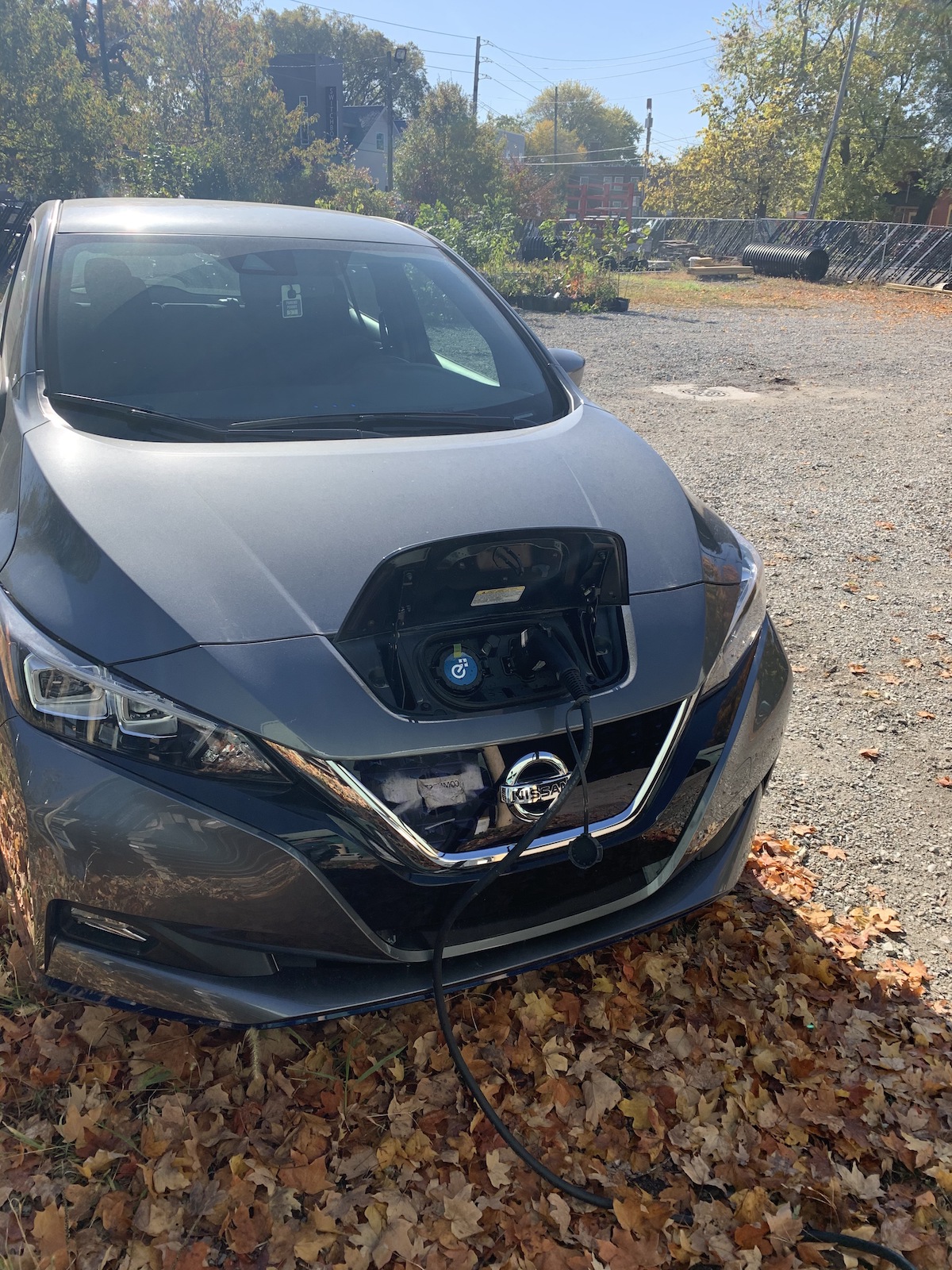 One of the challenges for people living in apartments is the lack of a good place to charge at home. But with the EV infrastructure in Indianapolis left after BlueIndy's closure, the city becomes a perfect test bed for a program like Motor Drive and the potential it has for rethinking how we access and purchase cars — and electric ones at that.
What do you think? Would you like an electric vehicle subscription like this in your city? Let us know by email or tweet us @foodfuelfuture!