Eco-athletes became more of a thing in 2018 — and that's a very good thing, according to Lew Blaustein, who writes about the intersection of sports and the environment for GreenSportsBlog. "I spoke to more eco-athletes in 2018 than in any other year since starting GreenSportsBlog in 2013," he says. This year, he named racecar driver Leilani Münter as the best green sports story of the year. Here he explains how Münter's steadfast dedication to environmental issues is paying off.
Given the dire climate news coming out of recent UN and U.S. government reports, the world needs this year's eco-athlete "thing" to become a wave in 2019. But that is for another day.
There are three great reasons why Leilani Münter, the "vegan, hippy chick with a race car," my pick for the Best Green-Sports Story of 2018. Münter...
Signed A Well-Fed World and TryVeg.com to sponsor her ARCA series car for an eight-race campaign.
Earned two top ten finishes.
Sampled vegan Impossible Burgers to 30,000 racing fans (they loved 'em!).
Münter is a biology graduate turned race car driver and environmental activist who advocates for renewable energy, solar power, electric cars, plant-based diet, and animal rights.
The thing is, no one would have blamed Münter if she had decided to give up her career as a driver in NASCAR's ARCA Racing Series before this year.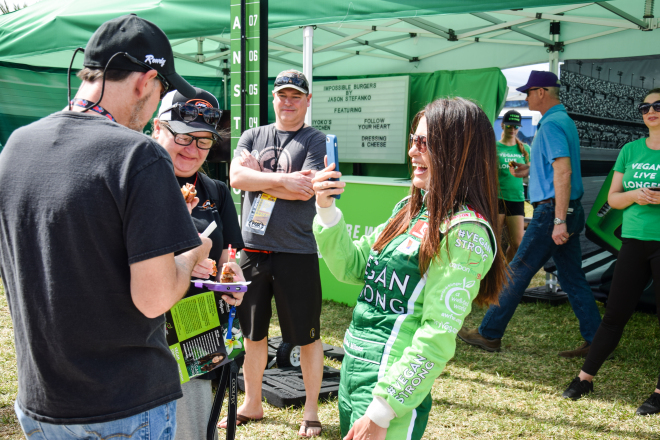 Her strong commitment to only work with brands that align with her lifestyle and the issues that animate her — most notably veganism, animal rights and the climate change fight — has limited her ability to secure the sponsors and thus the funding necessary to enter races. In some years, Münter has competed in only one race; in others none at all.
But Münter did not quit, although she came close several times. The Minnesota native kept selling the idea that auto racing fans would react positively to vegan messaging — and food. "Some of the vegan brands I called on said 'the NASCAR fan is not the right audience for us.' I said 'you don't need to talk to vegans; they're already converted. You need to talk to people who are not already in your world.' Auto racing fans fit that definition."
Her logic and persistence — she pitched sponsorship of a vegan-branded car for six years — paid off in 2018 when two non-profit organizations, A Well-Fed World and TryVeg.com, signed on as her lead sponsors to carry the "Vegan Strong" message. The deal allowed Münter to run an eight-race campaign, which included an eighth-place finish at the ARCA race during Daytona 500 week and a ninth-place result at Michigan International Speedway.
More importantly, Münter and Vegan Strong teamed up at five of her eight races to fund the sampling of vegan Impossible Burgers in the Fan Zones to 30,000 fans. The fans ate 'em up, literally and figuratively.
"Many fans were skeptical at first and didn't want to try the Impossible Burgers," recalled Münter. "But once they did, they loved the taste and texture! And when you tell them it's better for their health and for the planet, they got more excited."
I am excited to see what Münter will do for an encore to spread her vegan, along with her animal rights and climate change-fighting messages. On the latter, she is a big advocate of electric vehicles — her personal car is a Tesla, powered by solar panels on the roof of her house. Münter says to expect an announcement about her 2019 plans in early January.
Leilani Münter is not a lone wolf eco-athlete. She is joined by a veritable All-Star squad of sailors, skiers and more who spoke out and/or took action on the environment this year. You can read more about the best (and worst) of green sports in 2018 at GreenSportsBlog.com
Lew Blaustein is the founder of GreenSportsBlog, which has become "the source for news and commentary at the intersection of Green + Sports."
Photos courtesy Lelaini Münter.