Already plagued by serious air pollution concerns, Utah is experiencing some of its worst measures of air quality in years. Many of the emissions clouding out views of buildings and mountains are attributed to largely avoidable vehicle idling. As a result, our I Turn It Off campaign has attracted attention in the state's valley communities as grassroots movements are looking for resources to help reduce idling and improve air quality.
One notable project is a poster contest piloted by Utah State University professors Edwin Stafford and Roslynn Brain in 2015 and run this year by The Logan Environmental Action Force (LEAF) Club, a student organization at Logan High School in Logan City. The contest engages students in strategic marketing, environmental awareness, visual arts, and community activism using the protégé effect, an educational strategy based on the idea that children can learn more effectively from their peers. Stafford and Brain, along with other community stakeholders, chose to target teen drivers as a segment of the population ripe to learn about appropriate driving behaviors as they take on the cherished privilege.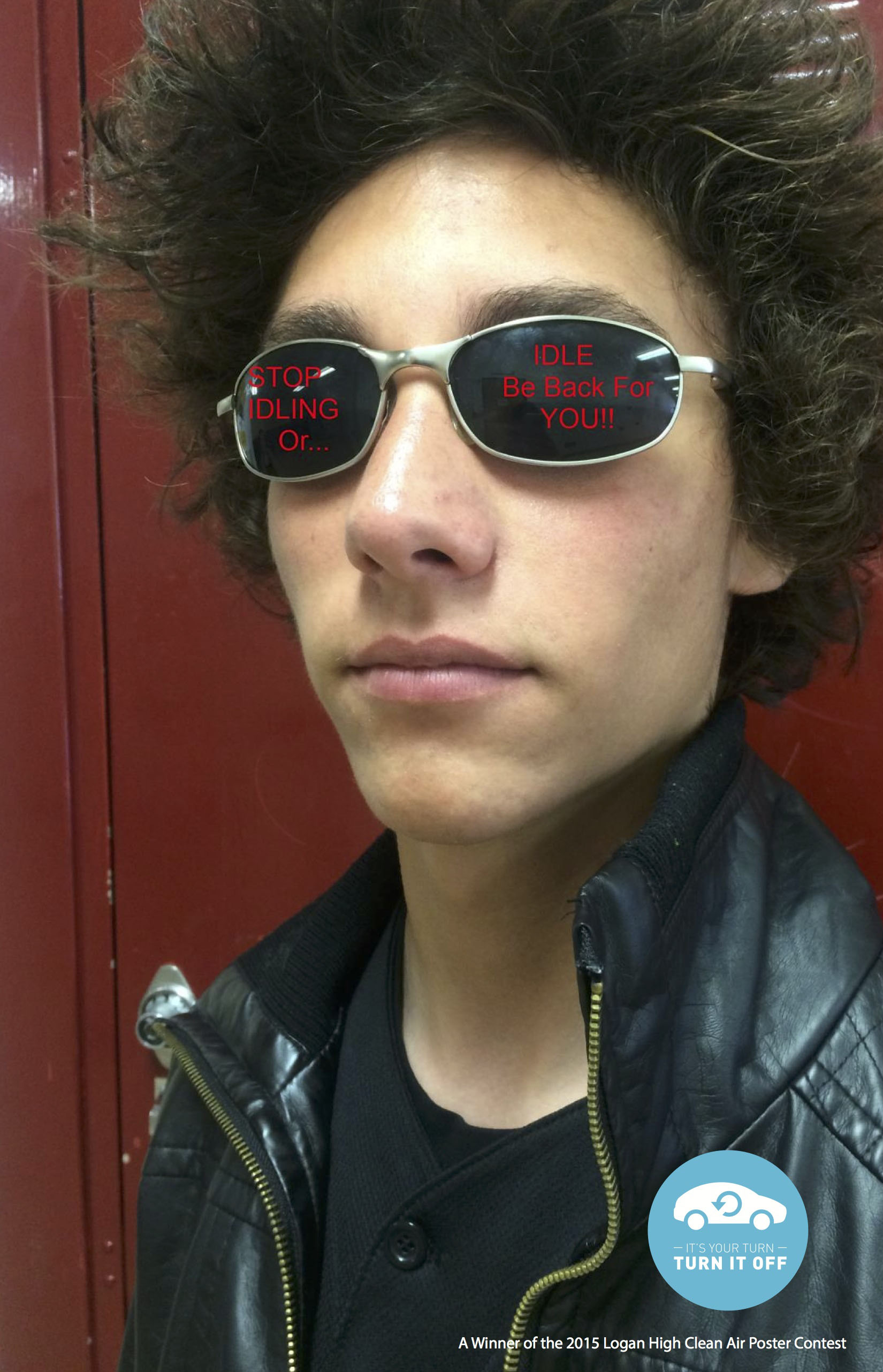 For the 2015 contest, university students and faculty mentored over 100 high school students in green messaging and graphic design. . Sustainable America was happy to support the students' efforts by sharing the I Turn It Off logo to those who wanted to incorporate it into their posters. The students designed over 75 poster entries, and 14 were selected to be used for community outreach. Each winner received a prize from a local business, with the best overall poster receiving a grand prize from Logan City. (The images shown here are winners from the 2015 contest.)
The contest was recognized by a local state representative from the Utah legislature, Logan City's mayor, council members, and Logan City's environmental coordinator. Posters were displayed across the valley at local businesses and public venues, published in local papers and on social media outlets, and some even made their way to Salt Lake City.
With the 2015 contest setting a high benchmark for entrants, Stafford noticed an enhanced effort from students for this year's contest, which concluded this month. Through allusions to Star Wars and edgy political parodies many of the entries creatively tied pop culture with clean air in order to appeal to teens. Stafford says he's most excited that they are having fun learning about air pollution by participating in the contest.
With the LEAF Club taking leadership on the project this year, they expanded the pool of prizes and increased the array of student participants. They also have plans to distribute car decals and air fresheners based on winning designs to driver's education classes to keep the issue top of mind. The student group also took on the task of teaching savvy marketing techniques to their peers and organizing the awards ceremony.
Moving forward, Stafford and Brain are looking to expand the initiative to other high schools with the hopes of running the contest statewide, providing students the opportunity to win sizeable business-sponsored scholarships. Not only does the contest educate new drivers on vehicle idling and air quality but has the potential to reach an array of stakeholders: Parents will be encouraged to carpool, sponsoring businesses can increase employee awareness, policy makers will continue to publicly honor winners, and media outlets will publicize contest winners and posters, further expanding the spotlight on clean air.
Stafford sees the clean air poster contest as a significant synergistic vehicle to raising clean air awareness and action. We are excited to continue supporting the contest in year to come!
Special thanks to Edwin Stafford for sharing his time with us in writing this story.