At Sustainable America, our passion for electric vehicles runs deep. We've been advocates of battery-powered cars for years, exploring EV models, telling the stories of innovators, even installing an EV charger at our old offices. As a crew of early adopters who have closely followed EVs, we can honestly say that this moment feels truly different.
Though EV sales still pale in comparison to their gas-powered counterparts, public excitement and press coverage is at an all-time high, buoyed by new models, new investments and new policies. It feels like it really is the beginning of electric vehicles' mainstream moment.
More cars, fewer compromises
Even with Tesla dominating sales and promising electric vehicle startups like Rivian and Canoo, much of the excitement is the result of popular automakers and American manufacturers who have recently begun committing (or recommitting) to EVs in a big way.
In late 2020, GM, one of the few automakers who no longer qualify for the federal EV tax credit, rebranded itself as a way of reaffirming its commitment to electric vehicles, with a new logo, investment commitments and a bold plan to electrify the luxury brand Cadillac. GM is even trying to make EVs loud and bombastic by reviving the Hummer brand as an electric-only SUV and pickup truck over the next few years.
Another key American brand, Ford, has also come out swinging in a big way. After releasing the all-electric Mustang Mach-E SUV earlier this year to rave reviews from Car and Driver and dozens of publications, Ford unveiled the electric version of their best-selling F-150 pickup truck, the F-150 Lightning. Buoyed by dozens of news stories and a test drive from President Biden, reservations for the 2022 vehicle swelled past 70,000 trucks in less than a week, prompting Ford to boldly and publicly increase their EV commitments and tease what the future holds for their vehicles.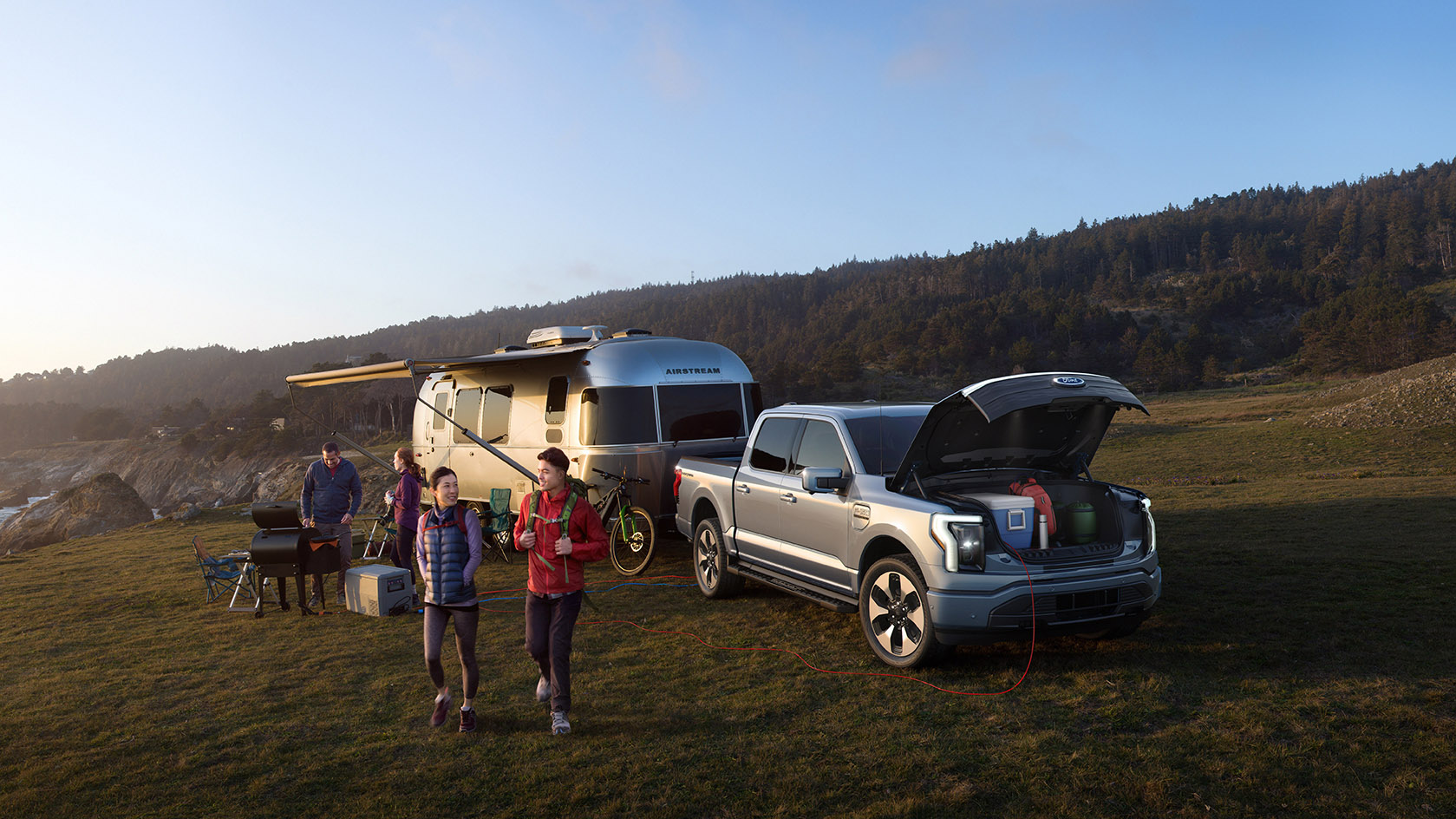 Two of North America's heavy hitters aren't the only ones. From Volvo committing to be online- and EV-only by 2030, to top-selling Toyota outlining plans for dozens of new EVs and hybrids over the next 5 years, to continued EV efforts from Kia, Hyundai and more, manufacturers know that going public with their plans draws good press and more EV interest from consumers.
Automakers are finally making EVs in models and styles that sell, but more exciting is the policy, infrastructure and social landscape that will help fuel our nation's battery-powered vehicle transition.
Policy, optimism and public commitments
It's one thing to have scores of EV options to choose from, it's another to make sure our cities and states have the infrastructure and the policies to support them. Fortunately things have been heating up, with significant moves from private companies and government entities alike.
Within days of taking office, President Biden announced plans to increase infrastructure spending to support electric vehicle charging, including the construction of nearly 500,000 new charging stations nationwide. In late May those plans got a major upgrade, with a fully-fledged blueprint to transition the United States toward an electric vehicle future. The plan is full of major investments, from consumer purchase incentives to public transit investments to the aforementioned charging infrastructure investments.
Biden's plans are the culmination of momentum around EVs that has been building steadily and swiftly as of late.
In September 2020, California governor Gavin Newsom announced that the state would cease the sale of new gas-powered vehicles by 2035, with an aim to have every vehicle on California roadways gasoline-free by 2050. Some cities and counties across the nation are even enacting bans on the construction of new gas stations, as a one-two punch of reducing fossil fuel reliance and encouraging the building of EV infrastructure instead.
Before Biden's initial commitments around charging stations and transitioning the federal vehicle fleet back in January, businesses nationwide had announced their intent to invest in EVs. Amazon partnered with Rivian to electrify its fleet of delivery vehicles, while dozens of companies like IKEA, Siemens, AT&T and more are also committing to fleet electrification in the next decade through a new coalition. Even the U.S. Postal Service is getting in on the action, aiming to make at least 10% of their vehicles electric as they do a full-scale modernization of their fleet, though lawmakers have been pressuring them to up it even further.
Utilities, municipalities and other groups have also been advancing charging infrastructure forward, too, with Interstate-5 along the west coast set to become an EV super-highway for heavy-duty vehicles and states like Minnesota, Missouri and others rolling out more and more opportunities for charging.
But with all the buzz and excitement for the future of electric vehicles, many challenges remain to combat the uncertainty and hesitance many buyers still have.
Obstacles to overcome
Overcoming the two biggest obstacles in EV adoption—charging infrastructure and cost—won't happen overnight. It's something that will take ongoing work to alleviate concerns and influence people to buy.
Charging infrastructure is still a consideration in more ways than one. Many first-time EV owners experience charging confusion, from different charger levels, to station networks, to how long it takes to juice up — to the point where explainers are practically a necessity. There's an urban/suburban/rural divide when it comes to building and maintaining charging stations. In many areas charger deserts are abundant, especially for those who can't charge vehicles at home as renters or because of other factors. And as mileage ranges have soared in recent years, buyers still face range anxiety and worry they'll be stuck on a long trip (even if longer trips are few and far between).
But the cost and equity problems with EVs might be even bigger. From charger accessibility in cities along racial and socioeconomic lines to the fact that electric vehicles simply cost less if you're rich with the current tax incentives, there's a lot of work to be done to transition Americans to a gas car-free future. Ideas like time-of-purchase sticker-price discounts or a Cash for Clunkers-like trade-in incentive could go a long way in helping make buying an EV more attainable for all — it's just a matter of how soon the new programs can go into effect.
The future is bright
Despite a number of challenges to address and a colossal amount of inventory to build up, the road ahead is incredibly promising for electric vehicles. By the end of the decade, many more of us will be driving off into a fume-free future. But until then, expect us to remain just as excited to be along for the ride.
---
IMAGE CREDITS — Header & F-150 Lightning: Ford Motor Company; Charging Station by Roger Starnes Sr via Unsplash.