How much salvaged fruit does it take to make smoothies for 5,000 people? We found out in May when we participated in Feeding the 5,000 NYC, an event to raise awareness about food waste.
The event was organized by Feedback, a U.K.-based environmental organization. Feedback sources food from farms and retailers that otherwise would have been wasted then uses it to prepare and serve 5,000 free meals in large public spaces. Similar Feeding the 5000 events have been staged in major cities around the globe to educate the public about food waste, demonstrate solutions to the problem and catalyze individuals, businesses and governments to take action.
The event landed in New York's Union Square Park on a beautiful spring Tuesday. Volunteers not only served 5,000 meals in the park, but an additional 5,000 meals were prepared and delivered to shelters in each of the five boroughs.
Thanks to a generous grant from Marble Collegiate Church in New York City, we added salvaged produce smoothies to the day's menu offering. Trader Joe's and Fairway Market in Stamford, Conn., provided us with a beautiful cornucopia of salvaged berries, citrus, greens and juices. Some of the packaged items (juice and salad greens) had "best by" dates that were past or coming up. Other produce was being culled because the stores had new, fresher stock come in and no space for the older produce. Both stores gave us food that wasn't already earmarked for their established donation programs with Community Plates.
All together we washed and weighed over 175 pounds of grapes, 55 pounds of berries, three bushels of kale, 20 pounds of carrots and 30 pounds of oranges — three full car loads of beautiful produce and juices.
Throughout the day, passersby blended their own smoothies by pedaling our cool Fender Blender Bike. We never had fewer than 20 people standing on line, either to sample a smoothie or to ride the bike or both. Habana Works, an environmental nonprofit in Brooklyn, also brought a blender bike to help.
From homeless people to office workers, school children to bike couriers, it's likely that most people were drawn to the event for the free food. While waiting for the next pitcher to be blended or their turn on the bike, they saw coolers, boxes and bags filled with a bounty of berries, oranges, grapes, greens and carrots that would have rivaled any high-end juicery. We were able to tell them that all of the ingredients were salvaged, and teach them why perfectly good food like this is wasted every day across the country.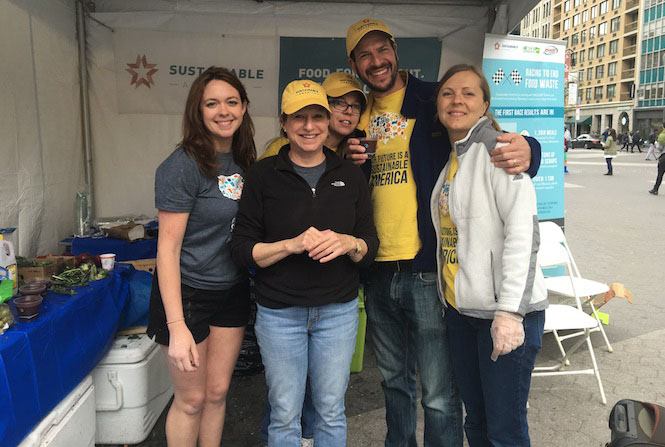 At Sustainable America, we work to both educate the public about the issue of wasted food and to undertake initiatives to address this problem. Feeding the 5000 is a great event that does both. We're hoping everyone who passed through our booth during the event will remember pedaling to blend up their salvaged fruit smoothies and be more mindful about wasting food every day.
Here are some smoothie recipes we used at the event.
Salvaged Smoothie Recipes
Berry Blast
Combine in a 48-ounce pitcher:
1.5 C blueberries/blackberries
1 C frozen grapes
1.5 C spinach or kale
1 C juice
Blend until smooth.
Opportunistic Orange
Combine in a 48-ounce pitcher:
2 C fresh orange
¼ C carrots
1 C frozen grapes
1 C spinach or kale
1 C Juice
Blend until smooth.