May is National Bike Month, and with it comes a lot of great ideas about how to start biking to work. There's no doubt that the benefits of bike commuting are near infinite — you save gas and money, generate less pollution, get great exercise, and get more in touch with your community.
But if you're one of those people who feels left out of the bike commuting movement — whether you live too far from work or you have to drop off kids in the morning — there are plenty of other opportunities to use a bike to replace some of your gas-powered trips. A 2009 National Household Travel Survey found that out of about 750,000 recorded car trips, the average distance was just 5.95 miles, a space the average cyclist can cover in under half-an-hour. Those short trips add up, especially as you get better at using two wheels instead of four.
Not only does using your bike instead of a car for errands increase the sustainability of your lifestyle, every bike ride that replaces a drive reduces congestion on America's overburdened roads. Less congestion means less wasted fuel, less pollution, and less stress for everyone, even drivers. Here are a few tips on how to use a bike when you otherwise rely on an auto.
Map Your Life
Look at a map of your immediate area and envision a circle of the distance you can comfortably ride. You'll find that it encompasses some or all of your daily commute, some stores you visit, restaurants you frequent and maybe even friends' and family members' homes. Look for bike-friendly routes. Google Maps handy bike route overlay will highlight bike-designated and friendly routes for you. You don't have to take the major roads, and getting off the "beaten path" is one of the pleasures of a bike.
Every life map is unique, and these are complicated questions that might only be answerable through trial and error. A map will also help you get a handle on what type of bike will work best for you, whether you should use a folding, hybrid, cargo, or other bike. Do you need fat tires or thin? Many gears or none? Use that map and ride, and your local terrain will show you scores of bikeable possibilities.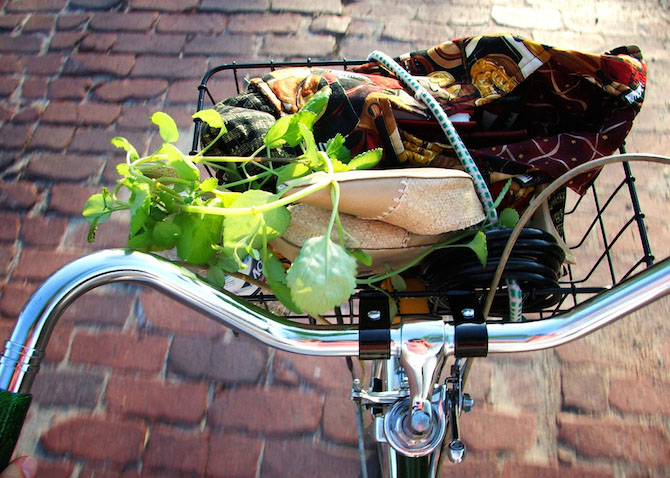 Rack Up the Miles
If you're going to pedal your way to big savings like the estimated $5,000 a year this Baltimore man is saving by replacing his car with a bike, your bike needs to do what a car can do—haul stuff—and for that you're going to need a rack or a sturdy basket. Side-mounted panniers can carry a week's worth of groceries. With a front and a rear rack, you can easily carry a couple of weeks' worth. Courier bags or backpacks will only get you so far, and the difference between busting your back or letting your bike frame carry the weight makes all the difference.
If you're going to need to bring things to your destination, throw a bag in your bike basket or invest in a detachable (and if possible waterproof) pannier, which usually comes with a shoulder strap, and you can lock your bike up and carry your goods with you. Good panniers are expensive, but make a habit of shopping by bike, and they quickly pay for themselves.
Use Your Bike in Tandem With Other Forms of Transportation
In many cases, a bicycle can complement other transportation modes, including the car. Perhaps you have a long urban commute that includes parking your car and taking light rail into the city center. Could you bike to the train or bus instead (and save on parking fees)? Better yet, if bikes can be carried on public transportation, you'll shave time and energy consumption off your commute. A thrift store car bike rack makes integrating biking into a portion of your car trips a cinch. Keep in mind that if you're driving any sort of distance with a bike rack, loaded or unloaded, you're adding drag to your car and decreasing fuel efficiency. A removable bike rack can be stored for long trips. Likewise, stashing your bike in your trunk, which is usually just a matter of popping your front wheel off, means less drag—not to mention added security for the trusty two-wheeler that will soon save you from sitting cattle-like, in long, hot traffic jams.
While there are so many tangible benefits to riding instead of driving, including the fuel savings that work toward Sustainable America's goal of halving American transportation fuel consumption by 2030, the humble bicycle also balances America's dominant car culture. Every bicyclist on the street raises awareness, which builds support for the creation of sustainable, bike-friendly infrastructure, and that in turn gains more converts to a bicycle-oriented lifestyle. Reliance on fossil fuels can't be broken in a single step. But with billions of tiny revolutions, we'll be headed in the right direction.
Cedric Rose
Sustainable America Contributor