Spring has arrived! As the warmer weather gets people excited to get outside, it's never been a better time to consider making your bicycle a more substantial part of your day-to-day life. Not only is it a healthy way to get your body moving and a great opportunity to spend time with family and friends, but biking can be a great way to reduce your environmental footprint by replacing some of your car trips and serving as your primary method of transportation to run errands.
As you look to incorporate your bicycle into more of your day-to-day life and possibly even make it part of your daily commute, we're here to offer some guidance, essential items and easy tips for making your bike rides as easy, safe, and fun as possible.
Keep it maintained
Before riding, there is some basic maintenance you can do yourself at home that can go a long way for keeping your bike in tip-top shape. First, make sure to have a go-to bike shop or mechanic where you can go for any expert questions and advice, as well as visit for a beginning-of-the-season tune-up. Regularly applying chain lube and checking your tire pressure can keep your bike running smoothly and will help all of the components last longer, saving you money over time (and keeping your mechanic happy!).
Here are a few key DIY maintenance tools and tips:
At Home
Chain lube: As Sustainable America's resident cyclist, I recommend applying lube on your chain every 1-2 weeks. If it's muddier and gets dirtier or starts making noise then apply more frequently. I always use a rag to wipe off any excess off the chain (excess lube can attract more dirt!)
Bike pump: Tires naturally lose air over time so it's helpful to keep a floor pump with a pressure gauge at home. I check my tire pressure every few rides (if not every time). You can check what psi your tires should be inflated to by looking for the psi min-max range on the tire's sidewall.
On Your Bike
It's important to keep a flat tire replacement/repair kit with you at all times. I like to keep all of these items in a small saddle bag that fits under my seat. There are great videos on YouTube to learn how to change your own flat tire - you do not need to be a mechanic to do this on your own!
Multi tool (bike specific)
Extra tire tube(s): The size will be listed on the sidewall of your tire but ask your local bike mechanic if you can't find it or aren't sure.
Tire lever
Pump (CO2 or hand pump)
Patch kit (optional)
Pre-ride Planning
Now you're ready to start planning your ride! Prior to your first ride, it can be really helpful to plan out your route and take a quick look at the weather forecast to make sure you're properly prepared. This will save you time from trying to figure out where you're going on the way and will help you be more confident on the road. Let's try to avoid juggling figuring out which direction to go while weaving through cars!
Plan your route
Check the weather: Dress appropriately for rain or sun.
Have a backup plan: Hopefully you've watched your YouTube videos and you're ready to change your own flat tire, but have a backup plan just in case.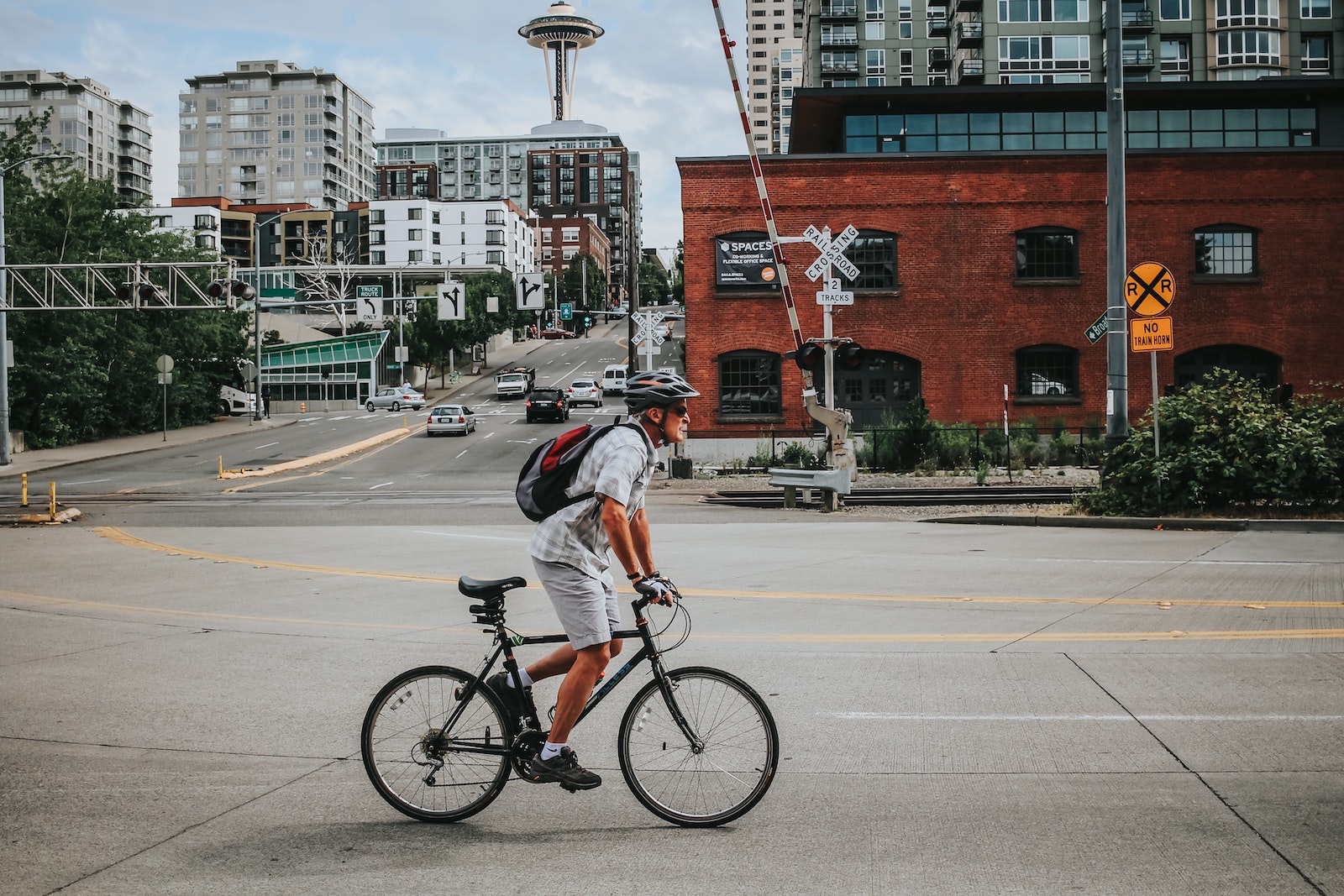 The Need-to-Haves
For your bike ride, there are a few things we highly recommend you bring for safety and convenience. These are "must have" items as they keep you, your bike, and others safe and aware.
Helmet: I recommend a helmet with at least a MIPS liner. MIPS is the Multidirectional Impact Protection System that reduces rotational forces from angled impacts should anything bad happen.
Daytime running lights: These are for both the front and the rear of your bike. The purpose of them is for cars to see you if you happen to be riding on public roads. White lights go on the front of your bike and red goes in the rear. I prefer flashing lights to help make myself more visible.
Front light: If you think you will be riding at night (even a little bit!) then you will need a stronger front light. Unlike the daytime running lights, this is so you can see where you're going. You may also want to consider a headlamp/helmet light.
Eye protection: Sunglasses or cheap safety glasses are great to keep dirt from flying into your eyes.
Water bottle: Hydration is key! This should fit nicely into your water bottle cage on your bike frame (or in a riding bag or backpack if you don't have a cage on your bike).
Lock: If you can't keep your bike inside wherever you're going then you will need a lock. I always say to go with a highly rated U-lock or thick chain lock. Cable locks can be easily cut and won't provide the same security. Locking the frame is the most important part! Wheels come second.
Saddle bag: A small bag that fits right underneath the saddle (seat). Perfect for holding a multitool and your flat tire kit.
The Nice-to-Haves
Once you have your essential must have items taken care of for safety and protection, you can start thinking about the more fun "nice to have" items. These offer great options for storage on your bike (i.e. for carrying clothes, textbooks, laptop) and add convenience to your trip. If you live in a rainy area, have a longer commute, or will be riding through busier streets, then these items will greatly improve your riding experience.
Rack: If your bike is compatible (ask your local mechanic) then adding a rack over the rear wheel can be great for holding extra items. I highly recommend panniers (backpack size bags that hang onto any standard rear rack). Be sure to get a waterproof one if you plan to ride in the rain!
Other storage options: Frame bag, handlebar bag, backpack, waist/hip pack (a.k.a. a fanny pack but that's not the "cool" terminology for cyclists these days).
Pant strap: If you wear loose fitting pants, it may be worth getting a pant strap to tie around your cuff on your right leg to keep your pants from getting caught in the drivetrain.
Gloves
Phone mount or GPS computer if you like tracking your distance and cadence
Mirror (handlebar or helmet)
Bell
Fenders: A necessary item if you live in a rainy environment (or plan to be biking in the rain).
Rain apparel: Rain pants, light rain jacket, shoe covers.
Windbreaker
Cycling specific shoes
Chamois (padded shorts or tights for longer rides)
Commuting with kids? Check out the child bike shotgun seat or a bike trailer.
Don't forget a change of clothes and a toiletry kit to fix that helmet hair when you arrive!
A few other helpful lists: