Today, we bring you a guest post by Anne Marie Bonneau, otherwise known as The Zero-Waste Chef. Anne Marie blogs about living a zero-waste life, and she runs her kitchen following three simple rules: no packaging, nothing processed, no waste. Here, she writes about shopping for food by bike.


I enjoy shopping for most of my food on my bike. A few people over the years have asked me to write a blog post about how and why I do it. Here it is…
The benefits
1. You save money
I can fit only so much food on my bike when I shop so I buy only what I need. The limited space on my bike makes impulse buys—always processed and almost always packaged in plastic—very difficult unless I eat them on the spot at the store or while riding home, risking my life for chocolate.
2. You eat fresher food
When you shop by bike, because you can bring only so much home, you make a few trips every week rather than one trip every week or two. You have very fresh food on hand, it tastes better and you waste less of it because it has less time to turn before you can eat it. This takes a bit more time than major shopping just once every week or two does, however, on these frequent trips, I can zip in and out with my smaller purchases and often go in the 10-items-or-less aisle. And I'm working some exercise into my shopping too, which I need to do anyway (see #4).
3. The healthiest food fits best on your bike
Guess what? The processed stuff with its excessive packaging gobbles up precious cargo space on your bike so you'll want to opt for fresh produce and bulk items—food that you can also happen to buy with much less waste, if any. Don't you just love how all these habits connect together?
4. You get some exercise
I am no hardcore cyclist. I don't don the Lycra garb that so many people wear where I live. They all pass me and that's just fine. It takes me about 15 minutes to ride to the farmer's market each way and about 8 minutes or so each way to ride to Whole Foods. I pass a local store, Piazza's Fine Foods, on my way home from my favorite cafe—about a 15-minute ride each way—and shop there regularly (I try to shop small and am determined to do so even more now that Amazon bought Whole Foods). So every week, just for food shopping—I squeeze in at least an hour of riding.
5. You don't burn fossil fuel
Not only do I fill up less, I also put fewer miles on my car and my tires last longer. One day after my younger daughter goes off to university in Canada, I'd like to ditch my car altogether.
6. You zip through traffic and find better parking
Rush hour here in Silicon Valley lasts from about 8am to 7pm. High tech companies hire like crazy, developers build like crazy and public transit barely exists, which is completely crazy. The resulting gridlock can drive you over the edge. And once you arrive at your destination, you often can't find parking. Riding often takes less time than driving. My farmer's market runs on Sunday mornings, so although I wouldn't fight traffic driving there, I would struggle to find parking. A couple of years ago, the City of Palo Alto installed several additional bike racks on the street where the market operates so I can always find a spot to lock up my bike. The grocery stores near me also provide at least a few bike racks.
7. You take in your surroundings more
Riding my bike to the farmer's market, I regularly run into my neighbors (not literally…), I've scored books sitting by the side of the road, I've stopped at yard sales where I've found jars and inexpensive kitchen tools, I hear the birds sing, I feel the wind blowing on my face (but not through my hair because I ALWAYS wear a helmet)… It's just so much more pleasant than driving.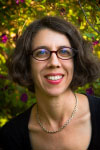 For Anne Marie's seven tips for shopping by bike, head over to her blog to read the second half of this article. Anne Marie lives in the San Francisco Bay area, where she teaches fermentation workshops and speaks on zero-waste and plastic-free living. You can follow her on Facebook, Instagram and Twitter.