This story is part of our ongoing Community Changemakers series where we shine a light on the ways individuals and communities are making sustainable change happen.
One of the more widespread challenges in our country is food accessibility and insecurity. When you live in a food desert — defined as an area with at least 500 people or 33% of the population living a half mile or further away from a grocery store — sourcing healthy and affordable food becomes an even greater challenge.
Food deserts are all around the United States. In fact, 54.4 million people or 17.7 percent of the U.S. population live in low-income and low access tracts far from grocery stores. A nationwide crisis only makes access to healthy foods even more of a problem, where you can find hundreds of cars lined up for miles at food banks. Millions of people cannot access or afford healthy food due to unemployment and lower than average wages, and they may not have the skills, equipment or transportation to get it and make meals for their family.
It's tough to know how the COVID-19 pandemic will affect food insecurity in the months and years to come, but a Feeding America report projects that affected communities will continue to struggle as food insecure populations continue to rise. States at the highest risk of seeing food insecurity increase include North Dakota, Minnesota, Nevada, Wisconsin and Hawaii.
To truly increase food accessibility, it starts from the ground up for self-sufficient neighborhoods. Teens Grow Greens is one organization in Milwaukee, WI that is helping to close the healthy food and unemployment gaps through agricultural education for young teens.
We met with Program Director Sylvia Wilson to explore the curriculum and how Teens Grow Greens is being active in the community to build sustainable food systems.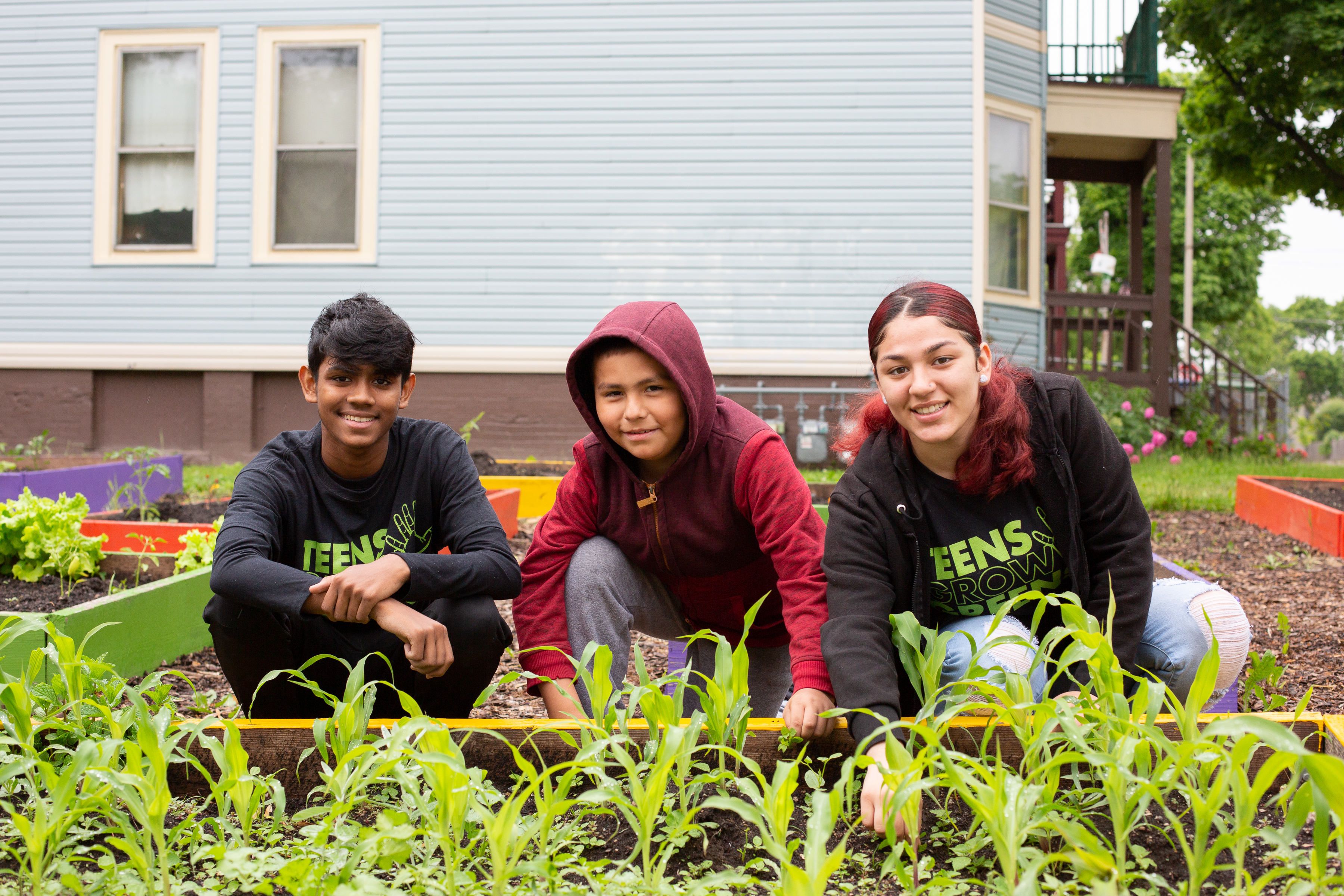 Learn. Grow. Go.
Using urban agriculture as a tool to build job skills, Teens Grow Greens is helping high school students learn, grow and go become leaders by offering transformative internships in and outside of the garden.
Running from February to October each year, the 9-month paid internship program helps a class of 40-50 teens ages 14-18 develop healthy soft skills through education around agriculture and entrepreneurship. Run by a small staff, team of volunteers and an active board of directors, the programming typically consists of after-school classes at the Teens Grow Greens headquarters and in one of ten community gardens throughout the city. This year, however, programming is taught through virtual classrooms and office hours, with gardens managed via socially-distanced teams of 3-7 students wearing face masks and gloves.
Throughout their internship, teens learn how to grow food at greenhouses and gardens and how to cook what they grow into various meals. They explore food justice issues and learn how they help those in their community. Developing healthy habits and good financial literacy is another key component of the program's curriculum. In addition to typical lessons and programs, community donors and sponsors also provide access to cooking classes, gardening kits, field trips and more.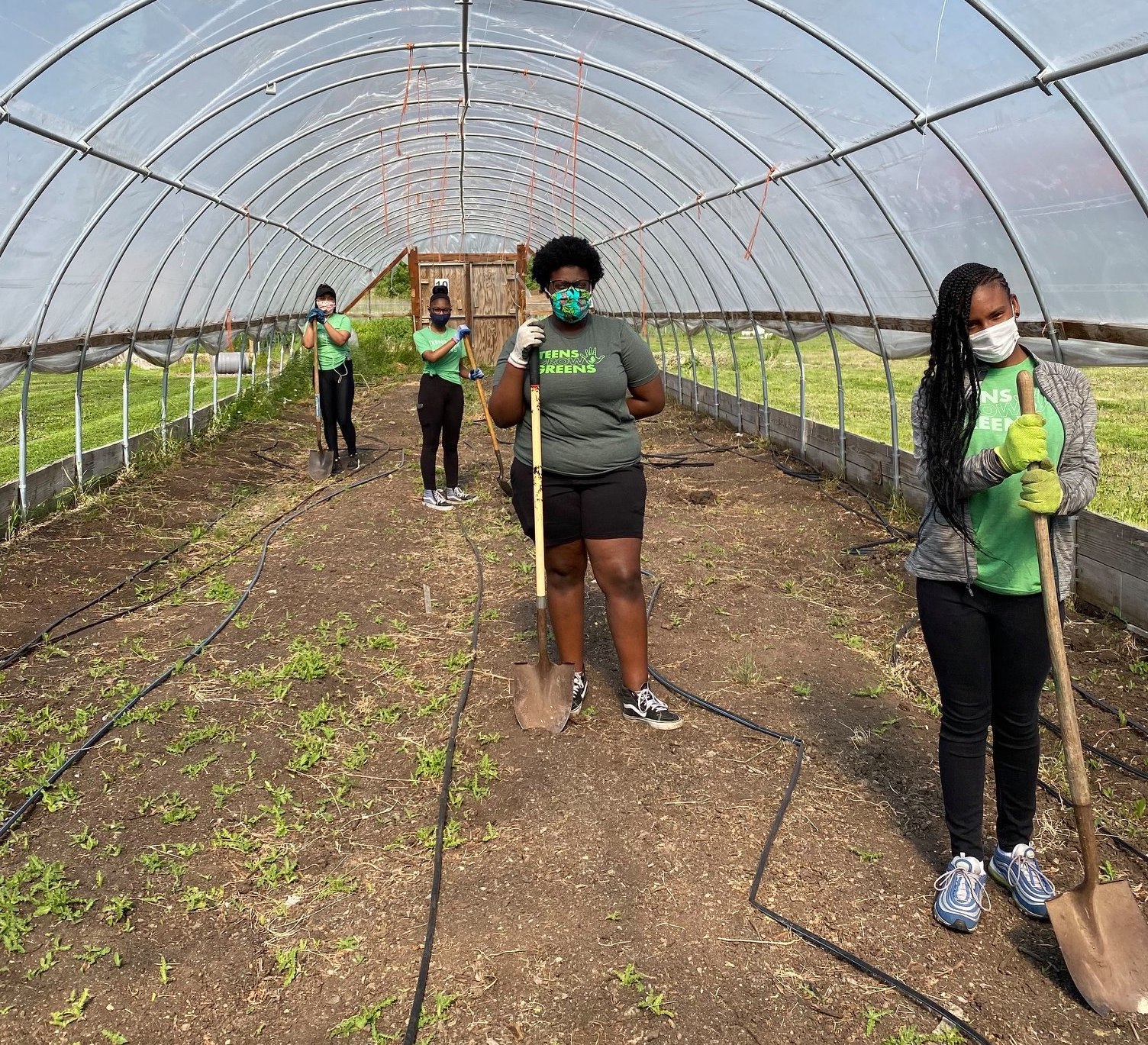 The Teens Grow Greens curriculum is rooted in three principles: respect, responsibility and resilience. Throughout the program, teens learn to respect each other and themselves, their abilities and their potential. They are taught to be responsible by coming prepared to class or their internship work, being a helpful teammate and modeling healthy living at home, work and school. They learn how to lead and when to follow and how they can be more resilient and flexible by taking initiative and creating assets that include everyone.
Ultimately, the teens build a sense of belonging and become stronger together while gaining real-life skills to live sustainably.
Planting seeds for continued growth
Teens Grow Greens' curriculum is broken down into five skill-building units integrated into food-based work and advocacy.
The first unit, Foundations, helps the participants build character and a foundation for success rooted in the program principles: respect, responsibility and resilience. Throughout the unit they experience lessons around empathy, problem solving, self-awareness, taking initiative, optimism, giving and receiving critical feedback, and more. These foundational teachings are reinforced throughout their work and future lessons.
Next, teens become teachers and advocates for eating well in a unit appropriately titled Healthy Living. Teens explore and discuss healthy eating and food issues affecting their communities, beginning with documentaries like Food Inc. and Fed Up. They learn how to work in a kitchen and cook healthy, plant-based meals. During typical years, teens even compete in a cook-off competition to demonstrate their understanding of healthy food choices. The unit ends in a soiree for donors and guests with a dinner co-created by the teens and local chefs.
Shawnkia, an intern from the Healthy Living unit, reflects on her experience. "I learned [that] we as minorities, especially, have to be careful..our lives depend on it if healthy eating is a way of saving it. [There are] easy ways to adapt healthy eating into everyday meals, that are still delicious."
Centered around leadership, the third unit tasks teens with learning how to sell greenhouse-grown products at local farmers markets and participating in a mentorship program called Kids Grow Greens. In the mentorship program, teens visit community gardens with elementary school kids to model some of the food lessons from the program, including how to grow food, how to make a healthy meal, and ways to build your character and foster community. With this year's pandemic, the interns found a unique way to alter the program by engaging with kids through a 7-week video series focusing on character development.
In the entrepreneurship unit, teens gain entrepreneurial skills by working on a final project encompassing what they learned throughout their internship. They are asked to create a product with purpose, showing how it impacts a business' bottom line in terms of profitability, their community and the planet as a whole. The project teaches them how to develop a business model, do customer research and present a business pitch at a local version of the competition show Shark Tank called Dolphin Pool — all while discussing how they've aligned their product under the program's principles of respect, responsibility and resilience.
Once the final portfolio is complete, interns enter their fifth and final unit dubbed Professionalism. Here, Teens Grow Greens staff and volunteers support their interns as they move towards high school graduation and help them prepare for job opportunities through career advice on resume writing, email communication, mock interviewing and job shadowing.
From the time the first seed is planted in a garden to watching it grow alongside their personal and professional development, each teen walks away with a skill set for success.
From the classroom to the kitchen
Karmen is a 2018 graduate where she delivered fresh produce to a local co-op through her time with Teens Grow Greens. She developed a bond with the owners that helped her get on the path to her dream career as a restaurant owner. Through her internship connections, she landed a job at a local Italian restaurant, Centro Cafe in Milwaukee's Riverwest neighborhood.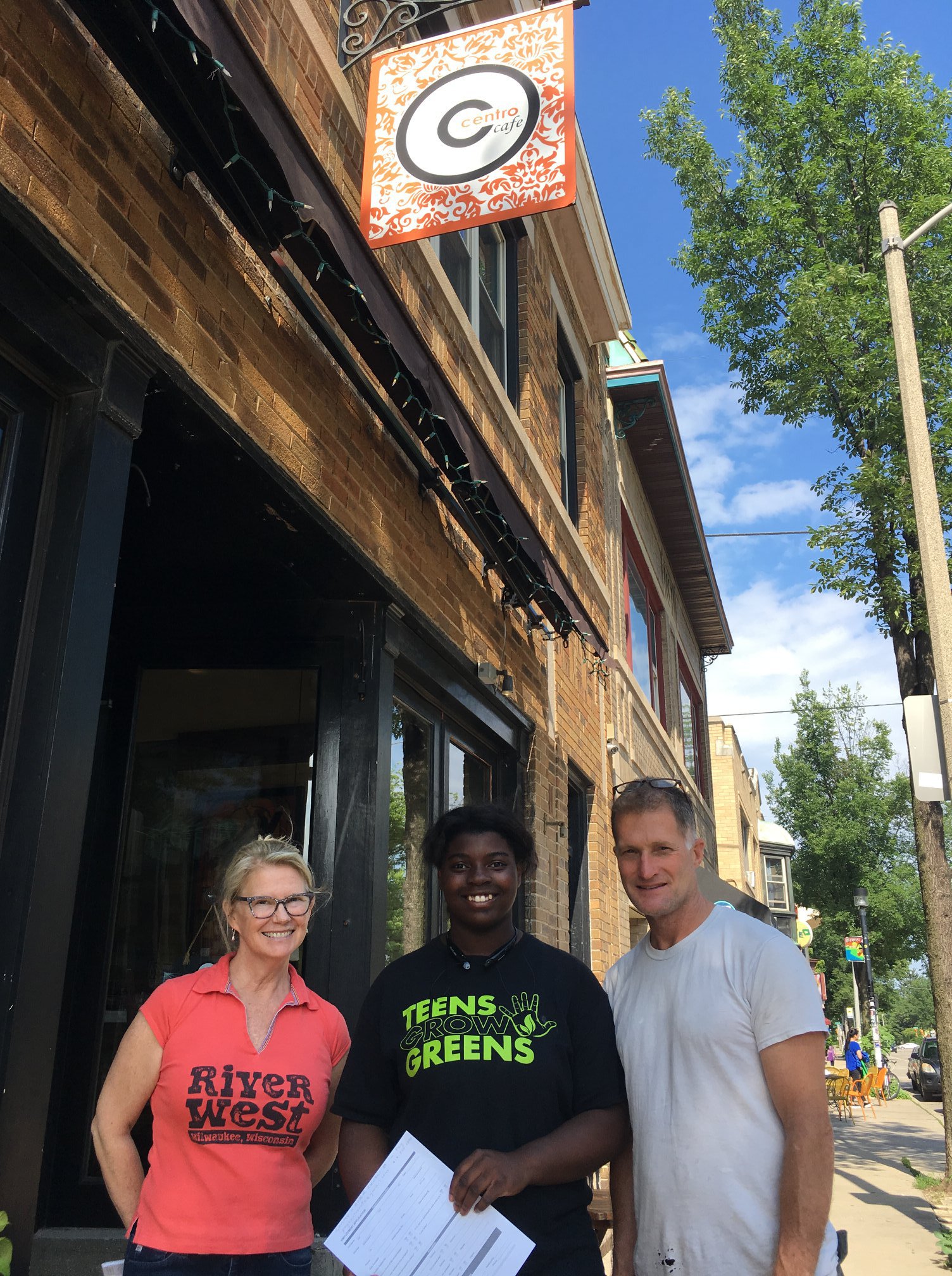 Karmen says, "Working at Centro Cafe has given me a behind the scenes view of how a real restaurant works. I'm glad that I applied there because it's my first step to my dream of opening a restaurant of my own one day. Even though I'm just a dishwasher, I still get to see how the food is prepared and served. I also get to see how everyone works together to keep the restaurant up and going."
Like Karmen, many of Teens Grow Greens' graduates find work as a result of the program: 90% of graduates between 2014-2019 obtained and retained employment the following year.
Beyond gardens and into communities
Teens Grow Greens programming looks a little different this year due to the pandemic, but even so, it has experienced the best retention the organization has seen in three years.
Another program Teens Grow Greens offers are youth apprenticeships, where program graduates are hired to teach the next group of interns. Jaden, a former intern turned agricultural apprentice, shares his thoughts on programming during this tumultuous year. "Even though there was a pandemic, I was still able to work at the greenhouse and make myself a better worker and leader."
The future of Teens Grow Greens will encompass not only students but the entire community. Staff and volunteers aim to create an "Essential Economy Consortium" by partnering with local organizations and businesses to teach neighbors how to have a self-sufficient community. The curriculum for this new programming is extensive and in the works, but will include education around food systems, energy systems, water systems, infrastructure, health systems, personal development and human development.
One thing is certain: Teens Grow Greens is doing crucial work to help increase food accessibility and prepare students for the workforce through their internship programming and work in community gardens. To get involved in the program or support their mission, visit TeensGrowGreens.org.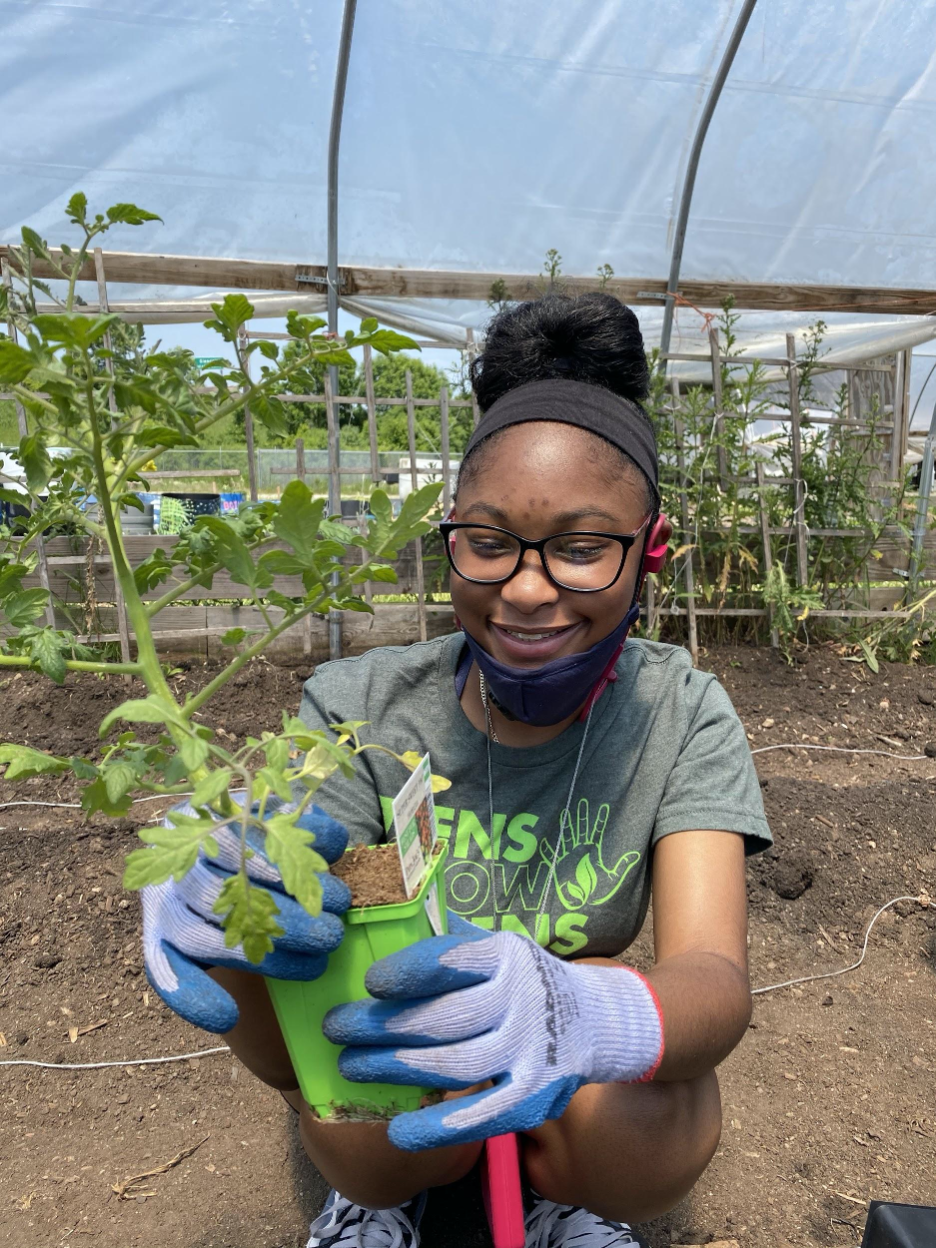 Are you a community changemaker, or do you know someone who is? We'd like to feature them! Visit sustainableamerica.org/contact to submit a story about sustainable change in your community.