Week after week we are contacted by individuals, municipalities and university groups across the country who've heard the message that 3.8 million gallons of gas is wasted by vehicle idling in the U.S. every day. They've pledged to turn off their engines when they'll be idle for more than 10 seconds, and they want help convincing their neighbors to join them.
We've been working one-on-one with many of these groups to provide them with the tools they need to spread the word about vehicle idling. The City of New Haven, for instance, wanted a simple, informative flyer that their parking enforcement officers could hand out to idlers they spotted on their routes. A group of Vermont high school students needed materials to hand out at school to raise awareness about idling. A college speech and debate team student chose vehicle idling as the topic of the speech she would compete with and needed supporting materials.
It's been incredibly encouraging to see these requests roll in. Our goal from the start of our I Turn It Off campaign has been to inspire and enable people to take action on vehicle idling. But as the inquiries kept coming, it became difficult for our small staff to keep up.
In order to streamline our offerings, we've developed a range of resources and toolkits that anyone can download or order themselves depending on what they need. We've got everything from free posters to a complete "Take Action on Idling" kit. These tools can be handed out at community events and environmental fairs, incorporated into classroom programs and projects — even used to engage a fleet of delivery drivers about how reducing idling can mean big fuel savings.
You can browse, download and order all the options at http://iturnitoff.com/resources.html
Here's a look at some of the materials we've developed:
FREE INSTANT DOWNLOADS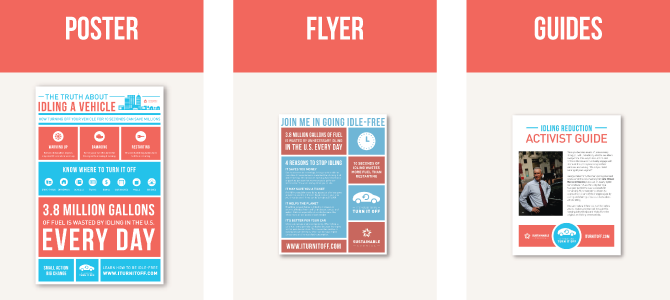 POSTER: Educate your community about idling by hanging this poster at your workplace, local coffee shop, school or community bulletin board.
FLYER: Inspire others to take action against unnecessary idling with this informational flyer.
GUIDES: Learn how to take action on idling, organize a pledge drive, host a film screening, and more in this packet of five easy-to-follow guides.
It's your turn to turn it off and pass it on. If you use these tools in your community, we'd love to hear about it. Email your story to [email protected] or let us know on Facebook.
RELATED ARTICLES
7 Ways to Take Action on Idling
New York City May Enlist Citizens to Help Enforce Idling Laws
10 Reasons to Turn Off an Idling Car