With social distancing and COVID-19 affecting much of our day-to-day lives, many of us are looking for ways to keep busy. Some are turning to our kitchens and taking time to tackle recipes new and old, while others are making our way through our streaming video queues to learn new things and be entertained. And now there's a new show from a Denver chef, nutritionist and culinary instructor aims to blend both activities in a format that's honest and educational.
The Sustainable Cooking Show, hosted by Katrina Brink of The Empowered Kitchen, is a free web series focused on providing tips, recipes and ideas for fighting waste and cooking sustainably, and highlighting the work of food experts and innovators making a difference.
The show's format is relaxed, with Brink and her guests connecting over a video call in a way that's welcoming and informative. Through interview questions, casual conversation and even cooking demos, each 25-60 minute episode offers plenty of insights and takeaways for passionate food fans.
For the first season, Brink assembled an all-star international group of guests including Kanchan Koya (@chiefspicemama), Rachel Gurjar (Feed Feed), Katherine Sacks (FoodPrint) and renowned French chef Jaques Pépin among others; and explores recipes and tips centered on fighting food waste like whipping your own aquafaba, making healthy homemade soup broth or using leftovers to create a quick and easy lunch dish.
Though planning and production for the show began prior to U.S. social distancing and stay-at-home guidelines going into effect, Brink believes that her show can serve as practical inspiration and motivation to viewers following those guidelines right now. "I think the Coronavirus has made a lot of people take stock of how they're using their food, and think about how to cook from their pantries and stretch their food dollars. Sadly it might be more out of necessity for a lot of us now, but hopefully this show can help give people practical and affordable cooking ideas."
Read on to learn more from Katrina Brink about The Sustainable Cooking Show and get details on how you can watch each episode.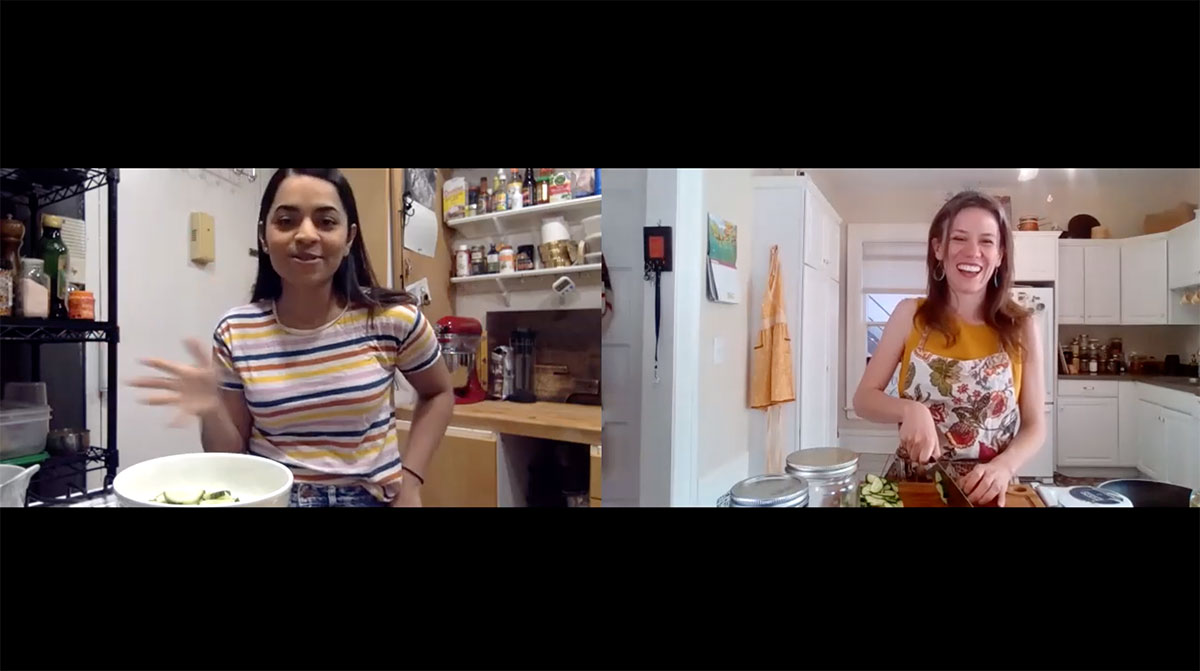 Sustainable America: What made you want to do the Sustainable Cooking Show?
Katrina Brink: I was inspired to create The Sustainable Cooking Show to get to know and learn from a variety of amazing culinary and sustainability experts from around the world. I've seen so many fascinating people rising up to make a difference I really wanted to provide a platform for their voices. The more people we can have talking about these issues, the more of an impact we'll all make and reach the amount of people we need to with the message of how to reduce our food waste.
SA: What are some of the highlights or things you've learned from your guests?
KB: I've learned so much from our guests! I learned all about the health benefits of microgreens when I visited the cool microgreen farm called Emerald Gardens outside of Denver. They're so delicious and I hope people seek out a local source of microgreens to add to their meals. I gained insights on how different cultures approach sharing food around a table, and the various components of what constitutes a balanced meal to them. I was even inspired to make a seaweed and mushroom broth to have on hand as a simple, healthy and really tasty base for soups and sauces!
But I must say the biggest highlight was having the honor of speaking with Chef Jacques Pépin. It was a dream come true, and even more exciting because he was so passionate about getting the word out about valuing our food and using it wisely. He's really put a lot of thought into it and had a lot to share from his 70+ years of experience in the high level food industry in France and the United States.
SA: You mentioned your guests enlightened you on how other cultures view and consume food. Was there any insight into food waste in other cultures or parts of the world?
KB: Most cultures around the world have traditional ways of using up all the parts of fruits, vegetables and animal products so nothing is wasted. It's unthinkable to waste something that took so much effort to produce, especially a resource as valuable and life-giving as food. What I came away with was that many other cultures don't waste food, and get creative with how to use it up.
There are so many amazing preservation methods, from pickling and fermentation to canning and drying. I think modern industrial food has simply been so available—and relatively cheap— in the United States for the last 60 years or so that we take it for granted. A few generations ago our ancestors were probably much more aware of how to use up their food and had the skills to preserve it. What I see happening now is a resurgence of people interested in how to regain these largely lost skills. This is what my guests and I hope to help expand. It's a lot of fun and really delicious!
SA: Is there a way viewers can join in on the conversations?
KB: I'd be delighted to have conversations with viewers! Social media is a great opportunity to connect with both me and the guests and they can feel free to join in by trying out recipes and tagging us. If viewers have any fun DIY zero food waste solutions that we haven't thought of, or ideas of guests to have on future episodes, I'd love to hear them. We're just all excited to get more people playing in the kitchen! That's really what it's all about. Food can bring so much joy, and we want to share that joy with everyone.
How to Watch The Sustainable Cooking Show
Viewers can watch episodes of the Sustainable Cooking Show by signing up on The Empowered Kitchen's show page to receive new episodes by email through April 21, 2020. Links to all episodes will be made available to users who sign up for a limited time later this month. For more info, feel free to reach out to Katrina Brink at katrina@empoweredkitchen.com.