Although the concept of a lunch hour has changed in recent decades, millions of Americans still eat in the workplace nearly every day. That means that millions of sandwich crusts, banana peels and coffee grounds (lots of coffee grounds) get tossed out in the office garbage. Although many employers and corporate office buildings in America have implemented successful workplace recycling programs for paper, plastic and metal, few workplaces can say the same about composting programs.
Why Compost Food Waste at Work?
Composting is one positive way to tackle the burgeoning food waste problem in the United States. Forty percent of the food we produce doesn't get eaten, and the vast amount of that waste ends up in landfills, where it produces 16 percent of this country's methane emissions. Composting cuts those climate-change causing emissions and puts food waste to good use by creating a valuable soil amendment.
Composting in the workplace can not only contribute to a company's corporate social responsibility policy, but it can also reduce trash collection expenses, engage employees, boost morale, and encourage healthy lifestyle practices. Many cities also offer financial incentive programs to help cover the initial costs of buying bins and other composting materials.
How We Compost at the Office
At Sustainable America we have successfully diverted our food waste for over six months now and encourage other employers to do the same. With a small staff of five and no curbside collection options in the area, we have combined an indoor composting bin with vermicomposting.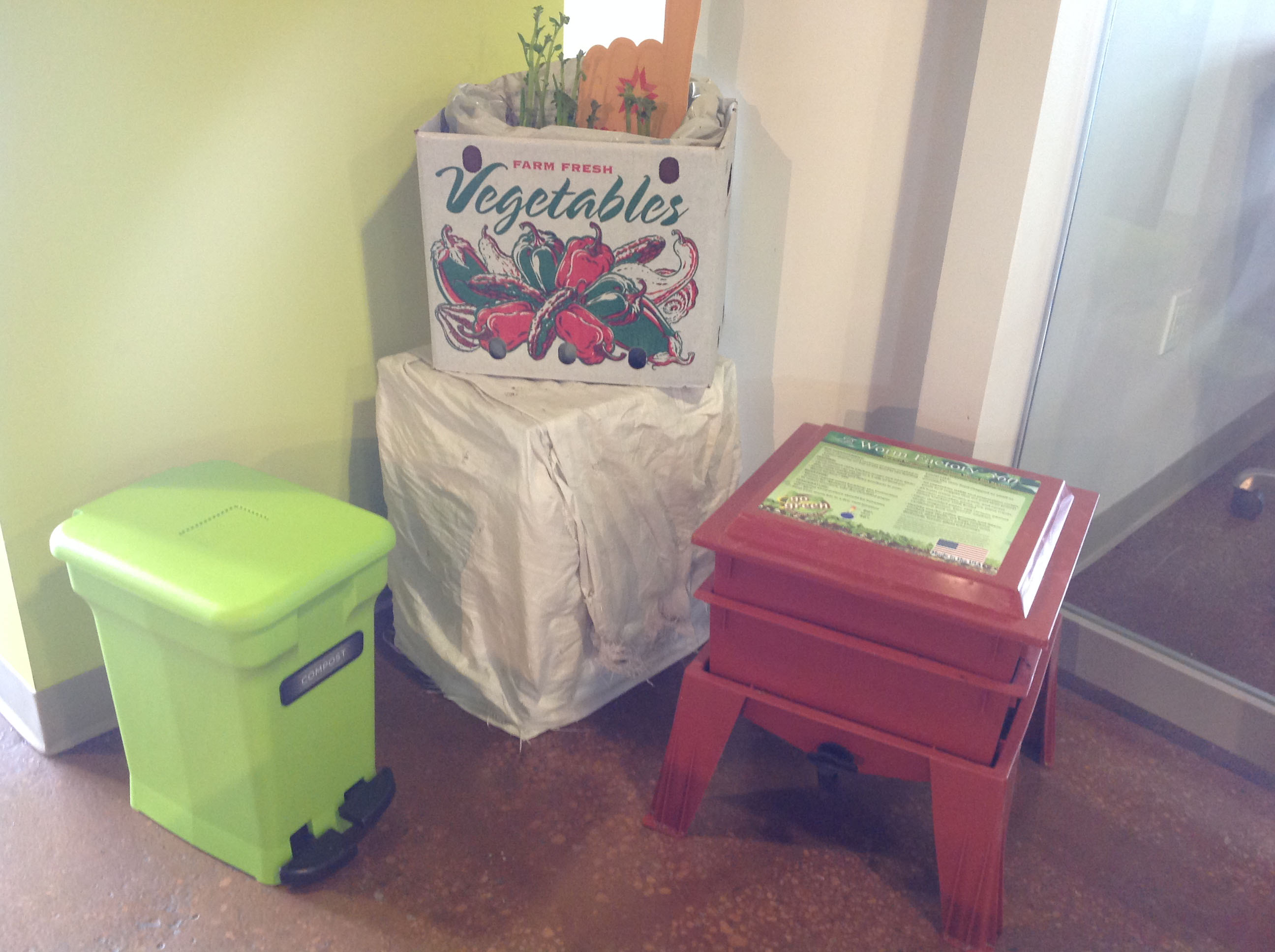 At the beginning of the year, CompoKeeper donated one of their 6-gallon compost bins (shown at left); it is the perfect size for our small group to toss food scraps into until it comes time to feed the worms. At least once a week, the scraps are prepped and fed to our vermicompost system, a Worm Factory 360 from Nature's Footprint, where the worms do the rest of the work (at right). We are then able to use the castings in our soil-based projects such as this bag of soil-grown potatoes!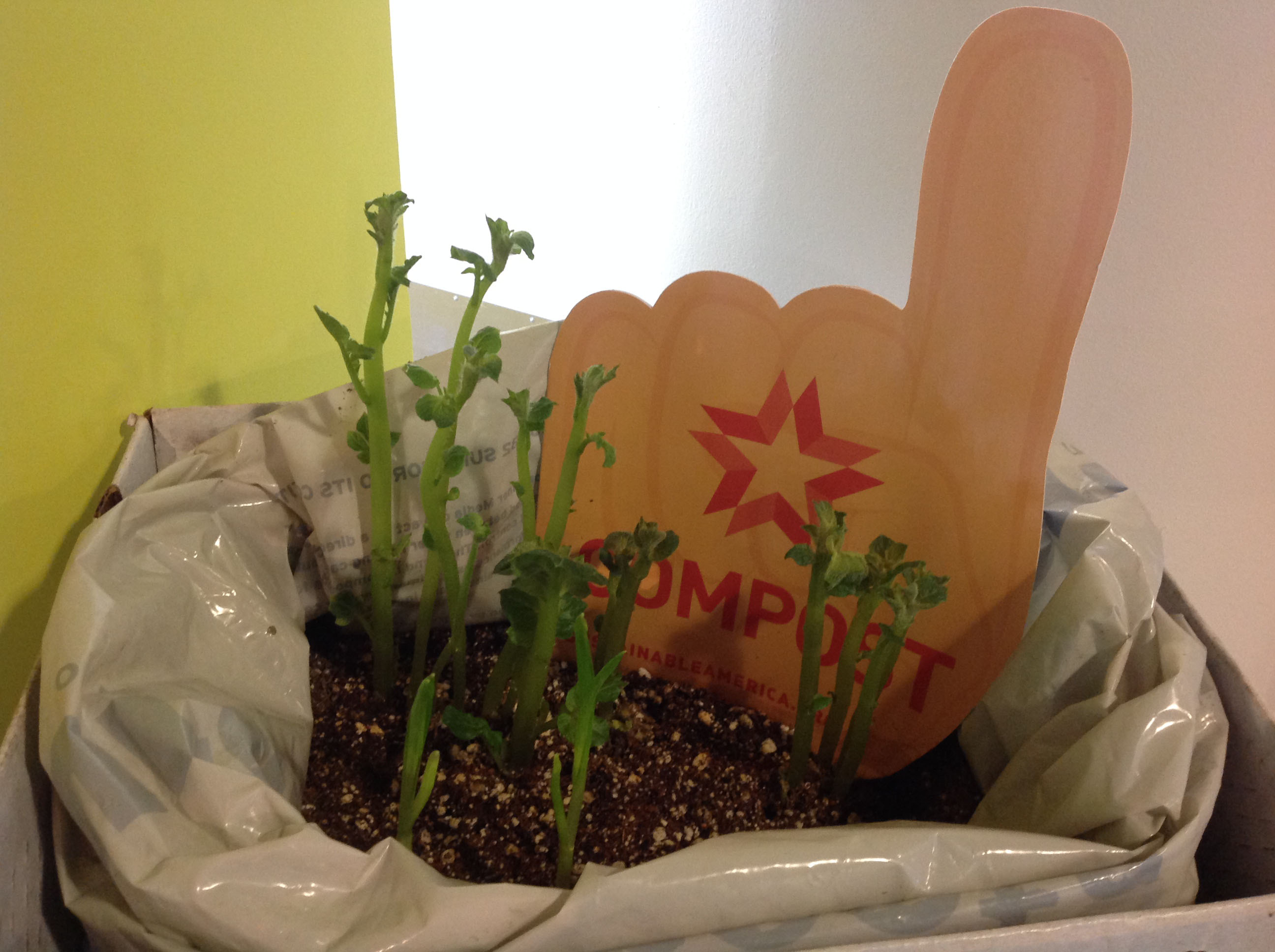 Start You Own Workplace Composting Program
While starting an in-office composting initiative might seem daunting, there are a number of technologies and strategies at your disposal to fit the culture, size and logistics of any organization. Before implementing a workplace composting program, research what support might be available in your area. (Start with this directory from the EPA). Ask some questions about your office environment and think through the life cycle of that apple core you threw in the trash earlier today. Not only do you need to secure employee buy-in but you also need to ensure that your compost has a destination. Make sure you know the answers to common composting questions.
Questions to Consider:
- Where do employees eat and throw out waste from their lunch?
- Are employees already accustomed to separating waste into trash and recyclables?
- Who empties the waste receptacles at the end of the day?
- Do you need to coordinate with the building management team or the landlord?
- Are there other businesses in the building you could team up with? (And compete against in workplace challenges to see who can divert the most food waste?)
- What are your options for organic waste collection?
- If there are no hauling services, what other options do you have for using the compost your office creates? (Are there any community gardens or school gardens nearby? Maybe you have some employees who would gladly use the compost in their own gardens, or it could be used for office plants or landscaping around your office.)
The number of employees who work at and eat in your office will define many of your initiative's parameters such as the number and size of bins needed, how much employee training the program will require, and what type of composting will work best for your organization.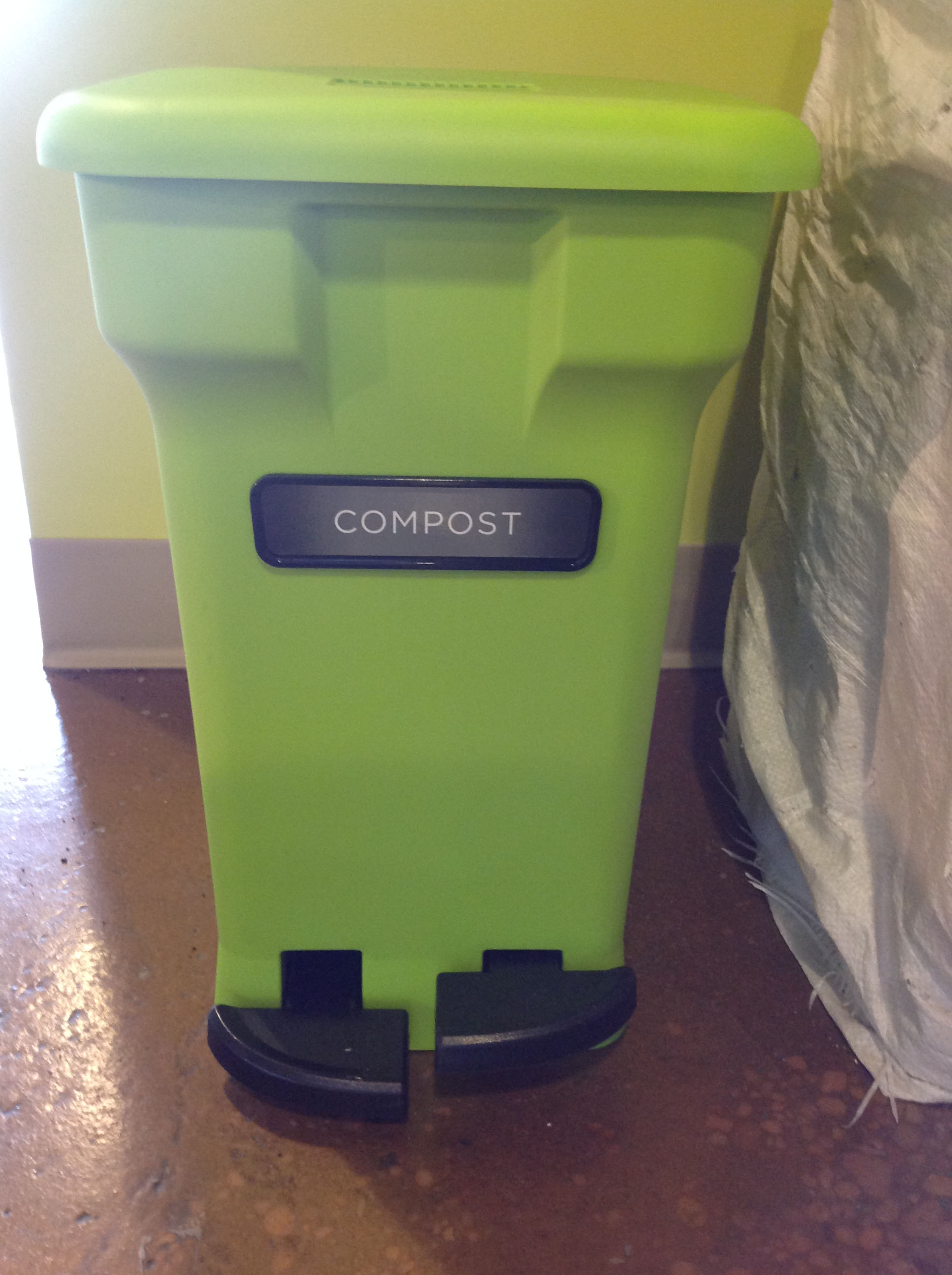 Tips for a successful office composting program:
- Make signs that indicate what can and cannot go into your system.
- Provide training at the start of your program to teach employees best practices.
- Make sure your maintenance crew knows how to handle the food waste receptacles.
- Keep track of how much food you successfully divert.
Whether your office employs three or 300 people, there are viable solutions to diverting food waste in any workplace. A big thank you to CompoKeeper for donating our compost bin and for contributing information and tips to this article!
RELATED ARTICLES
3 Steps to Recycling More at Work
"I Want to Compost, but…"
5 Ways to Green Your K-Cup